 It was a befitting final showdown between arguably the best clay court players at the moment as third seed Simona Halep went up against Kristina Mladenovic. Halep looking to defend her title for the first time in her career had a difficult task ahead of her against a Frenchwoman who leads the head-to-head 3-1. The fact that this was their first meeting on clay where they have not met before put things on a balance though.
Mladenovic began the set better of the two but it slowly became a back and forth affair and in the end Halep edged to snatch the first set. However, towards the end of that set, it was clear that the Frenchwoman was not at her best struggling with a lower back issue. It wore on as the match progressed and she made a dismal start to the second set. Just when it looked like the Romanian was going to run away with it, Mladenovic fought back. It was a gallant effort as she was visibly in pain for most parts but forced a tiebreak and sealed the second set in stunning fashion. Her serve was still affected though and Halep remained focus in the third set to eventually claim the title with a 7-5, 6-7(5), 6-2 victory.
Mladenovic lets chances slip and Halep capitalizes in a scrappy set
It was an apprehensive start by both players. Halep was forced to save an early break point but was struggling to close out. Nerves got the better of her and she sent a double fault handing Mladenovic another chance and the Frenchwoman capitalized with her favorite forehand winner in the eight minutes game. Mladenovic consolidated the early break for 2-0. Halep brushed off that nervy start and got herself on board for 1-2. The Frenchwoman was cruising 40-0 up but the Romanian forced her back to deuce. It was a long game and Mladenovic let seven game points pass before Halep conjured up break point with a down the line return. And the third seed converted to draw level for 2-2.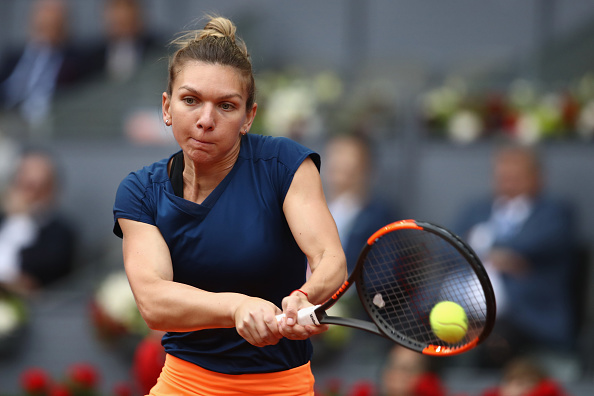 Halep won her third game in a row to edge 3-2 ahead but Mladenovic managed to stop the rot holding serve to make it 3-3. The Romanian was still making errors and as made to pay as Mladenovic took advantage to set up a couple of break points. Halep did herself no favors though sending in an unfortunate double fault to gift Mladenovic the break and lead for 4-3. The Frenchwoman was looking much more comfortable on serve and held to love to extend her lead to 5-3. Halep was not done fighting yet though and held to force Mladenovic to serve for the set.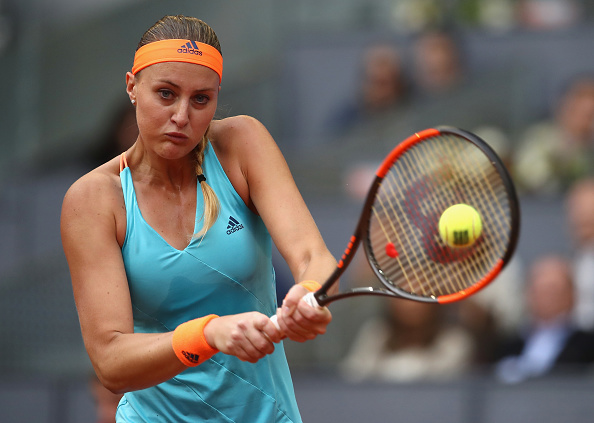 Halep, applying all the pressure, came up with a massive return which helped her set up the point and subsequently win a break back point. Mladenovic rescued the point in style in what was the point of the match. The Romanian remained aggressive though and had another opportunity. Mladenovic fired her forehand straight into the net allowing Halep to get back in the set for 5-5. The Frenchwoman then had a chance of her own after a well-executed great drop shot but couldn't capitalize and Halep held for 6-5. Mladenovic, however, threw in a poor game struggling on serve and the defending champion punished to take the scrappy first set 7-5.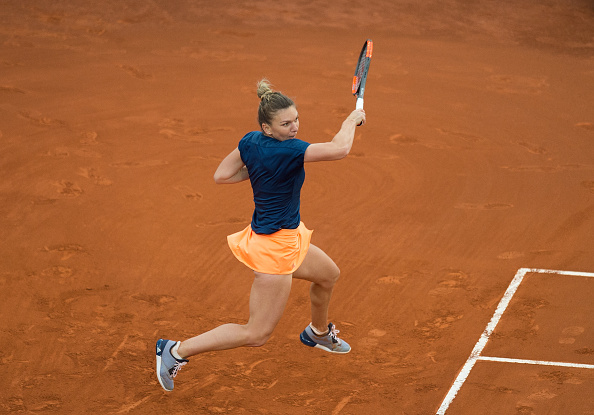 Mladenovic fights through discomfort and wins the set in a stunning tiebreak
Halep started off in the best way possible winning her fifth game on the trot breaking the Frenchwoman' serve. Mladenovic looked to be in discomfort and it was hampering her serve. The Romanian had the initiative but gave away points with some cheap errors and the Frenchwoman despite looking to be in pain valiantly broke back for 1-2. Mladenovic got herself right back into the set with a love hold to level for 2-2.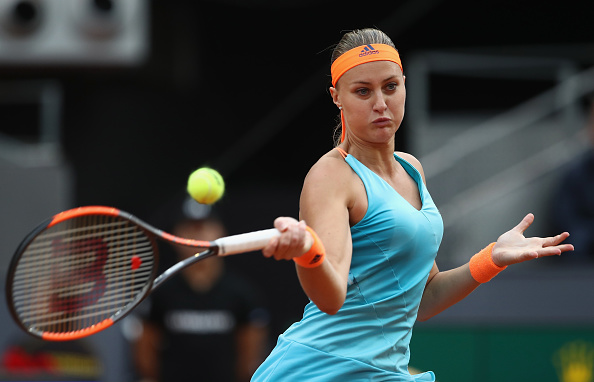 It was mostly affecting her backhand side and so the Frenchwoman tried to use her forehand as much as possible. It was working and Halep found it harder to make a breakthrough and the match progressed on serve. Mladenovic who had to serve to stay in the match at 4-5 showed no nerves whatsoever to hold for 5-5. And the tight set went to a tiebreak.
It was a cracker of a tiebreak which saw some amazing points and shotmaking. Mladenovic was first to draw blood as she went up 3-0. She led Halep 4-2 but the Romanian broke back for 3-4. The Frenchwoman then showed off her defensive skills before turning offensive to win an incredible point to take a 5-3 lead. Mladenovic was in a hot shot mood and conjured a brilliant drop shot on the run to get herself double set points at 6-4. She missed the first but on Halep's serve, her forehand proved too strong for the Romanian and Mladenovic sent the high-quality match to a decider.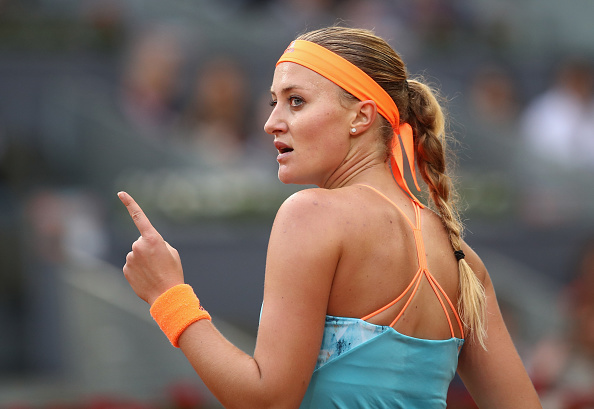 Halep remained in the zone as Mladenovic struggled on serve
The Frenchwoman was in danger of going down a break immediately but fended off two break points to come up with a huge hold. She survived momentarily but was in trouble once again in the third game handing Halep triple break points. Errors cost her and the Romanian broke first in the decider.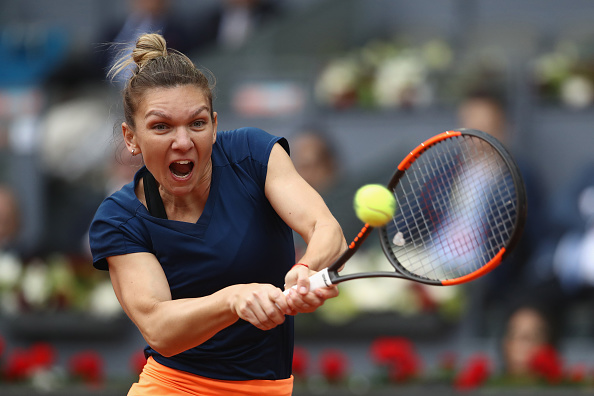 Mladenovic hung on in the set though before finding herself in a spot of bother once more in the seventh game. Halep who had a 4-2 lead set up break point after some great shotmaking. The Romanian was running down balls all night and she was reaping the rewards. However, she misfired before getting another chance to break. Mladenovic gave it all she had to save yet again but when faced with a third break point succumbed and Halep earned the double break for 5-2. The defending champion remained focused on the task at hand and sealed the match to win her second consecutive Mutua Madrid Open title.