 It was a winning run that hurled Andy Murray into rarified air among the tennis world. It was a run that rewarded years of dedication, persistence and a refusal to wilt while his peers showered themselves in Grand Slam glory.
But it is a run that has come at a cost.
The world number one's second round departure from the Italian Open to the irrepressible Fabio Fognini signaled a nadir in an already flailing season.
A bout of shingles, an elbow injury that proved serious enough to suspend his commitment at the Miami Open in April, the absence of Ivan Lendl and various days spent under the weather.
All, to varying degrees, have been attributed to the Scot's malaise in 2017, but only Murray himself can truly explain a slump that has yielded only a single ATP 500 title in Dubai this year.
Murray lamented his movement, or lack of it, during his most recent disappointment in Rome and certainly, it was disheartening to see Fognini, admittedly a bit of an entertainer, produce so many drop shots while the 30-year-old was rooted to the baseline.
He would succumb 6-2, 6-4 in the end and Fognini added himself to a list of unheralded assailants that includes the serve-volleyer Mischa Zverev at the Australian Open, the world number 131 Vasek Pospisil in Indian Wells, world number 19 Albert Ramos-Vinolas in Monte Carlo and world number 41 Borna Coric in Madrid last week.
Contrast that with Murray's form towards the tail-end of 2016 when Novak Djokovic endured a downturn in form and the Scot eyed the world number one spot.
He collected Masters 1000 titles in Shanghai and Paris, ATP 500 crowns in Vienna and Beijing and capped off an incredible year with victories over Marin Cilic, Stan Wawrinka, Kei Nishikori, Milos Raonic and, most memorably, Djokovic at the World Tour Finals.
And it is often forgotten that the long-time British number one carried a 22-match winning run into the Cincinnati Masters final in August.
Physically, that would take its toll but it appears that mentally Murray appears drained.
Mentally fatigued
The Californian desert in Indian Wells has never been a happy hunting ground for the Scot but it was the manner of his defeat to qualifier Pospisil that must have rankled his coaching team.
The same serve-volley tactics that bore fruit for Zverev in Melbourne undone Murray once again and he would not return again until the clay court season began in earnest in the south of France.
His mentality was questioned when he surrendered a 4-0 lead against Ramos-Vinolas in the deciding set before he was blown off the court by the Austrian Dominic Thiem in Barcelona just the following week.
And his decision to take a wild card into that ATP 500 event instead of opting for a training block before the Mutua Madrid Open has also been questioned given Murray's fitness troubles during the spring.
His peer Djokovic has also experienced a similar plummet this year and has been at pains this season to emphasize the mental toll that comes with being the world number one.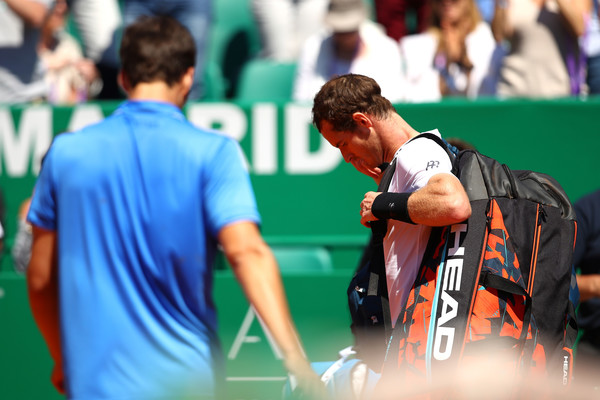 The Serb, although not as formidable as he was when he held all four majors after the French Open last year, has begun to rediscover his verve and will surely be at shorter odds of repeating his historic feat in Paris than Murray.
The argument that Lendl's continued absence after the Australian Open can be ascribed to the Scot's toil also must be taken with a pinch of salt considering the former world number one re-signed with Murray under the agreement that he would not be as hands-on as he was during his previous reign.
Besides, Lendl was due to meet-up with Murray during the Miami Open until he withdrew with his elbow problem.
Many believe the Scot simply needs to build momentum after a start to the year that has been plagued with various ailments and there have been suggestions, if only a few, that Murray should have opted for a wild card into one of the two ATP 250 events this week before the French Open.
But that would inflict even more damage on a body that has had to deal with several setbacks this season and would surely do more harm than good considering a best-of-five major looms on the horizon.
Precedence
Instead, Murray should be considering a brief hiatus from the tour, akin to Roger Federer's in the second-half of last year.
The Swiss returned to the tour in January revitalized, quickly claiming his 18th Grand Slam title in Melbourne before completing the Sunshine Double (Indian Wells and Miami Open) in the spring.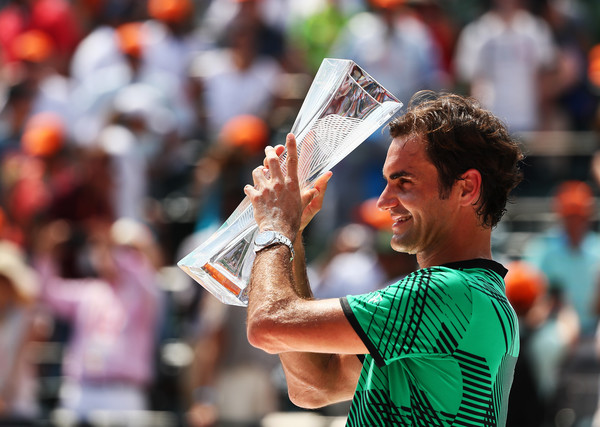 Murray reportedly underwent a vigorous off-season training block that not only has appeared to damage him physically but also drained his motivation levels.
Yet a break from tennis will be the last idea currently crossing the 30-year-old's mind with both Queen's and Wimbledon titles to defend infront of a home crowd next month.
In short, Wimbledon is approaching at the worst time and it would be dispiriting to see Murray crash out as defending champion in a similar way to 2014 – in the quarterfinals to Grigor Dimitrov.
There are myriad arguments that could explain the Scot's current dip in form and, as noted earlier, only Murray is aware of the root of his problems.
But a lack of motivation is only natural considering the number of hours the 30-year-old put in during his inexorable march towards the summit of men's tennis last year.
Boris Becker, Djokovic's erstwhile coach, noted the now world number two's dip in intensity levels after he claimed that elusive Roland Garros crown.
"He has not spent as much time on the practice court as he should have in the last six months and he knows that," noted the German in December.
"I am also convinced that he will become the most dominant player again, but he has to get back on the practice court and put in the necessary hours."
Talent doesn't disappear overnight and the results currently spooking Murray certainly do not do him justice.
Whether his current slump will sort itself out is another matter.