 Former world number one Victoria Azarenka has not played a competitive tennis match in a year since she retired in her first round match at the French Open last year to Karin Knapp. The two-time Australian Open champion had a knee injury which ruled her out of the grass court season, and in July last year, she announced that she was pregnant. Azarenka gave birth to her first son Leo, last December, and she was due to return at the Bank of the West Classic in Stanford in preparation for the hard-court season in July.
However, Azarenka, a two-time semifinalist at Wimbledon in 2011 and 2012 losing to eventual champions Petra Kvitova and Serena Williams, is ahead of schedule, and announced on Twitter, that she is ready to return.
"Hi everyone, I have some good news, my training has been progressing well and I feel ready to start competing... plus Leo kinda said he wants to see London and Wimbledon.
The 27-year-old also announced that her schedule would be finalised shortly, and she plans to play a warm-up tournament ahead of the third Grand Slam tournament of the year. "I will be finalising my schedule before Wimbledon in the coming days, I plan to play one of the grass court events prior to Wimbledon, I will keep you updated, Thank you for all your support and see you sooner."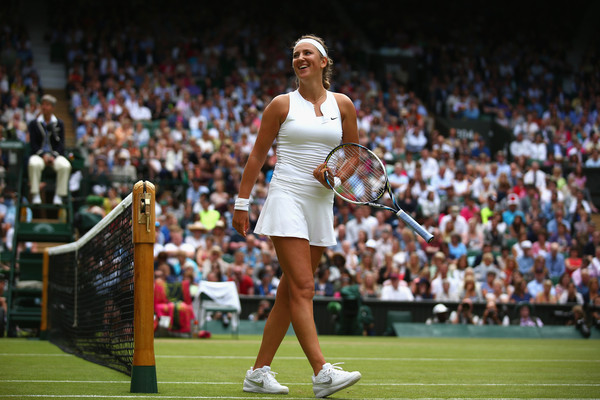 The tennis world will be welcoming Azarenka comeback with open arms as the WTA Tour is missing Serena Williams, who is currently pregnant, and two-time Wimbledon champion Petra Kvitova is currently on the sidelines after getting stabbed in her left-hand at home by an intruder last December.
Azarenka was on a roll before her sabbatical from tennis, as she completed the Sunshine Double in Indian Wells and Miami. The Belarusian also advanced to the quarterfinals of the Australian Open but lost to eventual champion Angelique Kerber.
The former world number one hasn't participated in a full season since 2015 when she reached the quarterfinals of Wimbledon and the US Open respectively.The Belarusian had a foot injury that hampered her 2014 season but she will be back earlier than expected and could be a threat going forward at the final two Grand Slam tournaments of the year.