 23-year-old Austrian Dominic Thiem made his first semifinal appearance at a Grand Slam last year at the French Open. Currently ranked at number seven, could the Austrian replicate his result from last year in the French capital?
Notable results to date
After a poor showing in the first two months of the season, Dominic Thiem headed down to play the Latin-America clay court swing where he won his first title of the year and first since June 2016 when he won the ATP 500 event in Rio defeating Pablo Carreno Busta. The Austrian headed to Acapulco as the defending champion but fell to eventual 2017 champion Sam Querrey in the quarterfinals.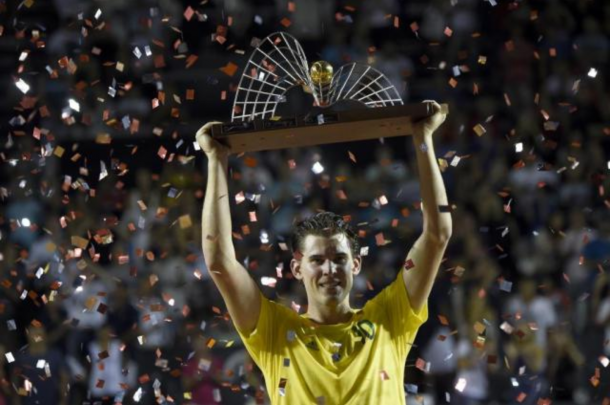 Thiem then headed down to America for the first Masters of the year at Indian Wells. After impressive wins over Jeremy Chardy, Mischa Zverev, and Gael Monfils without dropping a set, he met Stan Wawrinka in the quarterfinals, where he would lose in a third set tiebreaker. Dominic Thiem would also fall in the opening round at the Miami Open the following week.
Clay Court results leading up to Roland Garros
The world number seven began his clay campaign by losing to Belgian David Goffin in the second round at the Monte Carlo Rolex Masters in straight sets. In Barcelona, however, things started to look up for the Austrian, who made his second final of the year losing to Rafael Nadal 6-4, 6-1. En route he scored his first win over a current world number one, defeating Andy Murray in the semifinals 6-2, 3-6, 6-4.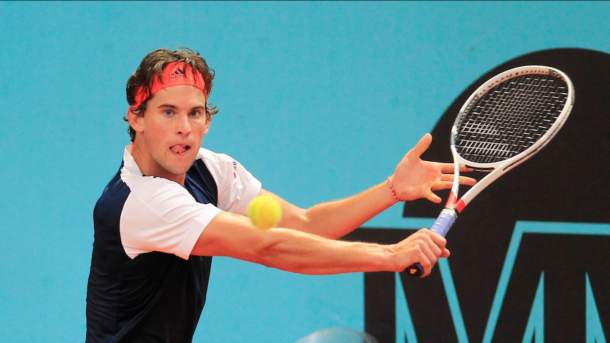 In May at the Mutua Madrid Masters, Thiem defeated Jared Donaldson, Grigor Dimitrov (in a very tight 3rd set tiebreaker), Borna Coric, and Pablo Cuevas to play against Rafael Nadal in his first Masters 1000 final. For Thiem, this was the second straight final going up against Nadal. The eighth time ATP champion lost out 7-6(8), 6-4 showing major improvements over his Barcelona Open result against Nadal. As a result of this performance, Thiem ended the week ranked number three in the Singles Race to London.
Thiem's French Open results
Dominic Thiem has played the French Open on three occasions, this year being his fourth. Coming into this year's Grand Slam, he will be ranked number six with the help of Roger Federer's withdrawal.
Unseeded at his first Roland Garros in 2014, Thiem got past Frenchman Paul-Henri Mathieu before losing to Nadal in straight sets in the second round. Once again unseeded for the French Open, the 23-year-old would come unstuck in the second round. After a hard fought four set victory over Aljaz Bedene in the first round, he would face clay-specialist Pablo Cuevas, who he would lose to narrowly in the fourth set 7-5 with the previous three going to a tiebreaker.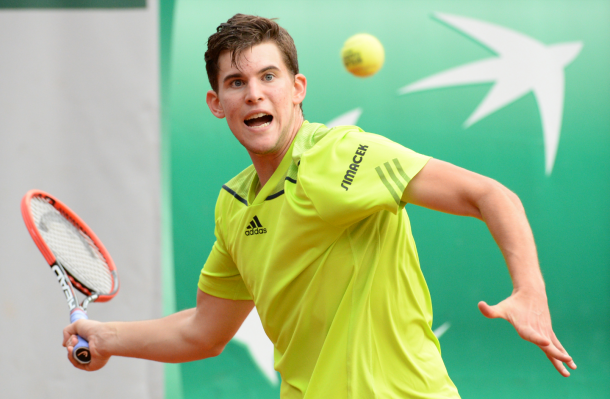 After rapidly improving over the next year, Thiem came into Roland Garros 2016 seeded number 13. In his first round match, Thiem defeated Inigo Cervantes in four sets before getting past Guillermo Garcia-Lopez in three tight sets. He would then need four sets again to get past Alexander Zverev while for the third time in four matches, Thiem would win in four sets against Marcel Granollers. Dominic Thiem would get past 12th seeded David Goffin in four sets in the quarterfinals before falling to eventual champion Novak Djokovic at the semi-final stage in straight sets.
How Thiem's game translates to this surface
Thiem is an aggressive baseline player who is skilled at defending as well. The Austrian has solid groundstrokes with a heavy forehand and a tenacious, powerful single-handed backhand. His famous one-handed backhand can effectively deal with any high bouncing balls which usually causes problems for plenty of single-handers. Thiem often uses heavy, penetrating groundstrokes to construct points and hit winners or outlast his opponents. He has a long take-back on both wings, and the top-spin he produces on his groundstrokes allows him to both attack and defend well.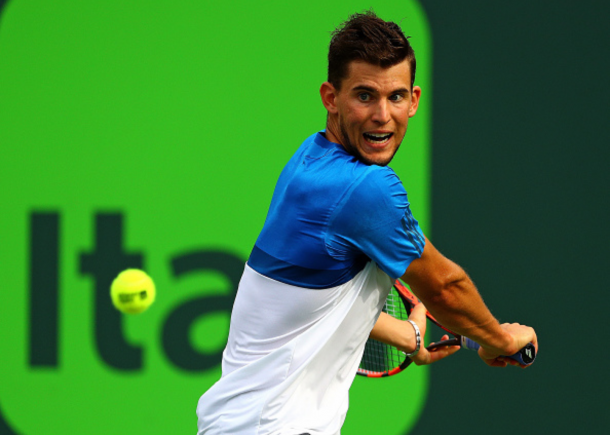 Although Thiem does have solid volleys, they are not, for the most part, a major weapon in his game. He is known for coming to the net often to finish off points with a single volley, though he is known to serve and volley too, especially on clay courts as well as serving on the ad side to his opponents backhand. Thiem often employs a top-spin serve for both his first and second serves, resulting in a relatively slow, but looping serve that forces his opponents back.