 Sixth-seeded Dominic Thiem came through a tricky test in American Steve Johnson 6-1, 7-6(4), 6-3 to book his place in the fourth round at Roland Garros.
Thiem races through the first set
The Austrian had a positive start to the match. He held his opening service game to 15 and then picked up two early break point opportunities with Johnson netting. An unforced error appeared which gave Thiem the early breakthrough in the match. He followed it up by holding serve for a confident 3-0 start, hitting aggressively and covering all parts of the court.
The American, who came through a tough round two match was finding it difficult to win free, easy points but did manage to hold his serve in the fourth game to appear on the scoreboard, 3-1. The 23-year-old continued to impress in the first set with excellent movement, powerful forehands and good serving from his first serves holding once more for a 4-1 lead.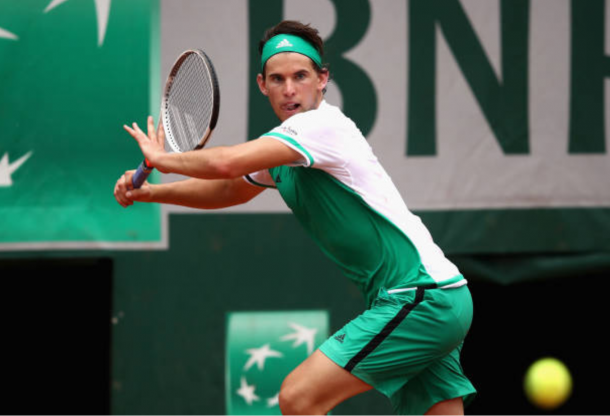 On the 25th seeds service game, Thiem struck an aggressive forehand winner to bring up a break point at 30-40 with his opponent stranded on one side of the court. Thiem for the umpteenth time in the set gave the 27-year-old the run around, forcing him to play the ball perfectly into his hands as he sent the overhead into the court to break for a double break lead, 5-1.
The Austrian took a love-40 lead, grabbing three set points thanks to a timely hit ace down the T. Though he missed his first set point with a double-fault, Thiem clinched the set a point later, 6-1.
Johnson shows fight; sends set to tiebreak but falls behind two sets
With the momentum fully on Thiem's side, he picked up an early break point via an unforced error. A perfect ace down the T sent the game to deuce with Johnson then going on to hold serve. For Thiem, he continued to look impressive on serve, holding to love to also get on the board, 1-1. The Austrian, just like during the first set looked comfortable on serve and raced through the third game to lead 2-1.
With rain forecast, both the players had a brief chat at the net but continued to play on. From that moment on, Johnson began to match Thiem as he upped his game and level, playing every ball back into court and try to force unforced errors out of his opponent but Thiem always looked solid on his backhand side.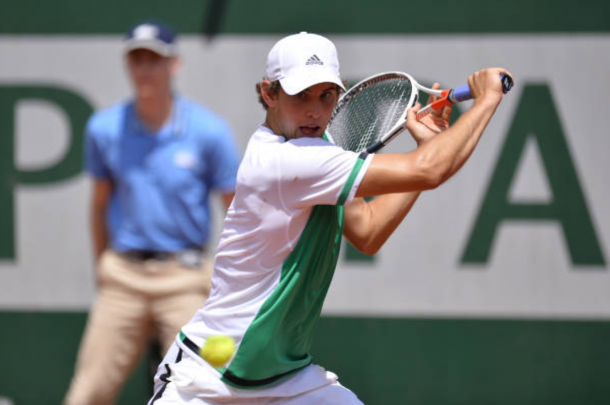 With the scores locked at 4-4, Johnson had a lapse in concentration, sending a forehand into the net with the sixth seed attempting to break his opponent with a break point chance. Johnson impressively used his serve to get out of trouble only momentarily. A point later, the American was forced to save a second break point before going on to hold, 4-5.
Now serving for the set, Johnson once more raised his game earning two set points. The 23-year-old denied Johnson to send the game to deuce before holding a tricky game for 5-5. Both held their next service games to send the set to a match tiebreaker. The Austrian pulled through 7-4 for a two-set lead.
Thiem ends Johnson's run in Paris
Dominic Thiem began the third with a solid hold of serve. He then put Johnson under some pressure, taking him to deuce then an unforced error gave Thiem the first break. A powerful forehand winner got the American off the hook briefly as he had to save a further two break point chances in the game en route to holding for 1-1.
Thiem who barely has looked troubled on serve, came through with ease to regain his lead, 2-1. For the second service game in a row, Johnson looked troubled with the Austrian taking advantage of a slow first serve to fire a backhand return into court to bring up double break points. Both breakpoints were missed with Johnson doing a terrific job on serve, sending the game to deuce.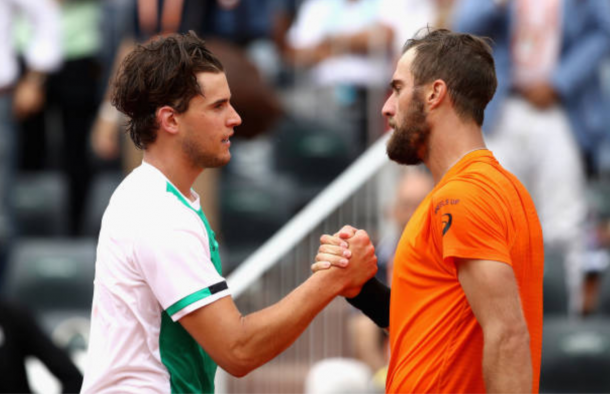 However, Thiem continued to pile on the pressure and though he missed a third break point, he finally broke Johnson on his fourth attempt, 3-1. The American immediately got back on serve, breaking back with his second break point chance, cracking a forehand return winner. For the third game running, the server was broke as Johnson failed to draw level, gifting the momentum back to Thiem who consolidated for 5-2.
The 27-year-old held serve for only the second time in the set for 5-3. Up 15-30, Thiem fired an ace out wide to bring up match point. He sealed the match a game later, showing great sportsmanship at the net.