 The seventh seed Petra Kvitova marked her return to professional tennis at the French Open. It was a surprising decision as many thought that the dual Wimbledon champion would return on her beloved grass. Nonetheless, the world number 16 marked her return to tennis after a stabbing in her home to her left hand, that left her tennis career in major doubt back in December with a clinical straight sets victory over Julia Boserup.
The Czech lost to Bethanie Mattek-Sands in straight sets in the second round. Nevertheless, Kvitova is competing in her second tournament of the year, and first back on the grass at the Aegon Classic in Birmingham. Kvitova dispatched her compatriot Tereza Smitkova, 6-2, 6-3 to set up a second round clash with Britain's Naomi Broady.

Kvitova cruises in the first set
The former world number two held to love in her opening service game of the match, and Smitkova held serve in her first game of the match to level the match at 1-1. However, the two-time Wimbledon champion raced out to a 40-15 lead, and it was looking likely that she would hold serve easily. Nevertheless, the lefty committed two back-to-back forehand unforced errors, and Smitkova created her first break point chance of the match with a forehand winner with Kvitova's movement letting herself down.
Moreover, the seventh seed saved the break point with a stunning drop shot which was disguised. Kvitova eventually staved off the trouble by coming out on top in a mini-battle with a good serve out wide in a game that lasted just over six minutes.
Inevitably, Kvitova was looking for that early break advantage in the match to settle down, and she was able to do that. The elder Czech's backhand continued to fire in a lengthy rally, that forced the error from Smitkova, which handed a first break point for Kvitova. Smitkova's serve let her down as she committed a double break, surrendering her service game to give Kvitova a 3-1 lead in a game that lasted as long as the previous game.
The dual Wimbledon winner consolidated the break with a serve and volley winner to love, and Smitkova stopped the rot of run games against her by holding serve easily but trailed 4-2.
The former world number two's serve continued to become a strong weapon in this match with a 40-15 lead. The world number 157 continued to grow into this service game of Kvitova's by forcing her compatriot to play from behind the baseline and got the game to deuce. Once more, Kvitova was able to win the big points at deuce and held serve, extending her healthy lead to 5-2.
Smitkova had to serve to stay in the opening set and she received a helping hand from the seventh seed who committed unforced errors. Despite, leading 40-15, Kvitova won the next two points to level the game at deuce. Thunderous forehands from Kvitova, moving the 22-year-old around the court, handed Kvitova a set point with a forehand winner. Smitkova was able to fend off the first set point with Kvitova's sliced forehand sailing into the net.
Nevertheless, the two-time Wimbledon champion created a set point chance, and she converted it by virtue of a stunning return, which forced the error from the world number 157. Kvitova claimed the first set 6-2 in 39 minutes.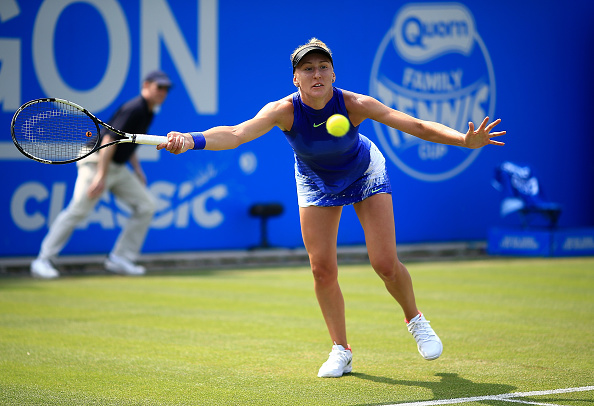 The two-time Wimbledon champion books her place in round two
Both players held their opening service games comfortably at the start of the second set. Kvitova was troubled on her serve at 0-15 and 15-30 down but she held onto her serve with an ace out wide, after challenging the call to lead 2-1.
The former top 60's player's nightmares came true as she played a horrific game by trailing 0-40. She fended off the first break point but Kvitova stepped inside the court with a forehand winner to take the second break point and lead 3-1.
Kvitova almost handed the break back to her younger compatriot as she committed a double fault to hand Smitkova a chance to break. However, the elder Czech produced a stunning forehand winner down the line on the run to save it, and she consolidated the break with an ace.
It was soon time for Smitkova to check out of the Aegon Classic in Birmingham as she trailed 0-30 but she managed to get to 40-30 with a couple of unforced errors spewing from Kvitova's racquet. Smitkova's backhand broke down and Kvitova created a break point to get the double break advantage. Moreover, Smitkova saved it and she held onto her serve with a stunning forehand winner down the line with Kvitova placed at the net.
The two-time Wimbledon champion was edging closer to victory with a comfortable service game serving a couple of aces in the game to lead 5-2. Smitkova was serving to stay in the match, and she started to play her best tennis when she was match point down.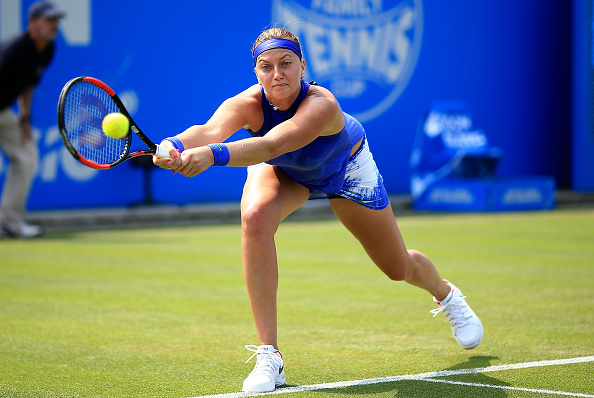 Smitkova staved off three points, and the third one was saved with an ace down the T and the serve out wide allowed the former top 60 player to survive for just a little bit longer.
Kvitova had no problems serving for the match as she converted her fifth match point with an ace out wide to get her grass court campaign in Birmingham off to a flying start.
Match Statistics
Kvitova produced six aces whilst her compatriot Smitkova sent down four aces. Both players committed two double faults each, and Kvitova came out on top in the winners count by producing 26 winners in contrast to Smitkova's 12. The seventh seed committed 20 unforced errors, whilst Smitkova committed 23.