 The upsets on Day 3 of the Aegon Championships at the Queen's Club continued. Gilles Muller continued his good run of form on the grass by dispatching fifth seed and 2011 finalist Jo-Wilfried Tsonga in a serving and volley masterclass, playing classic grass court tennis to get the job done.
The 34-year-old from Luxembourg has won two titles in 2017 in Sydney and on the grass courts at the Ricoh Open in s-Hertogenbosch. Muller was on a five-match winning streak and he needed 12 match points to defeat Nikoloz Basilashvili in the previous round, but Muller was match sharp in sending Tsonga out, who played well against compatriot Adrian Mannarino on Monday, although Mannarino was hampered with a back injury.
Muller serves his way to claiming the opening set
The fifth seed got off to a good start in his opening service game, and he immediately looked like breaking Muller's serve in the next game. Nevertheless, the unseeded player from Luxembourg held onto his service game with some good serving to level proceedings at 1-1.
However, as expected both players settled down into this second round match as both players found their rhythm on serve with their next couple of service games being held to love, levelling the match at 3-3.
Furthermore, Tsonga played a poor game as he suffered a lapse of concentration and quickly found himself at 0-40 down. The Frenchman fended off the first break point with a good serve down the middle but Muller gained the crucial break with help from the net cord helping his sliced backhand go over the net forcing the error from Tsonga.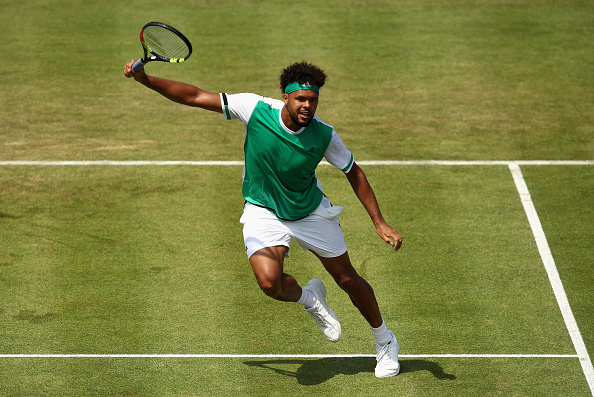 The world number 26 consolidated the break with a hold to love sealed with an ace out wide. Tsonga had to serve to stay in the opening set, which he did comfortably but trailed 5-4.
Muller claimed the first set 6-4 with a hold to love, and Tsonga had work to do if he was going to avoid the upset bug in London.
Muller continues to cause more problems in the second set to reach the quarterfinals in Queen's
The alarm bells were ringing for the 2011 finalist and the tournament organizers were worried as they had seen the top three seeds, including the two-time defending champion Andy Murray, Stan Wawrinka and Milos Raonic all fall by the wayside on Day two.
Tsonga quickly found himself under pressure on his serve as he 0-40 down, and Muller produced an extraordinary running forehand winner down the line on the stretch, followed by a half volley winner to break Tsonga's serve and lead 1-0.
The 34-year-old remained untroubled on serve as he consolidated the break to love, portraying good serve and volleying skills once more.
It was vital for Tsonga to hold onto his next service game which he did with ease, and Muller sealed another game with an ace out wide to lead 3-1 in the second set.
The two-time Wimbledon semifinalist found some timely backhand and forehand winners down the line, to hold onto his serve to love. Tsonga had the chance to restore parity in the second set as he produced some stunning backhand winners down the line to bring up two break point chances at 15-40. Nevertheless, in typical Muller fashion, he saved both of the break points with an ace out wide, and a serve and volley winner.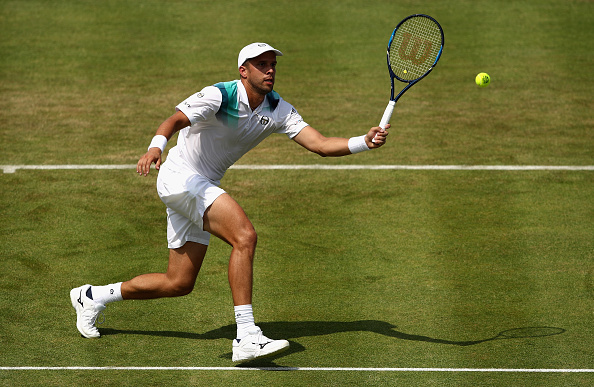 The lefty held onto his serve with a disguised drop shot winner and an ace out wide to extend his lead to 4-2. It was a crucial moment of the match but Tsonga continued to find a way to get back into this second-round encounter.
Muller, who is at a career-high ranking of 26 was under pressure at 15-30 down, however, he found his serve, and once again, he clinched another game with an ace to lead 5-3. Tsonga had to serve to stay in the match, and it was arguably his best service game of the match with a couple of aces, and forehand winners.
It wasn't enough for the 2008 Australian Open runner-up as Muller served out for the match comfortably, and he sealed the victory with a strong first serve down the middle, recording a strong, 6-4, 6-4 victory in just one hour and nine minutes.