 Karolina Pliskova, the former world number two reached her first Grand Slam final at the US Open last year. The lanky Czech lost to current world number one Angelique Kerber in the final. Since then, Pliskova has continued to show her consistency at the showpiece events by reaching the quarterfinals at the Australian Open, and the semifinals of the French Open, earlier this month.
The Czech wrote in a column for the Straits Times, explaining the difference between the top players, and the chasing pack. "The thing that separates the top players from everyone else is that our B and C levels are still good enough to win matches. Win win more matches because we have learnt how to survive on the days when we are not at our best. It is a skill that I'm only recently learning to master. A lot of people have told me that I'm too hard on myself when I'm not playing as well as I want to play.
Pliskova further continued, "All of the best athletes are perfectionists, but sometimes I want it too much and then I'm missing my shots even more than usual. I'm working with my coach to improve my focus and intensity in my matches so that I don't get distracted by my own frustration. The work we've done really paid off in Paris this month."
The world number three has claimed that the best is yet to come from her, and she doesn't think that she has played her best tennis yet. "The funny thing is, I don't think I've actually played to the best of my abilities this season. In Paris, it became a running joke with the reporters because I got the sense they were all in shock at how badly I was playing while going further than I had ever gone at Roland Garros.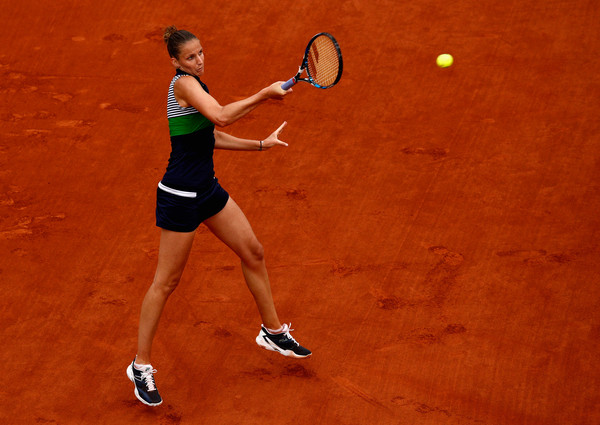 "I know I'm dangerous even without playing my best tennis. So far this year, there were not many matches where I played amazing tennis. I started the year with two titles in Brisbane and Doha, but I don't think I played great tennis there. Somehow I still won. This has been an important thing for me to learn. I don't have to be perfect to win. Right now I think I have a chance on any surface, no matter how I am playing. With my worst surface now behind me, I'm ready to continue my charge towards the No.1 ranking."
Pliskova won her first match on grass in 2017 at the Aegon International in Eastbourne, where she defeated Alison Riske in straight sets. The Czech cannot attain the no.1 ranking in Eastbourne but she has a shot at it at Wimbledon as she only reached the second round last year.