 Former world number two Goran Ivanisevic, who won Wimbledon in 2001 has claimed that two-time champion Rafael Nadal and seven-time champion Roger Federer are the favorites to win Wimbledon. Moreover, his third favorite to win Wimbledon is 2014 US Open champion Marin Cilic, which means that world number one Andy Murray and world number four Novak Djokovic are his fourth and fifth favorites respectively.
The charismatic Croat spoke to the Daily Mail and praised Cilic's credentials on grass. "He (Cilic) plays very well on grass, but nobody talks about him. He's got the game, it's just an issue of mentally how he's going to cope with the pressure. If he continues to play aggressively, the only way he can play, he can be very dangerous there. For the moment, he (Murray) is my fourth favourite. Murray's lost confidence. He's not hitting the ball well enough. I'm thinking about the form, the way they're playing and how they can do. But who knows how it's going to turn out?
Ivanisevic continued to speak about the world number one, who has struggled in 2017. "Last year he was returning better, putting pressure on everybody and was more aggressive. Andy was returning unbelievably, now he's a bit out. Players believe they can hurt him. That's the worst thing that can happen, he's not untouchable anymore. He has two weeks to prepare and he needs to hope for a better draw for the first couple of rounds so he can get some confidence.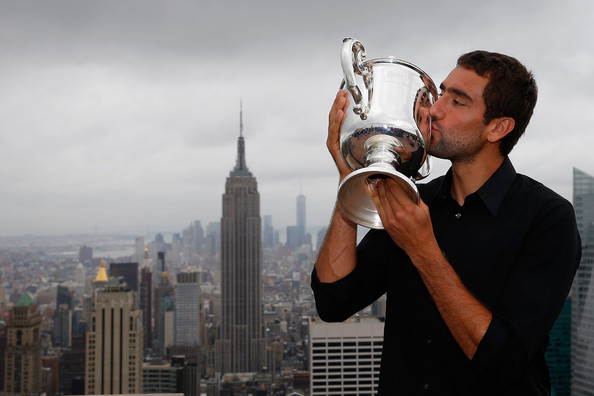 I don't think anyone should be worried. He's a fighter. He's going to find his mojo, his form, because of how much Wimbledon means to him. The way he played last year was absolutely beautiful to watch." The 45-year-old spoke about the new French Open champion Rafael Nadal, who claimed the title without dropping a set. The two previous occasions (2008 and 2010) that Nadal won the French Open without losing a set he went on to win Wimbledon. "Rafa is very mentally strong. At the moment, he's the best player in the world. It depends on the draw. I would pick Nadal if he passes the first week.
Could he be vulnerable in the first week? You never know. You look at what happened the last couple of years, he had tough opponents who beat him before in Dustin Brown (in the second round on his last appearance in 2015) and Nick Kyrgios (in the fourth round in 2014) but he's hitting the ball amazingly and it's going to be tough to beat him."