 Australian youngster and world number 20 in the world Nick Kyrgios has fired back at the Channel Nine journalist and 3AW host Tony Jones, who believes that the 23-times Grand Slam Champion would beat Kyrgios in a tennis match. This coming after John McEnroe opened up the discussion, which didn't go down well with most people.
Tony Jones agrees with John McEnroe's comments
Speaking to the 3AW radio station, host Tony Jones commented, "I agree with him (John McEnroe) on one point — I think that she would beat Nick Krygios. I say that because she has a power game, there's no doubt about that. But he touched on something that is more important, especially when you're playing something like Nick Kyrgios whose brittle above the shoulders — it's a mind game as well."
He also continued by saying, her mental strength alone would see her get the better of someone like Nick Krygios — I'd back her in." This coming after John McEnroe made comments that Serena Williams would be ranked in excess of 700 in the men's game despite also saying that she is the greatest female tennis player ever to grace the game.
Nick Kyrgios hits back on Social Media
The 22-year-old was quick to respond that if Williams could beat him, then the likes of Novak Djokovic, Rafael Nadal, and even Roger Federer would also likely struggle against Serena Williams as they have had tough battles against the Aussie star.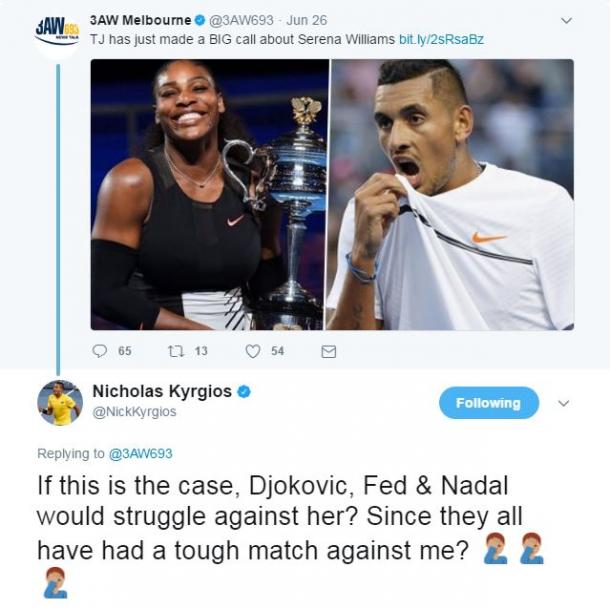 Nick Kyrgios didn't stop there and even replied directly to the radio station again on Twitter by saying "And we have seen it all."

Kyrgios heads to Wimbledon as the 19th seed, a tournament he believes he can win one day.