 After poor weather halted most of the play the day before, Kristina Mladenovic, who had gotten a bye, eventually got her Eastbourne campaign up and running against Shuai Zhang. The pair just met last week in Birmingham with the Frenchwoman running out tight straight sets win. Zhang looking to get her revenge fell short after being handed in the first set. She kept it tighter in the second set but Mladenovic was serving pretty well and eventually clinched the match 6-0, 6-4 to advance to the round of 16.
Mladenovic cruises through the first set
The match started with a long game before Mladenovic got her first break point. Zhang saved it with some good hitting but sent a double fault to give the Frenchwoman a second chance. Again the Chinese was equal to it coming up with a one-two punch to save it. She just could not a find through though and a double fault then allowed Mladenovic to break first. The Frenchwoman served well to consolidate before setting up a couple of break points yet again after a greatly struck running forehand winner. Mladenovic did not need a second invitation, converting the chance for the double break. The ninth seed followed it up with an impressive service hold for 4-0.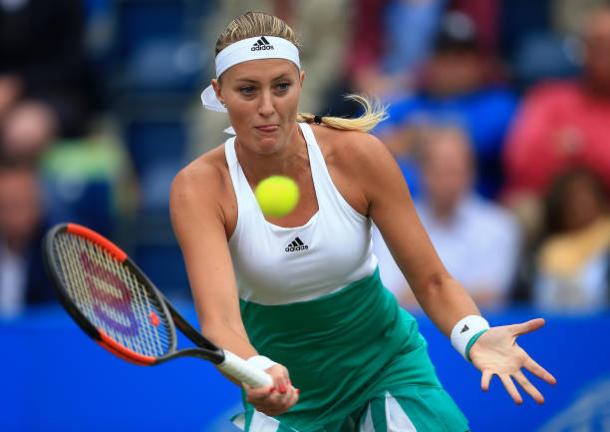 Zhang was struggling as errors started to fly off her racket handing Mladenovic triple break points. The Frenchwoman benefited from yet another error to get to a staggering 5-0 lead. The Chinese, however, was not done fighting and earned herself a break point as Mladenovic was serving for the set. Zhang could not capitalize though and the Frenchwoman went on to wrap up the first set 6-0.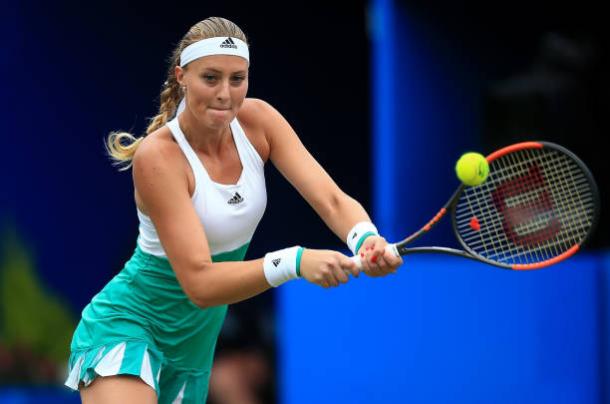 Zhang hangs on but Mladenovic stays strong
The misery continued for Zhang as her serve was again broken immediately by Mladenovic who won her seventh game in a row. The Frenchwoman was barely ruffled in her service game to consolidate for 2-0. And finally, after being forced to deuce again, the Chinese got herself on board for 1-2. The Frenchwoman kept her lead and Zhang hung on to keep within touching distance.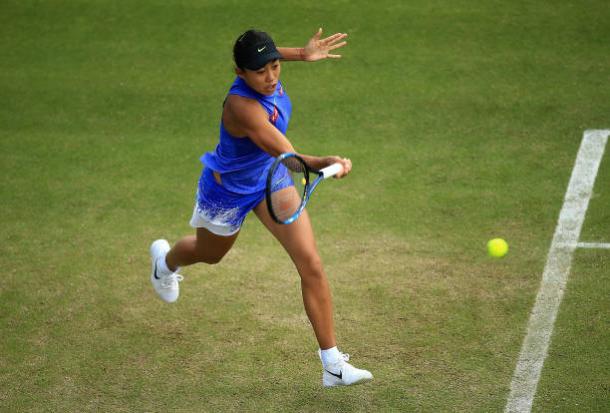 As the set wore on, the Chinese started having an easier time on her service games. However, she was still finding it very hard to make any headway on the Mladenovic serve. The Frenchwoman was focused and barely made any errors on her service games firing winners from both sides. Zhang held one more time for 4-5 to force the Frenchwoman to serve for the match. Mladenovic's first serve especially was great and she lost just four points behind it. Serving for the match, the Frenchwoman made no mistake and sealed victory in straight sets.