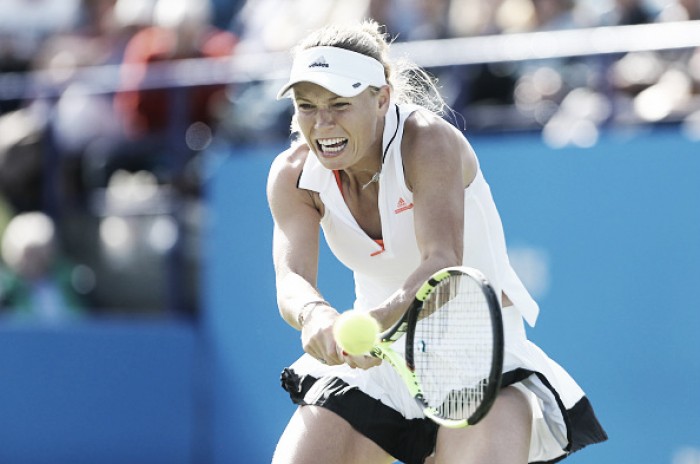 All female tennis players had to play two matches on Day 5 of the Aegon International in Eastbourne. The rain on Tuesday forced play to finish early, which meant there was a bath log of fixtures.
The last warm-up event ahead of Wimbledon is due to finish on Saturday as main draw action gets underway on Monday. Nevertheless, former world number one Caroline Wozniacki ended Simona Halep's chances of gaining the world number one ranking from Angelique Kerber. Wozniacki's passage to the quarterfinals was easy as she had a straight sets win over 12th seed Elena Vesnina earlier in the day, whilst Halep had to endure a tough three-set battle with 2010 Wimbledon semifinalist Tsvetana Pironkova.
The sixth-seeded Dane's quarterfinal victory over Halep means that she will play against former Wimbledon quarterfinalist Barbora Strycova or Britain's number three Heather Watson for a place in Saturday's final tomorrow.
Halep fights back to steal the opening set
From a 40-0 position, Wozniacki lost five successive points to hand the two-time French Open finalist an early 1-0 break. Nonetheless, the sixth seed broke back easily with a break to love. The former world number one was in cruise control as she gained the first hold of the match to lead 2-1.
The 2009 champion continued to return well, and she the pressure was immediately back on the Romanian's serve. Halep quickly fell 0-40 down again her serve, and the former world number one broke Halep's serve for the second successive time by virtue of a double fault, leading 3-1.
The second seed had no answers at this stage of the match as her fellow two-time Grand Slam finalist colleague continued to extend her lead to 4-1. However, the 25-year-old stopped the run of games against her as she held to love but was still a break down.
The Dane was in a commanding 5-2 lead as she held onto her serve to love. However, there was a turning point in the match as the French Open runner-up was two points away from taking the first set on multiple occasions. Halep claimed the game with an outstanding running backhand winner down the line.
Wozniacki was unable to serve out for the opening set as she committed an untimely double fault, and the Dane missed a forehand unforced error to hand Halep the first chance to break. The second seed broke back with a sweet backhand return of serve forcing the error from Wozniacki.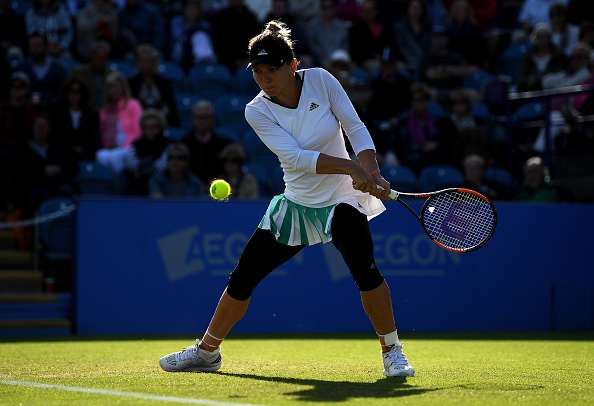 The pendulum swung and Halep got back on level terms with a hold to love at 5-5. The 2009 champion was unable to get a stranglehold in the first set that she dominated as she raced out to a 40-15 lead. However, both players demonstrated tremendous defense in entertaining rallies, and Wozniacki was broken again as her crosscourt backhand sailed long.
The 26-year-old from Denmark could not understand what was going on and would have felt like it was daylight robbery with the second seed taking the opening set by producing a crushing backhand winner down the line, 7-5 in 44 minutes.
Wozniacki recovers to take the second set
It seemed as though that the sixth seed was bitterly disappointed to have lost that first set, and clearly carried on into the second set. The Dane was broken to love by committing a double fault to hand Halep, the early break that she was searching for.
The Romanian consolidated the break by holding serve easily, and she produced some world class forehand winners down the line. Wozniacki fell away mentally but she has a reputation for being one of the best fighters on tour. Halep reeled off eight games in succession as she took a commanding 3-0 lead in the second set.
Moreover, Halep was in a similar situation at Roland Garros in the final against Jelena Ostapenko, when she was leading by a set and 3-0 up, and had points to go 4-0 up. The former world number one might have thought about that as she stopped the run of games against her as Halep played a poor game.
The sixth seed remained firmly back in this second set as she held to love but still trailed 3-2. The Romanian continued to apply pressure on Wozniacki, and leading 4-2 and 0-30 on the Dane's serve the finishing line was in sight. However, Wozniacki produced a crucial backhand winner down the line and held onto her serve to remain in touch.
The pendulum swung once again as the former world number one recovered the second break against her as she continued to plug away against Halep, and extend the points. She converted on her second break point chance as Halep's backhand went wayward.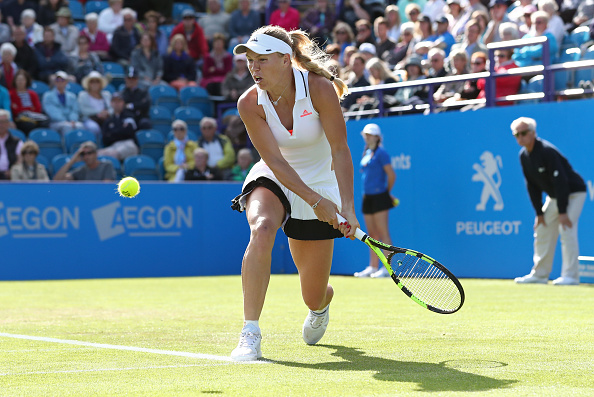 The hard work was almost undone as the former world number one had to face four more break points, and had the two-time French Open runner-up broken, she would have served for the match. Nevertheless, Wozniacki hung on in a crucial game by producing a good serve down the middle, forcing the error from Halep to all of a sudden be one game away from leveling the match.
It was an uncharacteristic game from the Romanian as she committed a few unforced errors, and Wozniacki got her first set point chance by virtue of an untimely double fault from Halep. The 2009 champion didn't hesitate and took the set point at the first time of asking by retrieving Halep's poor drop shot, which led her to commit a backhand unforced error in the net taking it 6-4.
Wozniacki cruises in the final set to reach a fifth semifinal in Eastbourne
For the third successive time in the match, Wozniacki failed to hold serve in her opening service game in all three sets. Halep broke serve with an ease to gain a crucial lead in the final set. However, the former world number one responded with ease as she broke Halep's resistance to restore parity at 1-1.
The Dane was in firm control of this final set as her serving continued to prove to be a decisive factor in this match as she took a 2-1 lead with an ace out wide. Halep was starting to fatigue in the final set as Wozniacki won her third game in a row, and broke to lead 3-1.
The 2009 champion had to fend off a break point in her next service game which proved to be crucial as the Dane won the game with a crushing backhand winner down the line in a lengthy exchange, and won her fourth successive game in the process.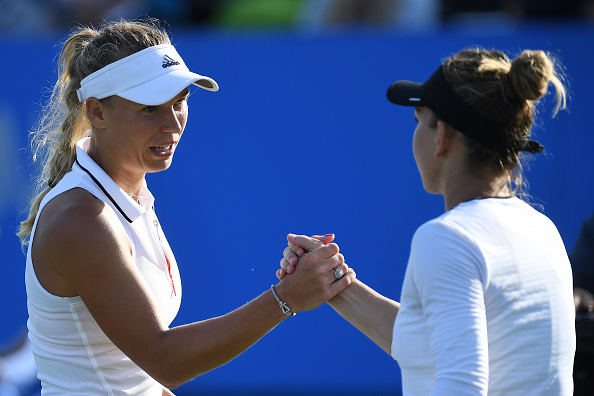 It was evident that Halep was struggling in the final set on her serve as she dramatically fell to 0-40 on her serve, Wozniacki failed to take the first break point on Halep's poor second service delivery but she converted the second one by virtue of another double fault from the second seed to lead 5-1.
The fighter that is Wozniacki was a woman on a mission to finish off this encounter after a long day at the office, and she held to love with a good serve out wide, and a scintillating forehand winner down the line, ending Halep's chances of claiming the world number one ranking, 5-7, 6-4, 6-1 in one hour and 53 minutes, and it was Wozniacki's third victory over Halep in five encounters.