 Newly-crowned French Open champion Rafael Nadal enters this year's Wimbledon with renewed confidence. The Spaniard has won four titles in 2017 along with his eternal rival and seven-time champion Roger Federer. The former world number one is in the driving seat to claim the world number one ranking from Andy Murray but three-time Slam champion Stan Wawrinka, who needs to win Wimbledon to complete the Career Slam, and three-time champion Novak Djokovic who won the Aegon International in Eastbourne yesterday are amongst the running to win Wimbledon.
Nonetheless, the Spaniard's injury problems are behind him and he is in a good position to win Wimbledon. There is a good omen for Nadal as he won the French Open without losing a set and both previous times he's done that, he's gone on to win Wimbledon in 2008 and 2010. The 15-time Grand Slam champion speaks to the media ahead of his charge for another Slam title.
"I would have loved to have played at Queen's obviously but after the last three months and after what happened at Roland Garros on the side of that for my body it's better to have lower change to the grass, so we were practicing more every day, I was lucky to have a tournament there in Mallorca.
"My motivation is always high in all of the events I play, if not I am playing, you can imagine always playing at Wimbledon is very special for me. One of the biggest goals, I had when I started to have success in this sport, to play well in this tournament. I did five times, it's true what happened to my knees in 2012, it was more difficult and at the same time, it's true in 2014 I played a good event, I lost in the fourth round against Nick (Kyrgios) but I had my chances too. After that last year I couldn't play, 2015 was not my year of course. Let's see what's going on this year, it's always difficult, I am excited to be playing again here, it's a tournament, I really love and I really enjoy playing.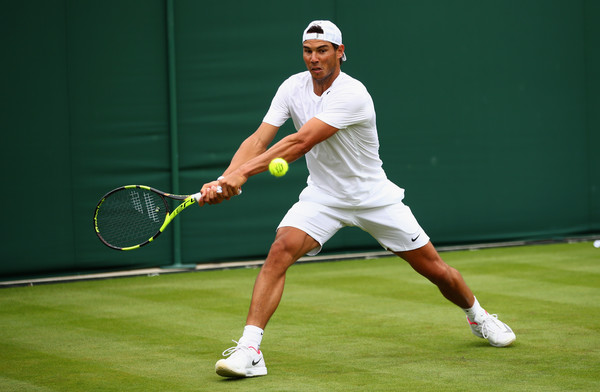 "It was a great two weeks for me, I enjoyed the two weeks in Australia, the first year I have been very special to be a part of that final. Of course, I would like to win but I didn't, the opponent played better than me, that's it, and it's true after Australia, my level kept going in a positive way, so it's obvious that tournament helped me
a lot to get me to where I am today.
The two-time Wimbledon champion hasn't gone beyond the quarterfinals since 2011 when he lost to Novak Djokovic in four sets in 2011. Nonetheless, Nadal is looking to set the record straight at this year's Wimbledon and he begins his campaign in the second match on No.1 Court against Australia's John Millman.