 Reigning US Open champion Stan Wawrinka returns to Wimbledon as he aims to create more tennis history. Switzerland's number one has a chance of becoming the world number one for the first time in his career. He lost to Juan Martin del Potro in the second round last year. Nonetheless, Wawrinka is the fifth seed due to the grass court seeding formula that Wimbledon operate for the men. He isn't just playing for the world number one ranking, he is aiming to win his fourth Grand Slam title in four years, and complete the Career Grand Slam.
Wawrinka has added seven-time Wimbledon winners, compatriot Roger Federer's and Pete Sampras' former coach Paul Annacone to his coaching team in his bid to win Wimbledon. The Swiss number one reached his second French Open final in three years last month, and he lost his first Slam final to Rafael Nadal in straight sets. After that, he suffered an early first round exit at the Queen's Club to eventual champion Feliciano Lopez.
The three-time Grand Slam champion is in good spirits ahead of Wimbledon and spoke about the "Big Four" who are the top four seeds and have won the last 14 slams between them. "Wimbledon is probably the most challenging Grand Slam to any player, you play on grass. It's the only time you play on grass throughout the year, it's three weeks because they have been so good compared to every other player in the last 10-15 years, they've been winning every year.
"I don't know if it's going to change, it's going to an interesting Wimbledon for sure like it's been at the beginning of the year. Roger playing so well, Rafa's confidence, Murray is struggling a little bit but he loves the grass so he's going to be dangerous. Again it's going to be a good Wimbledon.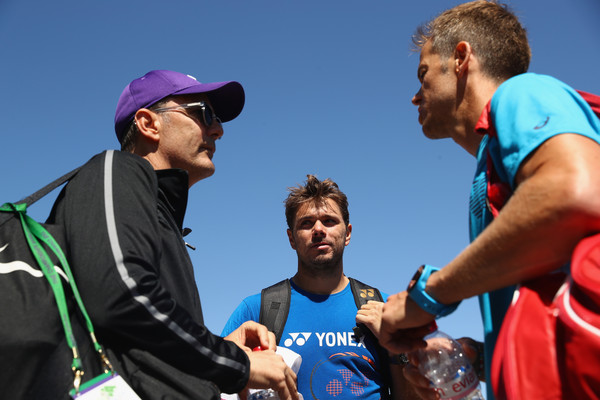 I think it's great to have Paul (Annacone) with us, having Mangus (Norman) here for me it's more about my game in general, always trying to improve, always to find things that I can improve and change in my game. It's great so far, I'm really happy with him, we're looking forward starting here in Wimbledon.
I think there is a few, (I) had some good matches, one of the first, second year, I beat Karlovic on a small court 11-9 and for me, at the time it was an amazing result.
Amazing like his career so you can talk more about Roger if you want, it's been 10 years you've been asking me questions about Roger.
Wawrinka begins his quest for a first title at SW19 on Centre Court against the dangerous Daniil Medvedev, who reached the semifinals in Queen's and Eastbourne.