 Two-time Wimbledon champion Andy Murray heads into this year's Wimbledon a little short on confidence. The Brit will be under considerate pressure at SW19 as he enters this year's Championships as the defending champion. Also for the first time, he will be the top seed and world number one at his home Grand Slam event. Moreover, Murray does not just have to try to defend his Wimbledon title, he has the world number one ranking on the line, which is double the amount of pressure, he will be feeling right now.
Murray's contenders in the running to try to wrestle the top spot away from him are dangerous. French Open champion Rafael Nadal is one of them. Fellow three-time Slam champion and reigning US Open champion Stan Wawrinka needs to win Wimbledon to complete the Career Grand Slam. The final contender is three-time Wimbledon champion, Novak Djokovic. The Serb just won the Aegon International in Eastbourne yesterday. Seven-time winner Roger Federer cannot wrestle the world number one ranking away from Murray. He reached the semifinals last year but he will be looking to win a record eighth title at SW19 and first since 2012.
The defending champion is also expected his second child with his wife Kim, who's the daughter of former WTA coach Nigel Sears, who does commentary for BT Sport and Eurosport in the UK.
The three-time Grand Slam champion begins his Wimbledon campaign tomorrow at 1pm local time on Centre Court. It is the tradition that Wimbledon has for its gentlemen's singles champion to open up play at Wimbledon. The Brit begins his title defense against Lucky Loser, Alexander Bublik of Kazakhstan, formerly of Russia. "I haven't played against him, I've not seen him play loads but I've heard a few things from some of the players. I chatted to him a little bit in Indian Wells, earlier in the year, he's a big personality, he's not a quiet guy. From what I've heard he's pretty entertaining on the court in terms of the ways, that he plays and how he is.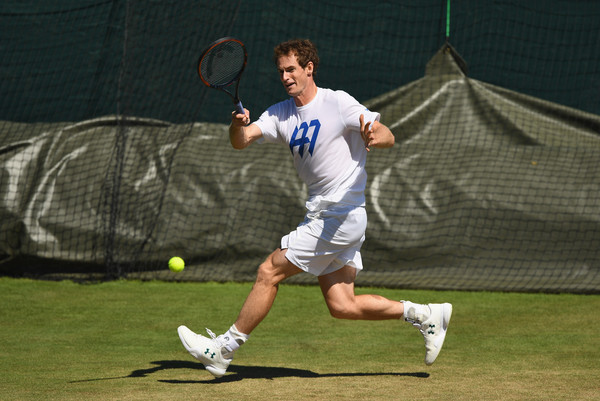 "I've had hip problems since I was very young, it's not something new to me. It (has) been very sore the last few weeks, it's given me quite a lot of trouble moving to certain shots and getting into certain positions. A lot of that has to come from the player because you know what you can and can't tolerate, we made the decision on Tuesday after I hit a little bit in the morning. I needed to take a few days break. If I was going to give myself the best chance to be ready. There was no pushing three or four more days to make myself feel worse.
Murray also spoke about that he enjoys the pressure that comes with being a professional tennis player, and likes the prospects of being at home during the fortnight."There's pressure on this event because it's one of the most important we play during the whole year. If I wasn't nervous or didn't feel pressure I'd be very worried by that, and then I wouldn't be sure if I wanted to keep on playing if that was the case. I want to be nervous, I want to feel the pressure at these events. But at the end of the days when I leave the court, I can get away from it, maybe from the other events as I'm home with my family in my house and that's nice.