 The three-time Grand Slam champion Stan Wawrinka says a recurrent problem in his left knee flared up during his first round defeat to the Russian Daniil Medvedev at Wimbledon. The Swiss went down, 4-6, 6-3, 4-6, 1-6, to the world number 49 in Day 1 at the All-England Club and has vowed to return to the court only once his knee is free of pain. Wawrinka was forced to apply ice to his left knee in the third set of his defeat to the Russian and looked visibly troubled by the injury in set four.
The 31-year-old lamented a problem in his knee during his semifinal defeat to Roger Federer at the Australian Open at the start of the year and also towards the tail-end of 2016. And he told reporters that his knee caused him severe discomfort throughout his two hours and 13 minutes on court.
An old problem
"It's not something new, it's something that's happened in the past," said Wawrinka.
"I felt it [the knee injury] at the end of last year and also in Australia." The Swiss also believes that the low bouncing courts at Wimbledon, which puts extra strain on the knee joints, exacerbated the problem. "I think that the problem was that it was one of the first times I was playing on grass this year and apparently it's not the best surface for my knee," he chuckled. "I need to now figure out what the problem is and what I'm going to do exactly so I can return to the court without any pain.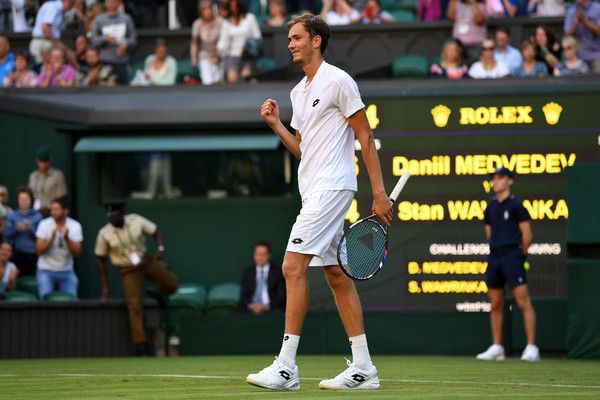 Credits the Russian
The French Open finalist was also effusive in his praise for his opponent, who is enjoying an impressive grass court season.
"He's a really good player so I was expecting a very tough match," he added.
"I saw him play on grass in the last couple of weeks and he is playing a flat and fast ball. He loves the grass to play his game and he's a very dangerous player going forward."