 Three-time Wimbledon champion Novak Djokovic quickly made it into the second round of the tournament on Monday, with first round opponent Martin Klizan retiring early in the second set with a leg injury.
Djokovic, who would have gained some confidence by winning the Aegon International heading into the tournament, would have been hoping to impress in front of Mario Ancic, the latest edition to his coaching team, though did not have to much as he was rarely threatened by the injured Klizan, with the former world number one off court in just forty minutes.
Djokovic eases through as Klizan pulls out
Early on in the encounter, there were concerns about Klizan, who was seemingly struggling with a leg issue, with the Slovak hobbling about on court. Though he was clearly not at his best, the Slovak was fighting very hard and there was very little between the two in the opening twenty minutes, though Djokovic then ramped up the pressure and broke for a 5-3 lead. The world number four made no mistakes when serving it out, taking the first set 6-3.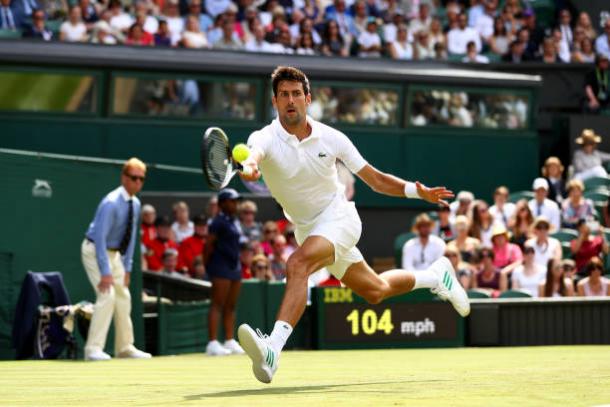 Unsurprisingly, Klizan called for the Physio following the end of the first set, though could not receive a medical time out because his injury was pre-existing. The Slovak was broken in the opening game of the second set, though kept on playing against Djokovic, who was able to exploit Klizan's inability to move and quickly reeled off the next game. It would be his last service game of the match as down 0-30 on his serve, the Slovak, unfortunately, called it a day.
It is hard to tell exactly what type of shape Djokovic is in following a victory in this manner, though he did look fairly solid in the few games he did play on his return to Centre Court. The Serbian faces Adam Pavlasek in the second round, with a potential meeting with 29th seed Juan Martin del Potro looming after that.