 2015 finalist Garbine Muguruza got through a very tough opening round test against the hard-hitter in Ekaterina Alexandrova as she produced an excellent performance in the first round of the Wimbledon Championships, triumphing in straight sets after just one hour of play.
Muguruza strolls to win the first set
Muguruza had to eke out a tough hold of service in the opening game of the match as she had to fend off Alexandrova's powerful shots which earned her a break point, but the higher-ranked player stood firm and eventually managed to hold serve to get the positive start. The forehand unforced error on that break point proved to be crucial as Muguruza broke serve to love in her first return game, jumping out to an early 2-0 lead. The 2015 finalist continued to play some excellent tennis as she consolidated the break of serve to have a three game lead, looking to stroll through the first set.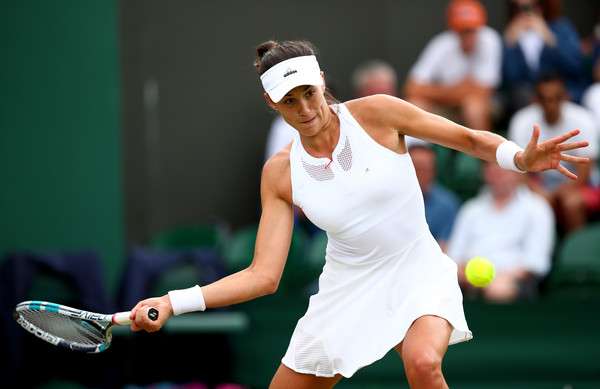 From 15-40 down in the fourth game, Alexandrova came up with some huge serves and attacked the forehands of Muguruza, narrowly holding her serve after saving two break points and prevented herself from lagging further behind on the scoreboard. From 0-30 down in the next game, it was the Spaniard who made a mini-comeback this time as she managed to hang on to her lead, remaining in front on the scoreline. Muguruza was soon just one game away from winning the first set as she comfortably held her serve to open up a 5-2 lead, with Alexandrova having a mountain to climb if she were to mount a comeback. An inspired Muguruza was unstoppable as she broke serve for the second time in the set, sealing the first set 6-2 after just 28 minutes of play.
Muguruza survives tight second set to take the win
It was the best possible start to the second set for Alexandrova as she recovered from being a game point down to breaking serve with some excellent aggressive tennis, taking the early lead as she looked to send the match into a deciding set. However, Muguruza made an immediate reply as she broke straight back to love with some powerful returns, getting back level on the scoreboard. It was a serve-dominated contest from that point onwards as both players looked effective on their serves and did not look to slip up anytime soon, with a break point looking difficult to earn.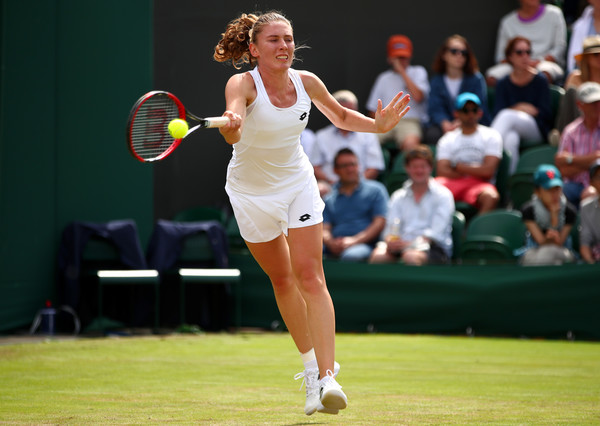 As the games silently went by without any spectacular points, Muguruza soon found herself just one game away from winning the match as Alexandrova had to hold her serve to stay in the match at 4-5. However, she crumbled to the massive amount of pressure as she committed a couple of unforced errors to allow Muguruza to break serve for the second time in the set, sealing the victory in straight sets after exactly one hour of play.
Stats Corner: Muguruza was more solid of the two
Muguruza managed to send 77 percent of first serves in, and she impressively won an incredible 73 percent of those points behind her powerful first serve. Despite Alexandrova having a similar serve as compared to the 2015 finalist, the Russian was unable to make an impact on her serves as she only won a mere 57 percent of first service points. Alexandrova committed 23 unforced errors throughout the 60-minute affair, which came along with only 12 winners. However, Muguruza was much cleaner in this aspect as she blasted 12 winners past her opponent while only committing 10 unforced errors.