 Victoria Azarenka put up what could be her best performance of her comeback to tennis after a maternity leave as she managed to defeat defending semifinalist Elena Vesnina in straight sets to progress to the third round of the Wimbledon Championships where she would face home favourite Heather Watson there.
Azarenka takes the first set
Azarenka made a promising start to the match as she took advantage of some strong serves to hold serve in the opening game, looking very solid in her play. Vesnina followed suit as she was invincible at the net, taking control of the net points as she held her first service game too. Despite looking a little inconsistent on her serve after allowing the Russian to exploit her weaker second serves, Azarenka managed to come back from the brink and fend off a break point in the third game as she came up with some powerful serves and good follow-ups to narrowly hold her serve, winning 90 percent of her first serve points up till now. With the scores at 15-15, Vesnina's groundstroke was called out but a Hawkeye challenge proved otherwise, allowing the Russian to lead 30-15 instead of trailing by the same score.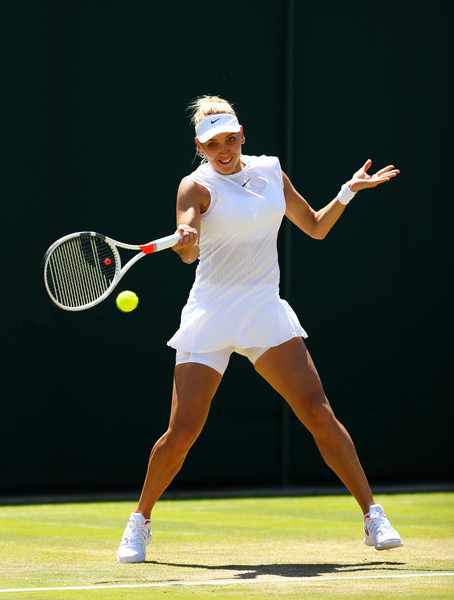 It proved crucial as Vesnina went on to hold her serve comfortably, remaining level on the scoreboard. Azarenka continued to look unthreatened on serve as she was still as solid as ever, losing just one single point on her first serve in three service games. However, it was unexpectedly the former world number one player who made the first breakthrough in the match as she found her first break points of the set, and managed to convert on her third opportunity as she took advantage of Vesnina's failure to find her first serves at the crucial moments. Azarenka then made a huge escape as she recovered from a 0-30 deficit and rattled off four straight points to consolidate the break, sealing the game with a powerful ace. Despite getting a consolation game, Vesnina was still unable to break the duck in Azarenka's service game, as the Belarusian comfortably served out the first set 6-3 after just 43 minutes of play.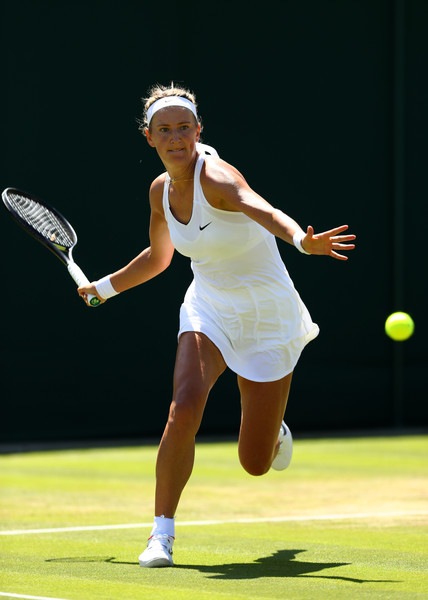 Azarenka takes the win in straight sets
Vesnina had an encouraging start to the second set as she came from 15-40 down to hold serve in the opening game, saving two break points along the way and prevented herself from trailing by an early break. Despite earning a 40-0 lead in her first service game, Azarenka found herself in deep trouble as she allowed Vesnina to get to deuce twice. Nevertheless, the Belarusian was able to eke out the tough service hold eventually, returning level on the scoreboard. Vesnina would rue her missed opportunities as she was broken to love after being unable to find her first serves, allowing her nemesis to take a lead of a set and a break.
With some solid serving, Azarenka easily consolidated the break and opened up a 3-1 lead in the second set. After an exchange of service holds, Vesnina found herself in deep trouble once again as the former world number one player hit some powerful returns to get to deuce on the Russian's serve, but she was unable to earn a break point as the defending semifinalist narrowly held her serve to lessen the deficit to just one game. After a medical time-out for Vesnina, Azarenka did not let the lengthy break affect her as she strolled to yet another service hold, this time placing her just one game away from winning the match. Serving to stay in the match, Vesnina was unable to challenge Azarenka's pace as she often produced unforced errors at the most crucial moments, allowing the Belarusian to seal the win after 98 minutes of play, looking in great form.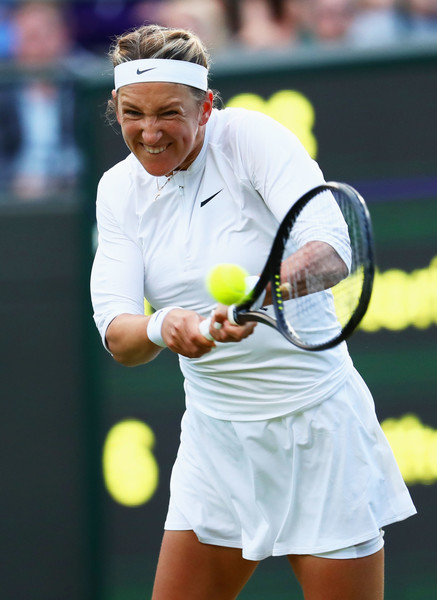 Stats Corner: Azarenka in red-hot form
Azarenka looked to be playing her best tennis as she blasted 26 winners past Vesnina in this encounter, and only hit a mere 13 unforced errors after managing to force errors out of her opponent. Despite producing 16 winners, it came with a heavy price of 18 unforced errors as the Russian was unable to make any breakthrough in her return games, missing the only break point she earned in the match. Whereas, Azarenka broke serve three times and also won an incredible 87 percent of first service points, with this being the crucial factor after Vesnina failed to make an impact with her serves, only managing to win just 57 percent of points off her powerful first serves.