 Two-time Australian Open champion Victoria Azarenka's comeback continues following her maternity leave. The former world number one is playing scintillating tennis on the lawns at Wimbledon, and it looked like the two-time semifinalist has never been away from the game.
Azarenka recovered from a set down to dispatch Catherine Bellis in three sets, and she booked her place in the third round of Wimbledon after putting on a clinic against her former doubles partner and 15th seed Elena Vesnina. It was a very good win for Azarenka as the Russian also is a former semifinalist at Wimbledon when she lost to Serena Williams last year.
The new mother was in a good mood after her latest victory when she was speaking to the press. "No, I think after the first set of my first match, I just relaxed and I started to play my game, not worrying too much about the result or what's going on, on the court. Just focused and stayed a little bit in my zone, which is helping me at the moment.
There is always going to be another Wimbledon, every year, different players are going to sit here in this press room, in other press rooms, like it happened 50-60 years ago, and to me I feel like I'm enjoying myself coming here every day, enjoying the journey, and being able to bring my son here. Hopefully, he might be playing here in 20 years.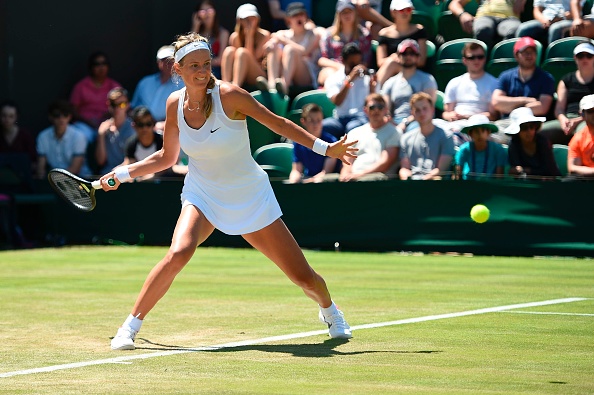 Azarenka has never dropped a set against her third round opponent Heather Watson, and the Belarusian is 4-0 against the Brit, and she is looking forward to the match. "She's a good player, she is definitely going to be a crowd favorite, I think she played really well last week in Eastbourne. She looks like she feels comfortable coming into this match, to me, it's just another match."
The two-time Australian Open champion was also asked in the press conference if seven-time Wimbledon champion Roger Federer inspired her. I'll get myself in trouble for this one. I think women are pretty tough, I do think that we don't get enough credit sometimes, and we always have to fight that battle with guys, who are more powerful and they deserve more or less, so I just want to give a shoutout to the women who are tough. Roger, definitely has not inspired me, no disrespect to him and I think it's amazing you know but I think it's a little different for him."