 Petra Kvitova entered this year's Wimbledon Championships as the 11th seed. The two-time Wimbledon champion suffered a horrific knife injury that damaged tendons on her left hand. An intruder invaded her home in the Czech Republic. Kvitova endured hours of surgery, and it was unforeseen if the Czech would ever return to tennis.
However, Kvitova returned to tennis ahead of schedule at the French Open. The two-time Wimbledon champion defeated Julia Boserup in her first round before losing to Bethanie Mattek-Sands in the second round. Moreover, in just her second tournament back, the former world number two claimed her 20th WTA title at the Aegon Classic in Birmingham.
The 11th seed would go on to win her first round match against Johanna Larsson. The victory was back on her favorite court, Centre Court. However, she suffered a three-set loss to Madison Brengle, and she was physically struggling in the heat, and the doctors came onto the court to check her blood pressure, heart rate, and Kvitova struggles with asthma which doesn't help in this heat.
Kvitova spoke in the press conference about the match and her health."Not great unfortunately but that's how it is, I mean, this happens sometimes on the court, I just couldn't handle it today. Unfortunately, I didn't start well in the third set, which took a lot of energy, I just couldn't get back to that set, and it was tough to turn it around. My body didn't really do the best but I was trying, I fight and I'm not sure what happened actually. I couldn't breathe, I was feeling sick as well, that sometimes happens, unfortunately, it happened at Wimbledon that's not nice. She (Madison Brengle) played well, she hit everything back it was just tough for me to have that energy to play my aggressive game."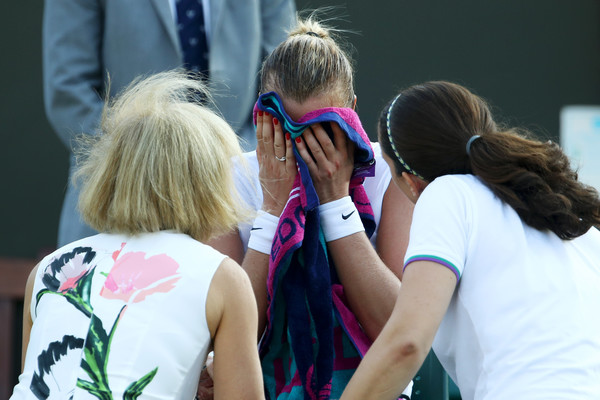 Despite suffering a third successive early exit at the All England Club, Kvitova is thrilled that the match was over but disappointed to exit the tournament early. "I'm glad it's over actually, it was tough and I feel empty right now, my body is not great. Mentally, I'm glad that it's over, I mean it was kind of a fairytale but it was tough and I need to look to the future, focusing on the next tournaments, I know I can play on all surfaces which is very nice but I wish I could play here but on the other hand, I have time to prepare for what's coming next.
"No-one knows how hard I had to work to be back so probably that feels more disappointing than normally it is. But on the other hand, it's been great to be here again, it was my goal to play this year, that's what I did. So probably in myself, I feel grateful to have this option to play but I feel sad to leave so early."