 Current Top 10 player Svetlana Kuznetsova prevailed against former Top 10 player Ekaterina Makarova in straight sets after serving a bagel in the first set, before saving a set point in the second set to triumph eventually. It was an excellent performance from Kuznetsova, who moves on to the third round of the Wimbledon Championships.
Kuznetsova dishes up a bagel
It was a great start to the match as the higher-ranked Russian got the opening break of serve in the first game, coming into the match firing after blasting some backhand winners past Makarova, who served a double fault but displayed some great net skills. Kuznetsova was able to consolidate the break in a tough service hold as she had to save a break point on her way to opening up a 2-0 lead, looking on fire. Unforced errors continued to plague Makarova as the former Top 10 player was shaky on her groundstrokes, allowing Kuznetsova to earn her second break of the day.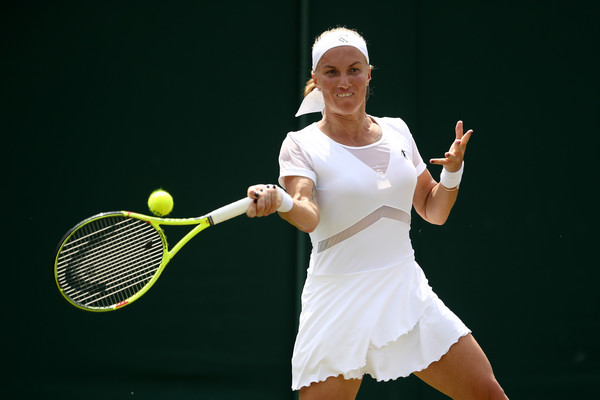 Looking solid in her game, Kuznetsova was just too good for her opponent when she continued to look untouchable in her service games, jumping out to a four-game advantage. The seventh seed remained focused and strolled through another return game after Makarova continued to perform poorly, gifting her compatriot a chance to serve out the bagel. Unexpectedly, Kuznetsova managed to successfully serve out the first set bagel victory after saving a break point in the process, sealing the 6-0 set after just a mere 24 minutes of play.
Kuznetsova prevails in tight second set
The second set was much of a similar story as compared to the first after Kuznetsova broke serve to love in the opening game, being able to lead by a set and a break with everything within her control. Nevertheless, Makarova finally got herself onto the scoreboard with some inspired play as she hit some impressive forehand winners to break straight back and return on serve, winning her first game of the day. Makarova then looked to have the momentum running in her after she blasted some powerful aces to take the lead for the first time in the match. However, Kuznetsova still managed to keep her cool and hold her serve to level the scores at 2-2, with the second set looking like a tightly-contested one.
Kuznetsova then came from 40-15 down and impressively regained the lead after her opponent failed to send her first serves in, causing her weak second serves to be constantly exploited. Saving a game point along the way, Makarova displayed some great fighting spirit when she broke straight back and kept herself in the match, looking to send it into a deciding set. Makarova seemed to have found her best tennis when she held her serve comfortably, serving at a respectable first serve percentage in the second set.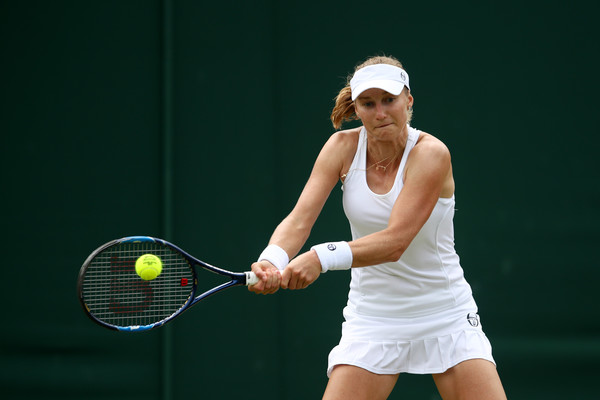 Serving to stay in the set at 4-5, Kuznetsova showed that her years of experience was worth it as she did not faze when facing a set point, which she saved with an excellent volley which she managed to just narrowly reach out to, and eventually she managed to eke out the tough service hold amidst the pressure. The tough hold of serve seemed to have motivated Kuznetsova as she immediately made the next breakthrough in the match, breaking serve to love in the next game as the seventh seed earned herself the golden opportunity to serve out the match. Not disappointing her fans, Kuznetsova easily held her serve and closed out the match 7-5 after a very close Hawkeye challenge being successful for her, sealing the win after 69 minutes.
Stats Corner: Kuznetsova the more consistent of the two
Kuznetsova was absolute firing in this match as she blasted 27 winners past Makarova, and it only came with 10 unforced errors. It is much better as compared to her compatriot as Makarova had her fair share of winners, hitting 21 of them, but it also came with a heavy price of the same number of unforced errors. The higher-ranked player was solid when it came to the serving statistics as she won 62 percent of first serve points couple with a fair 55 percent of points off the second serves. Makarova definitely a lot of room for improvement after just winning 53 percent of first serve points, and just winning two points on her second serve throughout the encounter.