 One of the most exciting third round clashes on Saturday at Wimbledon sees Ernests Gulbis, a former top ten player in the draw because of a protected ranking, face three-time champion and second seed Novak Djokovic for a place in the second week.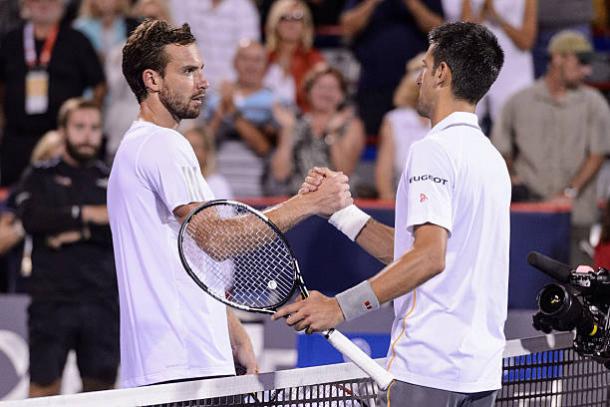 Djokovic dominates the head to head, leading it 6-1 with Gulbis' only victory coming in Brisbane eight years ago, though their last meeting at the Rogers Cup two years ago was extremely tight, and the Latvian does have the game to potentially trouble the Serbian who has had a mixed 12 months.
This match will be the second match on Centre Court, and the winner will face 16th seed Gael Monfils or Adrian Mannarino in the fourth round.
So far at Wimbledon
Both Gulbis and Djokovic will be happy with their progress to this stage, with neither of the two being particularly tested through their opening encounters.
Gulbis, ranked 589th after a year plagued by injuries, has not played at the level he has at Wimbledon this year in a long time. The Latvian stormed past Victor Estrella Burgos for the loss of just four games in his opening round, before impressing large parts of the tennis community with a surprise win over 29th seed Juan Martin del Potro in three tight sets. Gulbis will head into this match with a lot of confidence after the manner in which he won both matches.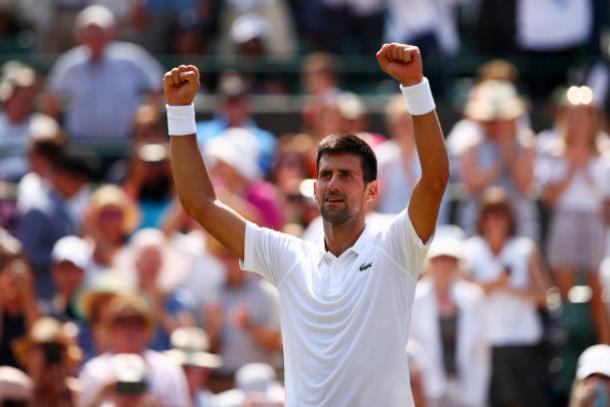 Meanwhile, Djokovic was barely on court in his opening round match, with Martin Klizan retiring early in the second set. However, the second seed's rhythm was clearly not disrupted, as the Eastbourne champion dropped just five games as he eased past Adam Pavlasek to reach the third round. After a rough 12 months, things are seemingly starting to click for the 12-time Grand Slam champion.
Analysis
One important factor here could be in fact be the surface. Gulbis has had success on both hard and clay courts in the past but has never really thrived on grass, with 2013 being the only other time in which the Latvian has made the third round here. In contrast, Djokovic knows perfectly how to play on the surface, having won three Wimbledon titles as well as Eastbourne just last week. He is also a great mover, which is important on grass, and his ability to play on the surface is a big advantage in this encounter.
Though he has not thrived on grass in the past, Gulbis is an extremely powerful player and he should use that to try and dictate play as much as possible. He must, however, be extremely patient, Djokovic is likely to get to many balls and try to frustrate him. Another factor that may help him is the fact that he is a big underdog for this encounter, so can play without too much pressure.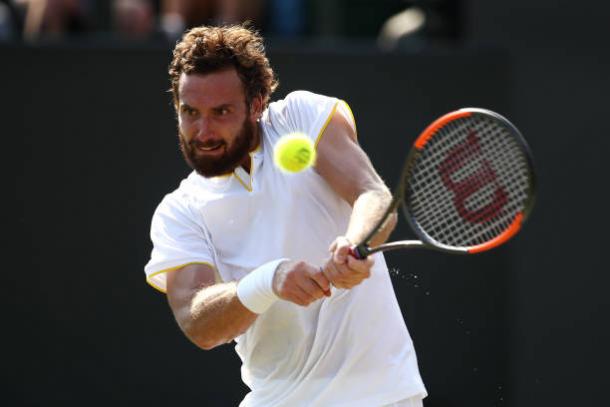 Djokovic is undoubtedly in resurgent form of late, though cannot afford any slip-ups against such an aggressive and dangerous opponent. The Serbian will need to use his strong movement to aggravate the Latvian, who can lose his temper, though must himself look to attack much as possible. Also, he must look to serve well, as his second serve can be vulnerable against powerful opponents.
Assessment
This could well be a fun encounter, with lots of long rallies and likely lots of variety in several rallies. Though Gulbis has been in positive form so far, it is hard to see him challenging Djokovic consistently enough to cause an upset. It seems the second seed should make the second week.
Prediction: Novak Djokovic in straight sets