 Former world number one Victoria Azarenka has done extremely well to reach the second week at a major for the first time since reaching the quarterfinals at the Australian Open in 2016. Azarenka is excelling on the grass courts at Wimbledon, and in just her second competitive tournament back after giving birth to her son Leo in December, she is a contender to win Wimbledon.
On the other side of the net to Azarenka in this mouthwatering fourth-round encounter will be the second seed Simona Halep. The Romanian could have been entering Wimbledon as the world number one and the reigning French Open champion had she not lost to Jelena Ostapenko in the final. Halep was in cruise control in that final in Paris but she capitulated. Nonetheless, she has another bite at the cherry to become the world number one. Karolina Pliskova lost in the second round, and she is in pole position to claim the top ranking. However, Halep will need to reach the semifinals and hope that Angelique Kerber does not make the final to ensure that she leaves London as the world number one. She had another chance to do it in Eastbourne but she fell in the quarterfinals, the same round as Kerber.
Azarenka has performed well at Wimbledon over the years, and she is a two-time semifinalist in 2011 and 2012 after losing to eventual winners Petra Kvitova and Serena Williams. The former world number one also reached the quarterfinals in 2009, and on her last visit to SW19 in 2015, when she lost to Serena on both occasions, who has been a thorn in her side in SW19 in the past.
Halep is also a former semifinalist in her own right. After losing to Maria Sharapova in the French Open final in 2014 in three sets, she reached the last four but lost to Eugenie Bouchard. The Romanian returned to the quarterfinals last year but lost to Kerber.
Azarenka's route to the fourth round
The unseeded former world number one was always going to be a dangerous floater in the draw, and many of the top seeds had a sigh of relief when they knew that they would not be facing Azarenka in the first couple of rounds. Furthermore, in her first Grand Slam match since retiring injured at the French Open last year to Karin Knapp, Azarenka recovered from a set down to defeat CiCi Bellis. In the second round, she had an easier time by ousting her former doubles partner, Elena Vesnina who was the 15th seed and reached the last four in 2016. The Belarusian sent Vesnina packing in straight sets, and in the third round, Azarenka had the privilege of playing on Centre Court. She won her first match on Centre Court since 2012, when she defeated Britain's Heather Watson in three sets, recovering from a set down to reach the second week at Wimbledon for the fifth time in her career.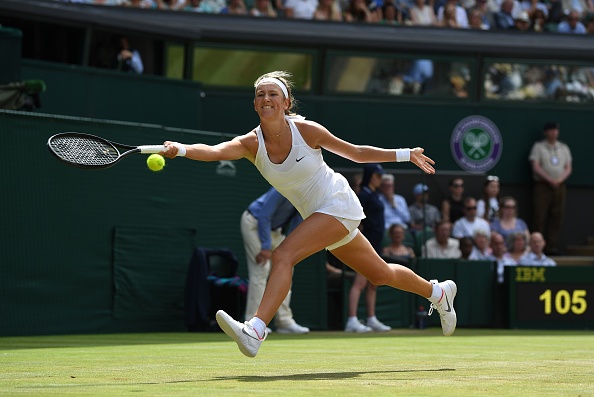 Halep's route to the fourth round
The two-time French Open finalist began her quest for a first Grand Slam singles title at Wimbledon against New Zealand's Marina Erakovic in the first round. It could have been a potential banana skin but the Romanian defeated the qualifier, 6-4, 6-1. In the second round, the second seed had to recover from a break down in her clash with rising star Beatriz Haddad Maia from Brazil. The 21-year-old played well but ultimately fell away as Halep defeated Haddad Maia in straight sets, 7-5, 6-3. In the third round, the 25-year-old saved a set point in the second-set tiebreak against former US Open semifinalist Peng Shuai. Halep is yet to drop a set at this year's Wimbledon.
Their history
Azarenka and Halep have met on three occasions, and the former world number one leads their head-to-head 2-1. The 27-year-old soundly beaten Halep in their two round of 16 encounters in Doha and Linz with a loss of four games in the first meeting and a loss of two games in the second, this was before Halep rose to prominence, the following. However, Halep won their most meaningful encounter to date in the quarterfinals of the US Open in 2015. Azarenka had the momentum and led by a break in the final set but Halep fought back to oust the Belarusian, 6-3, 4-6, 6-4.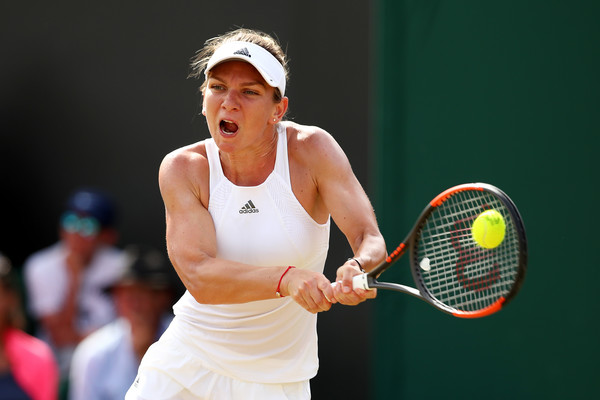 Who advances to the quarterfinals?
The two-time Australian Open champion has returned to professional tennis with a different stature. Azarenka looks a lot leaner, and extremely fitter but the same mentally has never wilted. The former world number one still has her same mannerisms on the court with her shriek being heard, and she still hits ferocious groundstrokes. Azarenka is one of the best returners in the women's games, and she will punish Halep's weak second serve, which Ostapenko took advantage of in the French Open final.
Moreover, Halep will look to extend the points in long baseline rally as she is a grinder and an extremely good defender. However, that can play into Azarenka's hands as the former world number one is more than landing her shots at tight angles.
Azarenka will be sensing this as a good opportunity to get another Grand Slam title in her cabinet to go with her two in Melbourne. The Belarusian is currently ranked at 683 in the world but she has a protected ranking of six to get her into tournaments. Moreover, with a deep run at Wimbledon, Azarenka is already projected to get back inside the top 250. Inevitably, the former world number one was going to look rusty in some of her matches but with a good mentality, Azarenka figured it out and won some big points at crucial moments of matches. The Belarusian loves the big courts and she will relish the challenge of facing Halep.
Halep has struggled mentally at closing out matches as she faltered against Caroline Wozniacki in Eastbourne, and it was reminiscent of her capitulation at the French Open. If she gets in a good position to finish off Azarenka, she may have some doubts creeping in. This match was unlucky not to feature on Centre Court or No.1 Court but they will have to settle on No.2 Court. It will be the second match scheduled after Kerber's match with Garbine Muguruza.
The winner of this fourth round clash will face Britain's sixth seed Johanna Konta or 21st seed Caroline Garcia of France, which will not be an easy opponent for whoever makes the quarterfinals. Azarenka is on a roll right now, and with coming through two tough matches, it will do her in good stead to beat Halep, and continue her run at Wimbledon.

Prediction: Azarenka in three sets