 11th seed Tomas Berdych made his fifth Wimbledon quarterfinal on Monday, battling past eighth seed Dominic Thiem 6-3, 6-7(1), 6-3, 3-6, 6-3 in two hours and 52 minutes to secure his place in the last eight.
Berdych has had a pretty average season overall, though his form has improved massively on grass and that showed as he simply had too much in the closing stages for Thiem, who, despite being third in the race to London, was in the second week at Wimbledon for the first time and does not particularly enjoy playing on grass.
Experienced Berdych has too much in the end for Thiem
Both men had reasons to be confident coming into this encounter, with Thiem having a strong season overall and Berdych showing good form on the grass, and that showed with both men looking extremely comfortable in the opening stages on Court 3, with Thiem saving a break point in his second service game as Berdych eventually took a 3-2 lead in little over 15 minutes.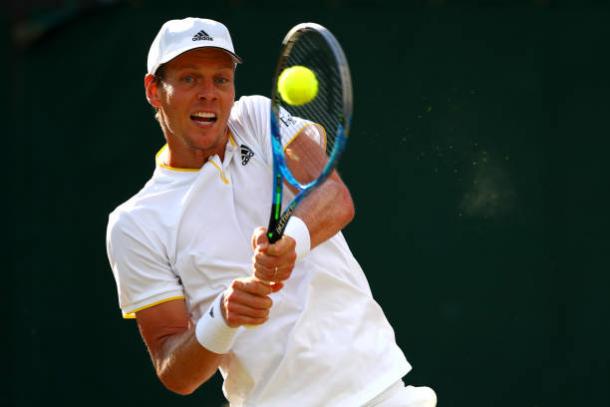 It was here that, after missing that previous break point, that the former Wimbledon champion made a decisive move. The 11th seed built up a 0-40 lead on Thiem's serve, and the Austrian double faulted on the third break point to hand Berdych the advantage. The rest of the first set was fairly uneventful, with Berdych serving out comfortably to take the first set 6-3 in just 30 minutes. Following the first set, it was a fairly uneventful start to the second set, though things began to heat up towards the business end of the set.
Serving at 4-4, Thiem found himself two break points down, though an ace and a smash saw the Austrian avoid potentially going two sets down to Berdych. Seemingly buoyed by that crucial service hold, Thiem forced two set points when the 11th seed was serving to stay in the set, though Berdych saved both with aces and evened things up. Two straightforward holds by both men forced a tiebreak, and it was the eighth seed, perhaps frustrated at missing set points previously, racing to a 5-0 lead and eventually winning the breaker 7-1 to level the match.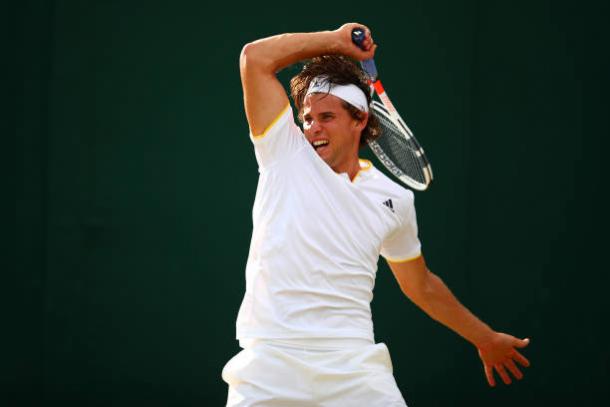 Berdych had clashed with umpire Damien Dumusois towards the end of the second set, and, perhaps riled up by that, the Czech got off to an extremely quick start in the third set, breaking Thiem and building up a 3-0 lead. Unlike in the first set, Berdych faced a little more pressure on his serve after breaking, coming through a couple of deuce games, though the former SW19 finalist held firm as Thiem couldn't find that killer blow to get back on level terms. He was not threatened on serve again, but Berdych did not need any insurance, with an ace securing a hold to love and putting him two sets to one up.
Just as in the second and third sets, very little pressure was put on serve in the early stages of the fourth set, with both men cruising through to 3-3. However, Thiem, aiming for his first Grand Slam quarterfinal outside of the French Open, made a decisive move in the closing stages. After securing a 4-3 lead with a forehand winner, the Austrian put pressure on Berdych, and a forehand winner and a Berdych double fault helped hand Thiem two break points, converting his first by forcing a mistake from the Czech at the net. The eighth seed fell 15-40 down when serving, though saved both break points, and two monster forehands saw him take the match to a decider.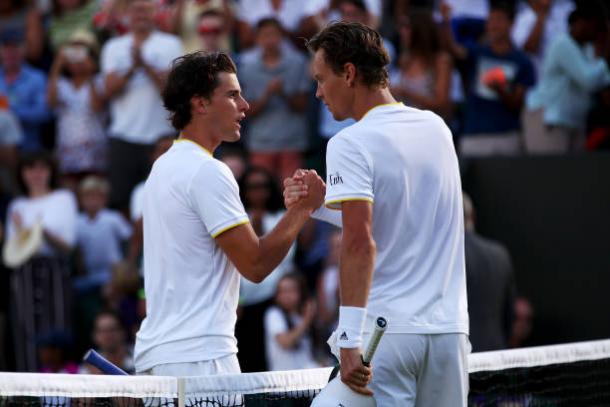 Thiem undoubtedly had the momentum heading into the decider, though missed out on an opportunity to break Berdych at the start of the decider; that would prove costly. After saving a break point himself, Berdych broke following a backhand error by Thiem, and a comfortable service game put the Czech just three games from victory. A love service hold saw the Austrian get on the board, but the 11th seed was supreme on his own serve, and though Thiem did his part by continuing to hold serve, Berdych comfortably served it out to secure a five-sets victory.