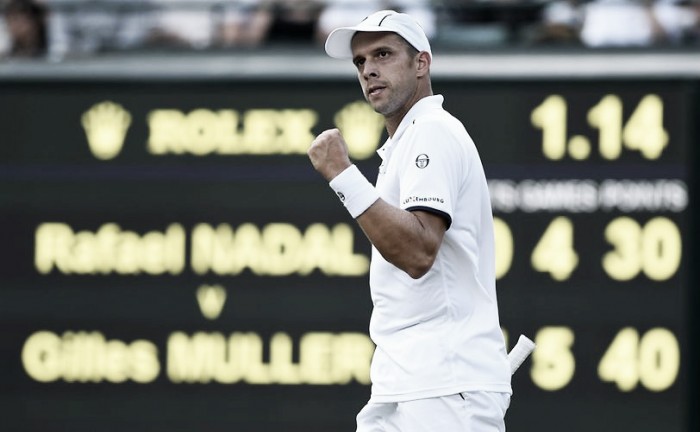 Many expected Rafael Nadal to have trouble finding his feet against an opponent like Gilles Muller, a player equipped with a huge serve, and a game tailor-made for grass, but nobody expected the battle that unfolded on No.1 Court today. Nicknamed 'Manic Monday', the second Monday of the Championships is always exciting, given the wealth of high-quality matches on offer, and it certainly lived up to it's name.
Rafael Nadal came back from a two-set deficit to take the battle into a fifth set, but with both players looking just as fresh as they were at the start, neither were willing to budge. Both were simply untouchable. It came down to the wire, lasting nearly five hours, with a 15-13 final set scoreline.
Strong start from Muller
Both players came out firing, but it was Muller who had the upper-hand alarmingly quickly. His huge serve was always going to be a problem for Nadal to solve, but little expected him to keep up with the Spaniard on the baseline rallies as well. With a dropshot drifting over the net, Muller broke Nadal's serve for 4-2. This was only the 5th service game that Nadal had dropped so far at Wimbledon. Muller fired down some more untouchable serves, of which 54% were unreturned, and proceeded to seal the set with an ace, 6-3. Muller appeared dangerous, and a serious case of deja vu took over No.1 Court. Nadal is no stranger to failing to repress big servers at Wimbledon. In fact, his infamous early exits in recent years have come to the likes of Rosol, Kyrgios and Brown, all huge-servers with a game adapted to grass, just like Muller's.
However, if there's one thing that you can never do in regards to Nadal, it's to count him out. Jogging back to the court after a bathroom break, the Spaniard seemed to have fresh spring in his step. He knew he had a mountain to climb, but was searching as hard as he could for a solution. The second set remained on serve, though, as the former world number one continued to struggle to read and return Muller's serve. Nadal desperately tried to get himself into the match, shouting 'Vamos!' after almost every point he won, and he even gave Muller some of his own medicine, serving an ace to hold for 4-3. Nadal could hold his own serve, but breaking Muller's was another story altogether.
With a sensational rally, the best of the match so far, followed by a double fault from Muller, a door was opened for Nadal at 0-30, but Muller saved himself once again with some powerful groundstrokes and unreturnable serves to hold at 4-4. An opportunity was snatched from Nadal's reach, leaving him in trouble once more. Much to Nadal's dislike, the situation went from bad to worse, with Muller breaking the Spaniard's serve quickly, before wrapping up the set, at 6-4. He was now just one set away from causing a huge upset.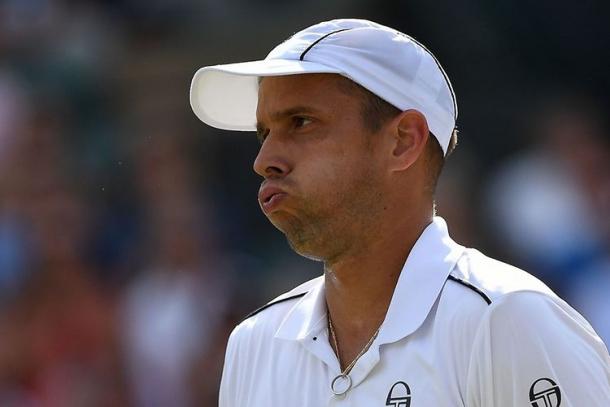 Nadal fights back
The two-time Wimbledon champion wasn't finished yet though, as he started up the third set with an ace, holding to love with a fist pump. It wasn't long before Nadal finally got what he wanted- a break of serve. The Spaniard consolidated for 4-1, and an opening appeared, but he still had a very long way to go. Nadal has only come back to win a match at Wimbledon after losing the first two sets twice. Eventually, Muller forces Nadal to serve for the third set, 5-3, and with two aces in a row, he takes it, 6-3, to initiate his recovery.
A key game at 1-1 in the fourth set provided Rafa with plenty of opportunities to break, but pounding serves and quick hands at the net from Muller halted Nadal's progress. It was clear, though, that Nadal was returning Muller's serve further back, which obviously seemed to be working, given the increased amount of pace that he was now able to generate. Things were falling into place for Nadal, albeit more slowly than anticipated.
In a crucial game, Nadal missed three break points, a familiar story, given that at this point in the match he was just 1/10 on taking his break point opportunities. Soon enough, though, he broke for 3-2, finally taking a break point, and then stood strong to maintain his advantage. Muller comes close to dropping his next service game with a double fault combined with some blistering returns by Nadal, but a big serve gets him out of trouble, but it wasn't enough, as in the next game, a huge backhand down the line gave the Spaniard set point. Just moments later, Nadal marched back to his chair, having successfully escaped from a very tricky situation. We were going to a fifth set on No.1 Court.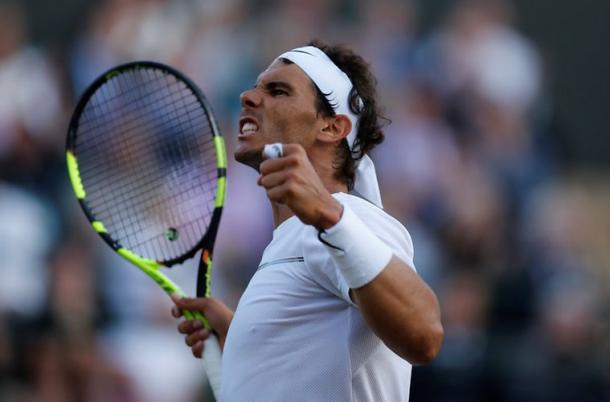 Going the distance: a fifth set
As the fifth set kicked off, both looked strong, with Muller's level having raised a little from the previous set, and Nadal playing slightly more hesitantly. It was neck and neck, and soon enough it was the Spaniard who found himself serving to stay in The Championships. It came down to the wire, as a double fault gave Muller two match points. Emphatically, Nadal managed to save both with huge serves, and with an ace, and a roar, the world number two kept his chances very much alive. 5-5 in the fifth.
Three and a half hours in, the fifth and final set just kept getting more and more nail biting. At 6-6, Nadal had a look-in with a break point, but another deadly serve from Muller saved it. Instead, the Spaniard would have to serve to remain in the match for the third time. At 30-30, Muller stood just two points away from taking the match. A sharp serve out wide takes it to 40-30, and an ace levels up the scoreboard once more. 7-7.
With a near-flawless service game, Muller appeared as fresh as ever, edging in front at 8-7. It was Nadal who had to serve to stay in the match one more time. Despite the fading light on No.1 Court, there was no sign of either player stopping anytime soon. Nadal evens out once more, 8-8, his nerves made of steel. Clearly, though, the Spaniard was not going to break if he didn't change his strategy. Both were in a total stalemate. Neither playing budged, until a huge return in the form of a passing shot from Nadal gave him a look-in at 9-9, with a break point. With an unforced error, we go back to deuce, but a passing shot brings him another opportunity. All of a sudden, Muller appears to serve a double fault, but with a challenge, all celebrations are halted, and the game simply continues, nearly 9 minutes later. Muller serves just one more ace, and shifts the pressure back to Nadal, who will serve to stay in the match for the sixth time. Nadal holds, but only just. The next two games flicker tirelessly from deuce to advantage, and back again, but there's no letting go from either man. As Muller holds once more with another ace, which are into the mid 20s by this four and half hour mark, Nadal follows suit, relentlessly firing another forehand up the line.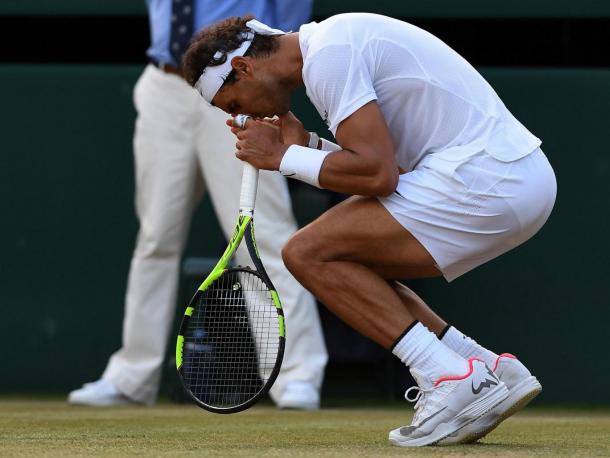 By 12-12, the crowd don't know how to react. Half hide their faces with their hands, the rest engulfed by nervous laughter. A love hold by Muller is a relief for the Luxembourger, and potentially a sign of good things to come, but Nadal bounces back, matching his expertise with his own love hold. 13-14, could this be it? A light yet powerful volley lands over the net, and Muller looks up at his team for encouragement, whilst Rafa grimaces. He'll have to serve to stay in the match yet again.
Nadal's forehand lands at the bottom of the net, yet Muller's makes it. 0-30. As the underdog's shot just misses the line, the crowd exhale in a sigh of relief, but it's not over yet. Muller forces Nadal into making the error, and over an hour and a half since his first, Muller has another match point. Seconds later, the crowd are on their feet, and Gilles Muller's expression is one of total shock. After nearly five hours, the sixteenth seed from Luxembourg has stunned Rafael Nadal, 6-3, 6-4, 3-6, 4-6, 15-13, a scoreline that will be remembered for a very long time.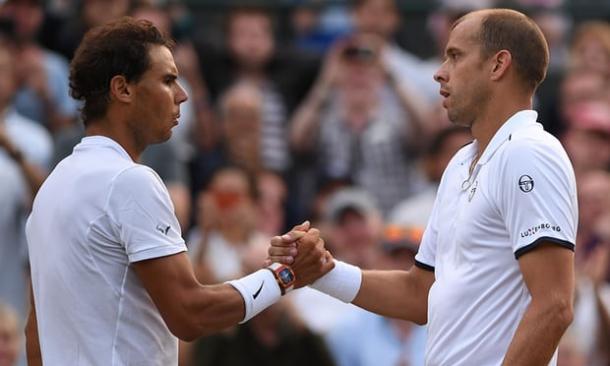 The encounter was everything a tennis match should be- thrilling, nerve-wracking, and packed full of simply phenomenal drama. This loss will sting for Nadal, but he can be comforted knowing that he couldn't have fought any harder. Muller, on the other hand, can't rest for too long. He plays in-form Croatian Marin Cilic in the quarterfinal, and you can bet he's keeping his fingers crossed for a more straightforward victory.