 Novak Djokovic has hinted at a possible break from the tour to aid his recovery from an elbow problem following his exit from Wimbledon at the quarterfinal stages. The 30-year-old retired from his last eight meeting with Tomas Berdych after going a set and a break down and has also not ruled out surgery to repair his right elbow.
Djokovic received a medical timeout (MTO) after he lost the opening set tiebreak 7-4 and was visibly struggling to generate pace on his serves. It was the first time the Serbian has retired from a match at a Grand Slam event since the Australian Open in 2009.
Possible break
"The specialists that I've talked with, they haven't been really too clear, mentioning also surgery, mentioning different options," said Djokovic.
"Nobody was very clear in what needs to be done. I guess a break is something I will have to consider right now. I'm just going to talk with specialists, as I have done in the last year or so, try to figure out what's the best way to treat it and to solve it, to find a long-term solution."
Djokovic first bore signs of the injury in his fourth round victory over Adrian Mannarino on Tuesday, having been forced to play consecutive days after the clash between Gilles Muller and Rafael Nadal ran for longer than anticipated.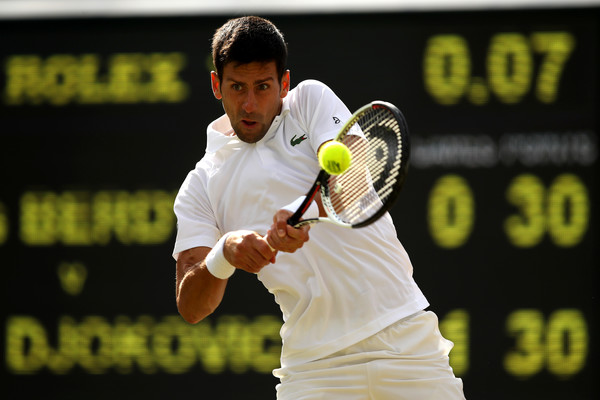 Fatigue
He called for a trainer during the final set and against Berdych was not serving with his typical vigor.
"I was able to perform up to this stage. But as I've said, it was only getting worse," he added.
"Unfortunately today was the worst day. Probably the fact that I played yesterday, kind of days adding up, as I've said before, it wasn't helping at all."
Djokovic was scheduled to meet Roger Federer in the semifinals, who dispatched the Canadian Milos Raonic in straight sets.