 Garbiñe Muguruza put in an absolutely dominant performance in the semifinals of the Wimbledon Championships as she outclassed Magdalena Rybarikova in straight sets after just 1 hour and 4 minutes, losing just a mere two games along the way.
Muguruza progresses to her second final at the All England Lawn Tennis and Croquet Club in three years after exiting in the second round in the previous year and now earns the golden opportunity to win her first ever Wimbledon title and the second Grand Slam title in her career.
Whereas, Rybarikova put up a disappointing performance as she crumbled to the pressure in her first ever appearance in a Grand Slam semifinal match, looking out of sorts against a much better player.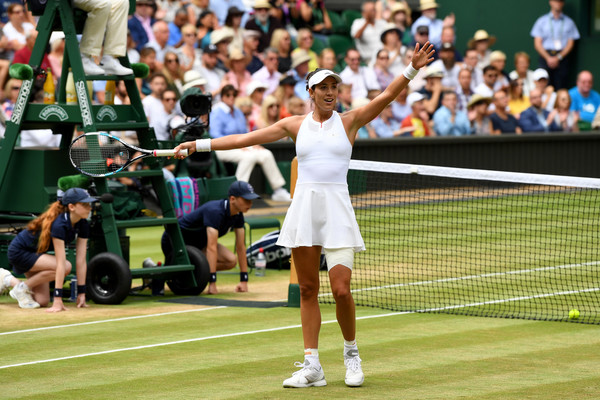 Muguruza strolls to win the first set
Muguruza came into the match firing, moving the scoreboard in her direction as she clinched the opening service hold in the first game with the help of a couple of powerful serves. Unexpectedly, the first break of serve in the match arrived in just the second game as the Spaniard produced some strong returns before Rybarikova threw in an unfortunate double fault on break point, with her second serve confirmed by Hawkeye to be out and causing her to go down an early deficit. Being untouchable on her serve, Muguruza easily consolidated the break and earned a three-game advantage to look completely dominant on the court.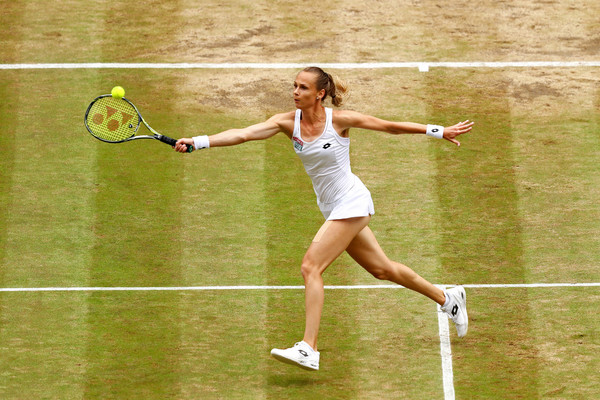 Despite putting on a tough fight to recover from a 0-40 deficit, Rybarikova was unable to hold onto her serve yet again and allowed Muguruza to earn her second break of serve. Fending off a break point in the process, the Spaniard managed to hold onto her lead as she served an ace on game point to open a 5-0 lead. Though, Rybarikova showed some inspired effort and finally got herself onto the scoreboard with a service hold in the last moments of the set, forcing Muguruza to serve the set out in the seventh game. Not disappointing her fans, the 2015 finalist narrowly held her serve from 0-30 down and successfully served out the set 6-1 after just 31 minutes of play.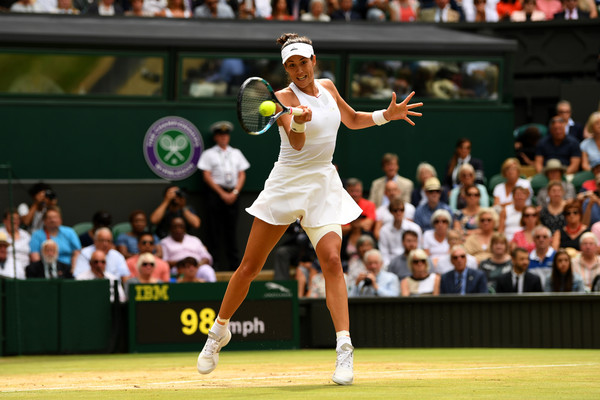 Muguruza completes the destruction
Nerves continued to get the better of Rybarikova as she failed to hold her serve once more, wasting a game point only to get broken in the opening game as Muguruza opened up a lead of a set and a break. The Spaniard was on fire as she was very efficient on her backhands, consolidating the break with an ace on game point to look poised for the victory. It was a total beatdown in favor of Muguruza as she broke serve to love in the third game, being just three games away from the win after just a mere 42 minutes of play.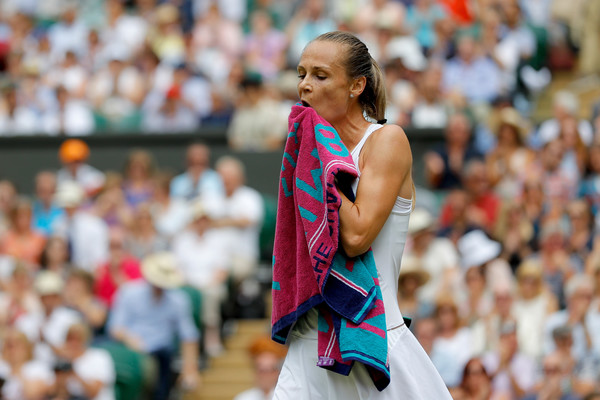 Rybarikova finally managed to get on the scoreboard in the second set after saving two break points with Muguruza starting to rattle a couple of unforced errors and allowed the Slovakian to spare herself from more embarrassment. Being invincible on her serve, Muguruza was just one game away from a spot in the finals with a comfortable service hold which allowed her to open up a formidable 5-1 lead. Serving to stay in the match, Rybarikova crumbled to the pressure as she was overwhelmed by the Spaniard's offensive play, falling in straight sets after a mere 64 minutes of play.
Stats Corner: Muguruza was just too good for any player
Garbine Muguruza was just playing some peak tennis during the match as she simply outplayed her lower-ranked opponent Magdalena Rybarikova. Claiming 74 percent of first serve points and just losing a mere four points on her solid second serves. Rybarikova was just a shadow of herself as she won just a disappointing 42 percent of first serve points, performing worse on her second serves as she just won eight points on them.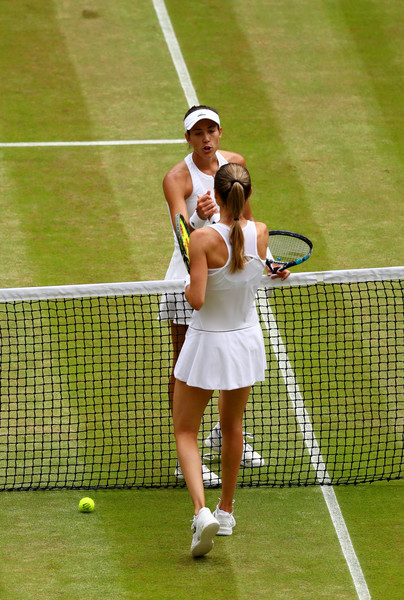 Both players were the ones who made the most net approaches in the earlier rounds, but Muguruza dominated the net today as she clinched 19 points out of a possible 25 up there, as compared to just 6/12 for the Slovakian. Rybarikova was just unable to find her rhythm today and crumbled to the pressure after hitting just 8 winners to go with 11 unforced errors in the encounter. Blasting 22 winners past her opponent together with just 11 unforced errors as well, Muguruza clinched the win after winning 60 points, almost double the amount Rybarikova managed to win.