 A fairly surprising Wimbledon semifinal sees 24th seed Sam Querrey, appearing at this stage of a Grand Slam for the first time ever, take on seventh seed and former US Open champion Marin Cilic for a place in the Wimbledon final.
Both men have had success at this tournament in the past, with Querrey reaching the quarterfinal last year and Cilic reaching that stage in the past three years, though this is the biggest match that both have played at the All England Club, and it will be interesting to see who handles the occasion better.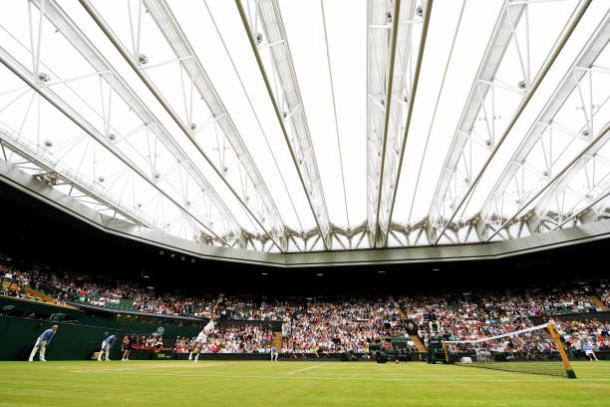 The head to head favors Cilic, who has won all four meetings between the two in the past. However, their last meeting in Washington two years ago was tight, with the Croatian prevailing in two tiebreak sets, and the two have had tight matches at Wimbledon before, with Cilic prevailing 17-15 in a final set in 2012 and 6-4 in a final set back in 2009. Their other meeting, at Queens, went to a final set as well.
This is the first of the two Men's Singles semifinals on Centre Court tomorrow, with the winner facing third seed Roger Federer or 11th seed Tomas Berdych in the final.
Road to the final
Querrey hasn't had an easy road to the last four, and started the tournament with his only straight sets win; a triumph over Thomas Fabbiano. The American then beat Nikoloz Basilashvili in four sets, before battling past 12th seed Jo-Wilfried Tsonga in five sets to reach the second week. Querrey then came through other five set battle, edging past the big-serving Kevin Anderson to reach the last eight, and then recorded one of the biggest wins of his career, coming through two sets to one down to knock out world number one and defending champion Andy Murray.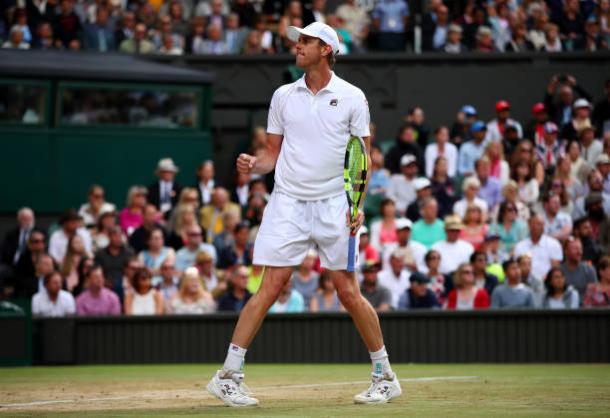 Many people had predicted Cilic to do well here, and he started very comfortably with a straight-sets win over the potentially dangerous Philipp Kohlschreiber. The seventh seed then prevailed over Florian Mayer and 26th seed Viktor Troicki, both in straight sets, to reach the second week once again, before storming past 18th seed Roberto Bautista Agut for the loss of just six games to make his fourth consecutive Wimbledon quarterfinal. There, after losing his previous three, Cilic battled past 16th seed Gilles Muller in a tough five set encounter to reach the last four for the first time.
Analysis: Big serving and big hitting to be expected
This match is certainly not a clash of styles, with Querrey and Cilic being big servers who look to be aggressive and look to use their power to dictate player.
Both are undoubtedly great servers, though it is arguably Querrey who is able to use it more effectively of the two. In his last match against Murray, who is a great returner, the American served extremely well and was able to get several cheap points; he will look to do the same in this encounter, using it some he can come into the net and volley, as well as take control from the baseline and attempt to bully the Croatian around the court.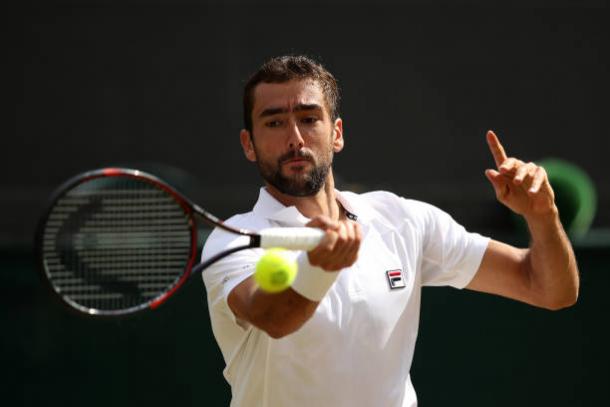 Though Cilic may not be able to take control from a serve as effectively as Querrey, he arguably has the stronger game of the two overall. The Croatian will undoubtedly look to be aggressive, particularly on his strong forehand, and himself will look to attack on Querrey's second serve, which are not weak but will be attackable for the seventh seed. Also, having played in Grand Slam semifinals before may help him mentally.
Assessment
It isn't hard to predict that this will be a big-hitting encounter, and the winner will likely be the person who is able be aggressive and yet not over-do it by hitting several errors at the same time. Querrey certainly has the grass court experience to take it, though it seems that Cilic, the more consistent and more well-rounded of the two, will be able to edge into his second Grand Slam final.
Prediction: Marin Cilic in four sets