 18-time Grand Slam champion Roger Federer continues to improve at Wimbledon. The seven-time champion skipped the entire clay court season which proved to be the right decision. The former world number one has said that he is "fed up" of practicing and is pleased to be on the match courts once again. Federer has also said that he plans to take no more time off and play for the rest of the season. The reigning Australian Open champion will mount an assault at the world number one ranking along with a resurgent Rafael Nadal. His Big Four rivals are no longer involved at this year's Wimbledon as Nadal lost in the fourth round. The top two seeds Andy Murray and Novak Djokovic both lost in the quarterfinals, and both have injury woes. It remains to be seen if both players will take a break like Federer and Nadal did and have come back stronger.
Federer is the favorite to clinch a record eighth Wimbledon singles title but there is still plenty of tennis left to play. In his 42nd Grand Slam semifinal, he will take on 11th seed Tomas Berdych, who will be competing in his seventh Grand Slam semifinal, and third at SW19. The Czech still believes that he can win a Grand Slam title, and he has a good opportunity to so. Berdych has struggled for consistency in 2017 but he is still a threat at the latter stages of tournaments.
Federer's path to the semifinals
The seven-time Wimbledon champion has hardly been tested at this year's Wimbledon. He has not dropped a set en route to the semifinals. Federer won the first set against Alexandr Dolgopolov. However, the Ukranian retired in the second set, not fully fit. It was one of nine retirements in the men's singles draw at this year's Wimbledon. The Swiss number two was slightly tested in his second round match with Dusan Lajovic. The Serb broke Federer in the early goings and Federer broke back but after winning the tie-break it was a straightforward match for the 35-year-old. Federer sent 27th seed Mischa Zverev and 13th seed Grigor Dimitrov packing in the third and fourth rounds respectively. In his record 50th Grand Slam quarterfinal in a record 70th Grand Slam appearance. He gained his revenge and defeated last year's finalist Milos Raonic, who beat him in the semifinals last year. It was Federer's second victory over the Canadian at Wimbledon in four years.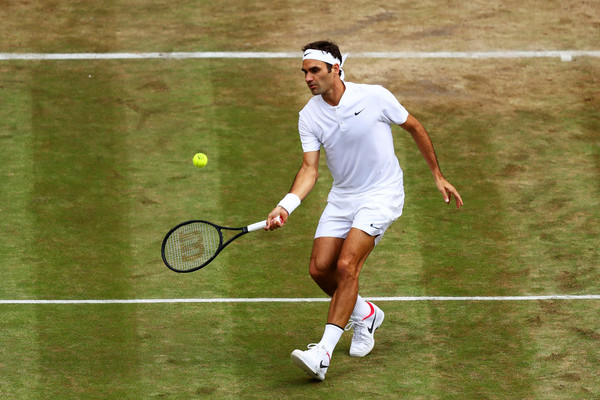 Berdych's path to the semifinals
The 2010 runner-up defeated Jeremy Chardy and Ryan Harrison in two four-set encounters to get his Wimbledon campaign up and running. Furthermore, he recorded his first straight sets victory in the third round against the declining David Ferrer. Berdych portrayed that he still has the hunger for tennis as he defeated eighth seed and two-time French Open semifinalist Dominic Thiem in five sets. It was Berdych's first victory over a top ten player on grass since 2010 when he reached the final. In the quarterfinals, Berdych snapped a 12-match losing streak against three-time champion Novak Djokovic. The Serb was evidently struggling with an elbow injury. After the hard-hitting Czech claimed the first set and gained an early break. Djokovic decided enough was enough, and the 31-year-old made his second successive semifinal at SW19 and third in his career.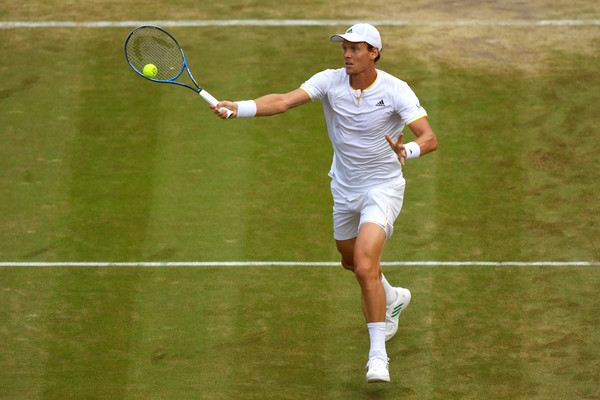 Their history
The seven-time Wimbledon champion has an overwhelming 18-6 head-to-head record against Berdych. The duo has met at Wimbledon twice in 2006 and 2010. Federer dispatched the 11th seed in straight sets in the fourth round in 2006. However, Berdych upset Federer in four sets in the quarterfinals in 2010. He ended Federer's title defense in the process and he defeated Djokovic in the semifinals before he lost to Nadal in the final. The Czech won their first encounter as an 18-year-old at the Olympics in Athens in 2004. Berdych also became the first man to beat Federer in a night match at the US Open in the quarterfinals in 2012.
Moreover, the Czech is on a seven-match losing streak against the former world number one. Federer sent Berdych packing at the Australian Open in 2016 and 2017. The former world number four had chances to end his losing run against Federer in the quarterfinals in Miami, holding multiple match points.
Who reaches the final?
The good news for Berdych is that he has managed to beat Federer at Wimbledon on Centre Court, and at Grand Slams. Raonic failed to consistently serve well against Federer, which was another reason why the Canadian lost. The former world number four will need to serve well against Federer, and take his chances, which he may create.
Moreover, Federer does not hit his serves as hard his Berdych, he places them well in the court, and he reels off his service games fast. The third seed's backhand has improved immensely, and it has been a problem for many of his opponents to deal with.
This semifinal match will be the second match scheduled on Centre Court, and the winner will face 2014 US Open champion Marin Cilic, the seventh seed or 24th seed Sam Querrey in Sunday's final. If Federer defeats Berdych, he will participate in his 29th Grand Slam final and 11th at Wimbledon.

Prediction: Federer in straight sets