 Third seed Roger Federer's quest for an eighth Wimbledon title has reached the final stage, with seventh seed Marin Cilic aiming to prevent the Swiss making history and win his first title at the All England Club on Sunday.
Both Cilic and Federer have played some very impressive tennis to reach this stage though there is no doubt that Federer, in his 11th final at this tournament, is the favorite for the title. However, though this is his first Wimbledon final, Cilic has won the US Open in the past and will probably not be intimidated by the occasion.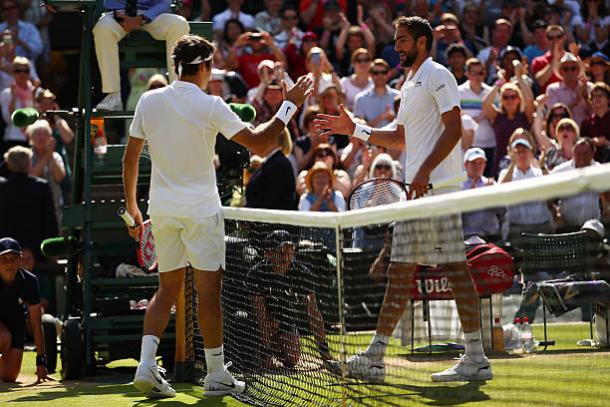 It is the Swiss who leads the head to head, just losing once to the Croat in seven previous meetings, with their last match coming at this tournament last year, where Federer came from two sets down and saved three match points to prevail in the last eight. However, Cilic knows how to beat Federer on the big stage, beating the former world number one in straight sets in the US Open semifinal last year.
A 19th Grand Slam title, and second this year, is at stake for Federer, whilst Cilic is aiming for his second Grand Slam title in as many finals. As well as taking the title, the winner will also collect £2,200,000 in prize money.
Road to the final
Many predicted Cilic to have a good run at this tournament, following a few months of good form, and straightforward wins over Philipp Kohlschreiber and Florian Mayer saw his campaign off to a great start. A third straight sets win over 26th seed Steve Johnson saw him ease into the second week, where he stormed past 18th seed Roberto Bautista Agut for the loss of just six games to reach the last eight. Things got much tougher for the seventh seed after that, as he edged past 16th seed Gilles Muller in five sets to reach the last four, where he impressed as he saw off 24th seed Sam Querrey in four sets to reach the final.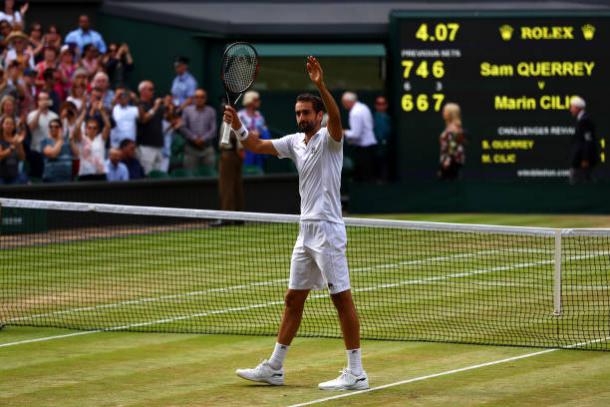 Meanwhile, Federer was the favorite for the title heading in, and has backed that up as he hasn't dropped a set. His first match ended in Alexandr Dolgopolov retiring, though he then saw off both Dusan Lajovic and 27th seed Mischa Zverev in relative ease to reach the second week. In the fourth round he arguably put in his most impressive performance of the tournament, easing past 13th seed Grigor Dimitrov, before he saw off sixth seed and 2016 finalist Milos Raonic to reach the semifinal. There, he saw off 11th seed and former finalist Tomas Berdych to reach his second Grand Slam final of the year.
Analysis: Cilic's power versus Federer's precision
There is no doubt that Federer has enough power to dictate play, though he may have the racket taken out of his hands on several occasions on Centre Court, considering how incredibly powerful Cilic can be. However, whilst Cilic is the more powerful and will be tough to break down, Federer is the more consistent of the two and that could be an advantage for him.
One interesting factor about this final is that both men are good servers, and both are also stronger off the forehand wing. There is no doubt that Cilic will look to serve big and try to dictate off his forehand, though must be patient as the Swiss will be better at consistently providing a challenge than his previous opponents. Federer himself may not hit his serve with as much power, though will look to use its precision to kill off points quickly, and will try to put pressure on the Croat by cruising through his own service game.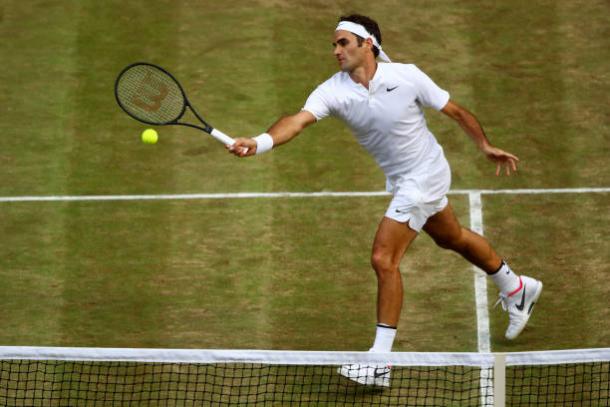 One slight advantage that Federer has is that he is better on both the backhand wing, and also at the net. Cilic is not weak at either of things, but he may struggle if Federer is able to keep attacking these areas and exploit the tall seventh seed's slightly weaker movement. The seventh seed should look to attack Federer's backhand, as it is not as strong as his forehand, though it will be more tricky for him to break that down.
Assessment
This has the potential to be a tight final, and it will be interesting to see with how Cilic copes with his maiden Wimbledon final, and how Federer copes with the pressure of hunting an eighth title; something which would be an all-time record for the men's singles. The Croat has the weapons to potentially win this, though the Swiss is in such great form and it is hard to look past him winning his first SW19 title since 2012.
Prediction: Roger Federer in four sets
Further Predictions
Don Han: Roger Federer in four sets
Silas Low: Roger Federer in straight sets
Craig Vickers: Roger Federer in straight sets
Tevon King: Marin Cilic in five sets
Liam Prodger: Roger Federer in straight sets
Jake Best: Roger Federer in four sets