 A year after her historic triumph at the French Open over Serena Williams, Garbiñe Muguruza put together another marvellous performance against a Williams sister in a Slam final, this time outlasting Venus 7-5, 6-0, to win her second major at Wimbledon.
Muguruza Secures Lone Break in Manic Opening Set
After five quick-fire holds of serve under the Centre Court roof, it was unsurprisingly the more experienced of the two, Williams, who was looking to draw first blood, taking advantage of the first nervous lapse from Muguruza to get the first break point—an opportunity she was unable to take as the Spaniard held to keep the match on serve. In a manic game that followed suit, both players had their fair share of chances, but it was Venus this time who was able to come through, keeping her slight advantage to herself.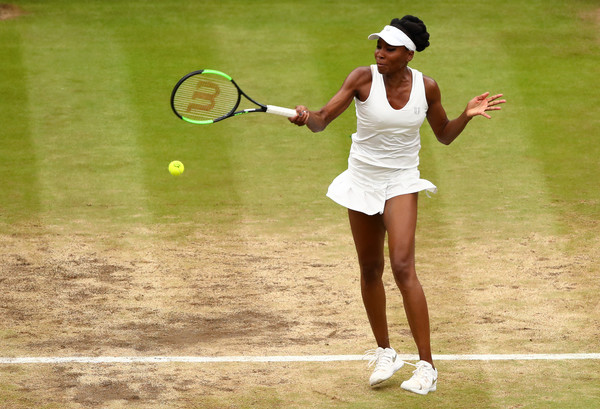 As the set wore on, one could just get the sense that Muguruza was beginning to crack; her forehand-to-forehand exchanges with Williams often ending with her on the losing end, as was the case when she found herself down two set points at 4-5 after another one of these exchanges. Remarkably, it was one 19-shot rally on the first set point that turned everything around for the former French Open champion as the Spaniard won the agonizing rally before saving Williams' second set point with a huge serve en route to rounding off two more points to hold for 5-all. And from there, it was all Garbiñe Muguruza.
As Williams regretfully missed out on her chance to move the closest she has been to Grand Slam glory since 2008, it was Muguruza who pounced on a shaky service game from the seven-time Grand Slam champion to move from being in danger of surrendering the set to being within touching distance of winning the set after all.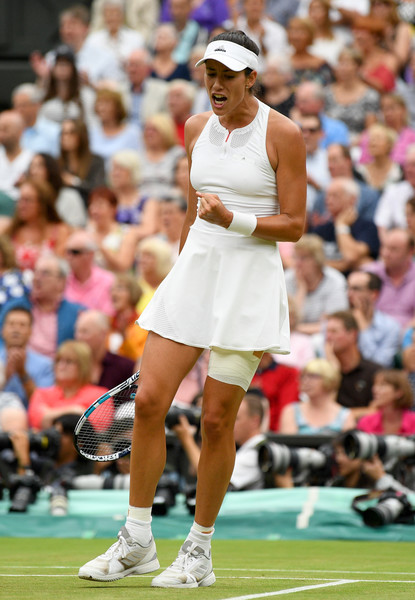 With the momentum now on her side, so was the luck as an unbelievable defensive lob winner from the Spaniard secured her two set points of her own—the second of which she was able to take as Williams dumped a backhand into the net to secure the first set for the 14th-seeded Muguruza, 7-5.
Muguruza Marches to Grand Slam Glory
With everything now going her way, it came as little surprise that Muguruza began to put her foot on the accelerator, capitalizing on a slow start from Williams and never really looking back. After securing and consolidating the early break, the 14th seed would go on to double her advantage, jumping out to a 4-0 lead, before she would break at love for the first time in the match for a chance to serve for the championship.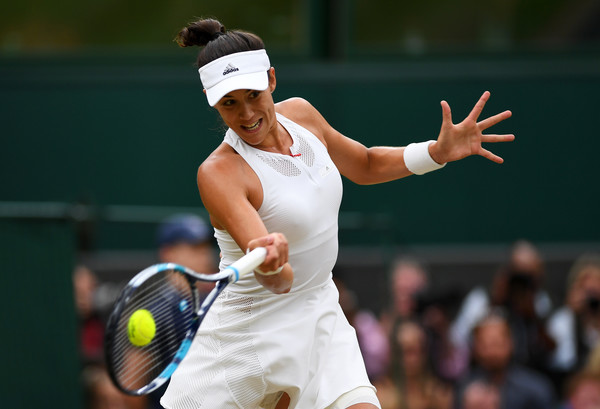 Once there, it was a case of third time lucky for Muguruza as the Spanish number one clinched the title in one of the most anticlimactic ways possible: a challenge showing Williams' backhand had just missed the baseline securing her a very memorable victory over the five-time champion.
"I always come very motivated to the Grand Slams," said Muguruza in her post-match press conference. "Since I lost the final here, I wanted to change that. I came thinking, 'I'm prepared, I feel good.' During the tournament and the matches, I was feeling better and better. Every match, I was increasing my level."
"I think today, I played well."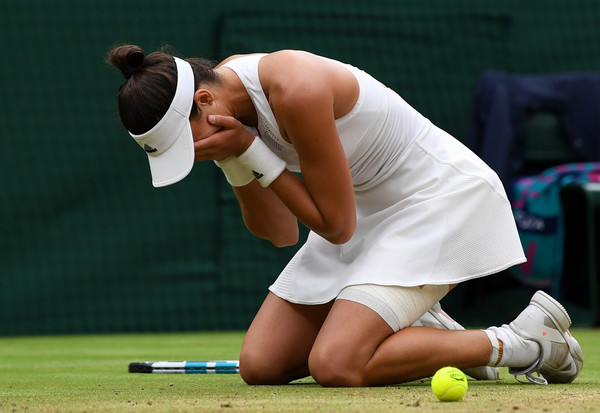 Stats Corner: Marvellous Muguruza Impressive in All Areas
In already her third Grand Slam final at age 23, Muguruza showed a maturity beyond her years, impressing in all areas against a five-time champion 14 years her senior. On serve, both players were able to maintain a very high 71% first-serve percentage, but it was what they did once they landed their first deliveries that really made the difference. Muguruza ended up winning 77% (30/39) of the points on her first serve, while Williams won just 61% (27/44), a percentage that dropped dramatically after the first set. From the ground, the newly-crowned champion hit 14 winners to 11 unforced errors, while Williams hit 17 to 25—10 of the unforced errors coming in the shutout second set.
What This Result Means for Muguruza, Williams
Coming into this year's Championships, both women could not have possibly had more different seasons. On one hand, Muguruza was coming off a disappointing first half of the season that saw her bow out in the fourth round of her title defence at the French Open last month, while on the other Williams was coming in to her most successful Grand Slam with a major final in Melbourne and a number of quality wins already under her belt.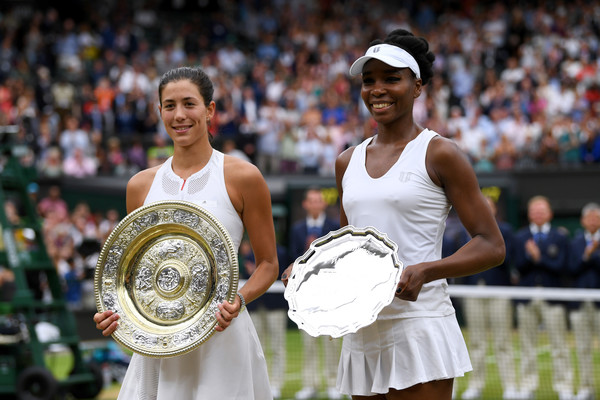 With her victory, Muguruza will return to the top 5 on Monday and will move up to number three in the Porsche Race to Singapore leaderboard, having been outside the top 8 before this past fortnight. On the other hand, Williams will have plenty to be proud of in what has already been a very spirited 2017 season; she will also return to the top 10 at number nine and will be just over 100 points behind Muguruza in the standings for the race to Singapore after this memorable fortnight.