 Following the conclusion of the Men's doubles final, the Women's final was to be played under the roof at 9:30 pm. The pair of Ekaterina Makarova and Elena Vesnina ran away with the title 6-0, 6-0 in less than an hour to claim their first Wimbledon title again Hao-Ching Chan and Monica Niculescu.
Russian run away with opener
Serving first, MakarovaVesnina was taken to deuce by the pair playing in only their second tournament together. However, the Russian pair came through to begin the match. In the second game, the second seeds began to find their range and earned a break point opportunity at 30-40.
An unreturnable first serve sent the game deuce. But the Olympic champions would miss a second break point before taking their third break with Vesnina overpowering Niculescu in a mini-rally.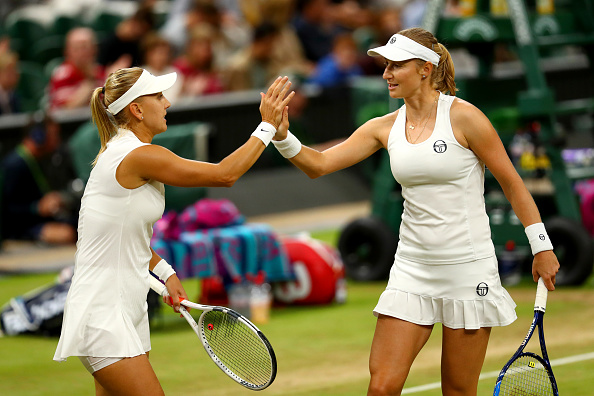 The Russians consolidated their break to take a 3-0 lead. The pair then continued to dominate the match and in the longest game of the set, the second seeds had four break points saved. But on their fifth, Chan sent a backhand wide which gave Makarova/Vesnina the double breaks.
They again held serve to confirm the double break lead, 5-0. Serving to stay in the match and avoid the bagel, the ninth seeds went down two set points and were in danger. The Russians after 30 minutes of play finished the set with a bagel.
Makarova/Vesnina continue to dominate; claim Wimbledon title
The Russian pair carried off where they left off from the first set, holding serve then applying pressure to the ninth seeds in the second set. The pair took a 15-30 lead then Vesnina began to get the better of the Romanian in a rally with Makarova intercepting and finishing off the point with a neat volley to bring up further break points.
The ninth seeds did manage to save one but the second seeds were not missing and broke for the fourth time in the match. The pair had no problems in holding and taking a 3-0 lead, just like in the first set.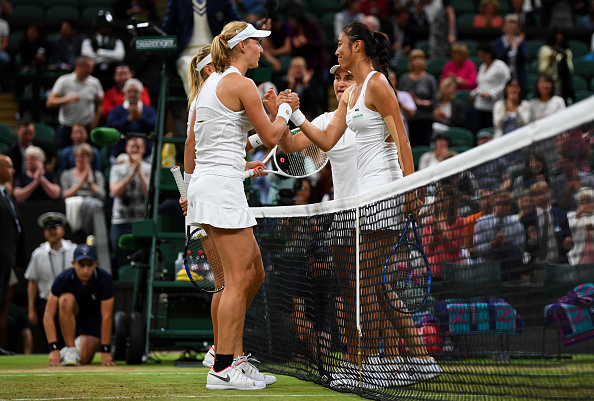 In the fourth game of the set, the Russians broke again with the match seemingly finished at this point. The ninth seeds did fight back in the fifth game going on to have two break points in the game but could find no answers as the Russians went ahead 5-0 and were closing in on a famous double bagel.
Struggling to keep up with the second seeds, Chan/Niculescu fell behind a match point at 15-40 with the Romanian playing a shot into the hands of Makarova who hit a volley winner at the net. The 29-year-old ended the match with a forehand winner down the line for the double bagel.