 Former US Open champion Marin Cilic had a phenomenal Wimbledon in 2017. The Croat lost in the quarterfinal stages for the past three successive years. However, he advanced to his second Grand Slam final at Wimbledon dropping only three sets en route to the final. Nonetheless, the 28-year-old was thrashed by former world number one Roger Federer, who claimed a record eighth Wimbledon title, and 19th Grand Slam singles title in the process.
Moreover, Cilic was visibly upset after he trailing a set and 3-0 down in the second set, sitting in his chair at the first changeover of the second set. The 2014 US Open champion received a medical timeout, and he lost, 6-3, 6-1, 6-4 in his second Grand Slam singles final.
The world number six said that the blister on his foot began in his semifinal match with Sam Querrey two days prior in the men's singles final. "It was definitely one of the unfortunate days for me for this to happen. I had a really bad blister and fluid came into the callus. It was tough emotionally because I know how much went into the preparation in the past few months.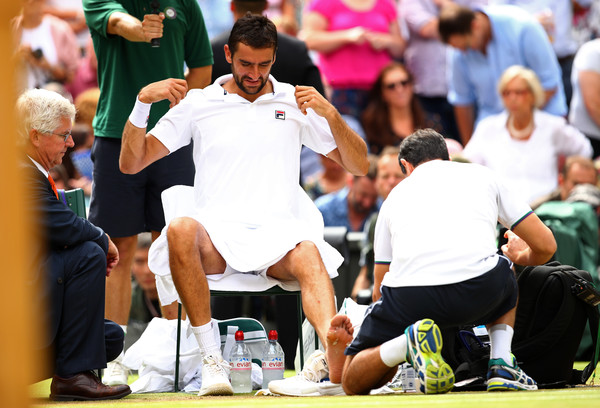 "It was really bad luck but I wanted to give my best and try as much as I could. But it was tough when you are in that situation because you know there is not much chance to win."
The Croat revealed that the blister first occurred in his five-set victory against Gilles Muller in the quarterfinals last Wednesday. Cilic also said that physiotherapists did as much as possible for him to be ready to compete in the final against Federer.
"They helped. The last 30 hours, they were just constantly almost with me. They did as much as they could, but unfortunately, I still felt the pain. Every time I had to do a reaction fast, fast change of movement, I was unable to do that."
The 2014 US Open champion said that his tears had nothing to do with him losing in the match but it was an emotional response, knowing that he could not compete at 100 percent.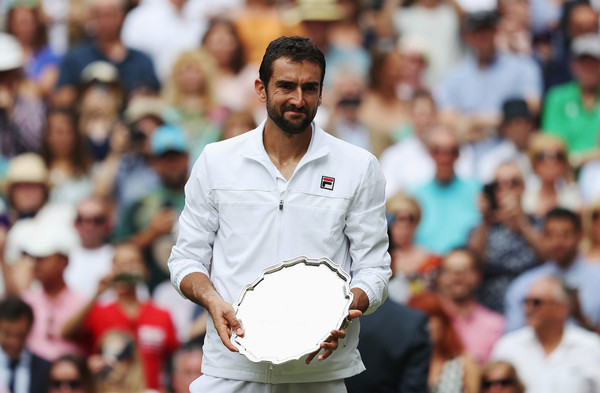 "It was just a feeling that I knew that I cannot give my best on the court, that I cannot give my best game and my best tennis, especially at this stage of my career, in such a big match.
"It was very, very difficult to deal with it. You know, that was the only thing. But otherwise, you know, it didn't hurt so much that it was putting me in tears. It was just that feeling that I wasn't able to give the best."
Cilic added that the blister had a lingering effect on his mind, and he was unable to concentrate on beating Federer. "It was actually very difficult to focus on the match, as well, as my mind was all the time blocked with the pain. It was tough for me to focus on the tactics, on the things that I needed to.
"I wasn't serving very good because of that. Also, you know, I was just not able to set up properly on the balls. It was very, very tough to deal with it."