 Roger Federer rejoined the top four of the ATP World Tour rankings after he defeated Marin Cilic to claim a record eighth Wimbledon singles title. The 35-year-old's triumph at Wimbledon was his second Grand Slam victory in 2017 after he won the Australian Open earlier this year. It was also the first time since 2009 when Federer won the French Open and Wimbledon that he has managed to win multiple Slam titles in the same year.
The 19-time Grand Slam champion celebrated his remarkable achievement by celebrating in the early hours of Monday morning. However, he attended the Champions Dinner with his wife Mirka, and he, later on, enjoyed himself.
"My head's ringing, I don't know what I did last night. I drank too many types of drinks, I guess.
After the ball we went to, what would you call it? I guess it's a bar – and there were almost 30 to 40 friends that were there. So we had a great time. Got to bed at five, then woke up, and just didn't feel good.
The last hour or so I'm somewhat OK again. So I'm happy with that. We had a good time."
Federer spoke about the Next Generation, who are good players but are not as consistent as the veteran players on the tour. "Every generation definitely is different. Since my generation and Rafa's generation, yes, the next one hasn't been strong enough to push all of us out really. So that has been helpful for us to stick around."
The former world number one also added that the Next Generation of players could change their tactics, and try to play shorter points instead of long grueling rallies. "They can choose not to play that way, if the coach has taught them to play differently. I know you can easily get sucked into that mode when you don't want to attack, but if you can't volley you are not going to go to the net.
Almost every player here I played wouldn't serve and volley, it's frightening to me, to see this at this level, I look at the stats and go into whatever round it is and see that the guy I'm going to face is playing two per cent of serve and volley throughout the championship.
I'm going "Okay, I know he's not going to serve and volley, which is great." Then we are talking about grass, and it was playing fast this week and I feel like I wish that we would see more coaches, more players taking chances up at net because good things do happen there, and you want to be there and have to spend some time up there to feel confident and good there."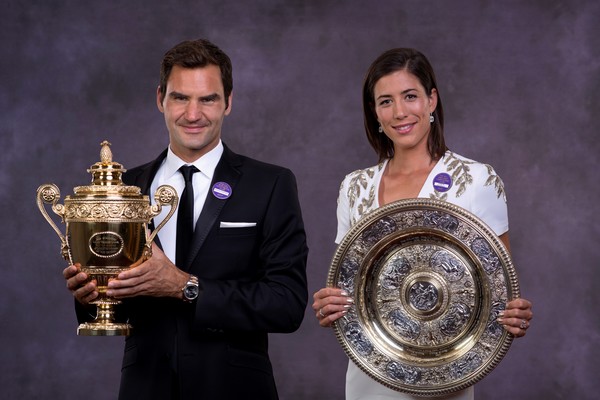 The reigning Australian Open and Wimbledon champion was asked about who were his biggest inspirations in sports. "I get inspired in a big way by the likes of Usain Bolt, Michael Jordan, LeBron James, Valentino Rossi or Michael Schumacher, guys who did things for a very long time at the highest of levels.
I would marvel at what they did when I was younger. I couldn't understand how they would get ready, day in, day out, practice, giving it 100%. I struggled with that in a big way when I was younger. Eventually, I have found my way to see what is possible and how to motivate myself.
It's been really important in my life to be surrounded by inspiring figures. I take it mostly from sporting legends." Federer also spoke about his future in the sport. "The target now is to enjoy being Wimbledon champion for a year, and Australian Open champion and you name it.
So, I haven't set sights on a number of Grand Slams that I have to or want to achieve. I never really had that; I was very content at 17, I must tell you. Of course, I was going to be happier at 18 and I'm even happier at 19.
But 17 was a wonderful number so I think for me it's just about enjoying myself, staying healthy and then we'll see what happens. I'm playing for titles at this stage in my career; rankings not so much unless I'm as close as I am right now so I just have to check the situation – if it's worth it to run after it or not.
I think it's going to be a three or four-way race or two-way race between me and Rafa Nadal. I hope it's me and not Rafa because it means a lot to me to get back to no. 1."