 In a Wimbledon that was full of stories, one of the more notable was the Grand Slam return of Victoria Azarenka, a former world number one and two-time Grand Slam champion who is returning to the tour after giving birth to her son, Leo, in December.
After a rather drab return at the Mallorca Open, where she lost to Ana Konjuh in the second round, there were encouraging signs for the Belorussian at the third Grand Slam tournament of the year, reaching the fourth round before losing to second seed Simona Halep. Despite that, it is clear that Azarenka has work to do if she wants to rise back up the rankings.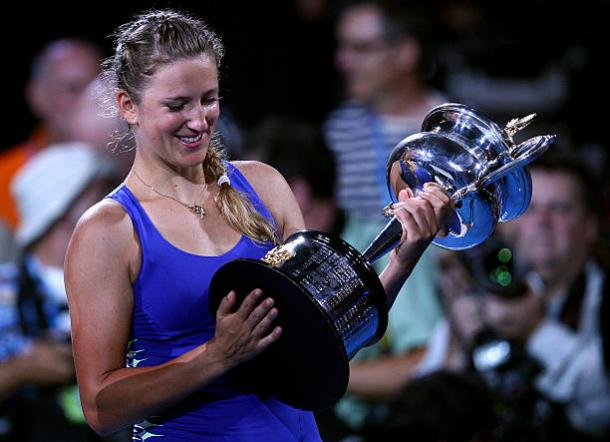 2012 and 2013 was undoubtedly a golden period for Azarenka, winning the Australian Open in both years and also reaching the US Open final both times, as well as spending a total of 51 weeks at number one within those two seasons, though she hasn't reached a Grand Slam semifinal since Flushing Meadows in 2013. Four years after that, can a resurgent Azarenka reach the pinnacle of tennis once again?
Form on her return
Azarenka's form since returning to the WTA has not been massively inspiring, though there have been some signs that she will be able to return to the top of the sport once again.
The Belorussian returned in time for the grass court season, playing her first tournament in Mallorca. It was certainly not an easy return for Azarenka, who was forced to save three match points to be Risa Ozaki, before falling to Konjuh in straight sets. It emerged afterwards that she had recently overcome Chicken Pox, perhaps explaining some of the difficulties she faced during the tournament, though Azarenka herself would have been the first to realise that improvement was needed.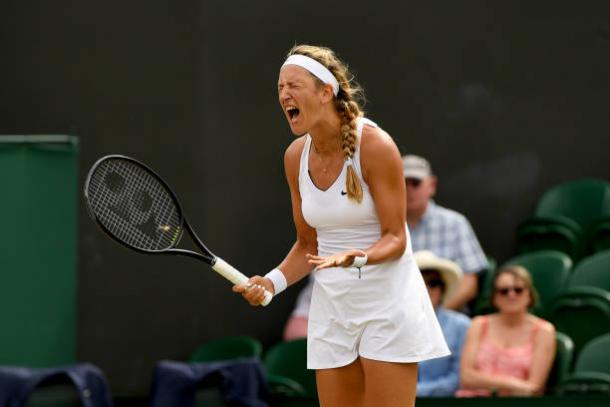 There was some improvement at Wimbledon. Azarenka, after dropping the first set, saw off Catherine Bellis in the first round with two impressive final sets, and continued that fine form as she beat Elena Vesnina in straight sets in the second round. The former world number one was then forced to come from a set down to beat Heather Watson, before falling to Halep in two sets.
Though she was not always at her best, it was clear throughout her comeback tournaments that Azarenka was able to fight, such as in her wins against Ozaki, Bellis, and Watson; this is undoubtedly extremely encouraging. However, her loss to Halep showed that she is still not at the form of the WTA's top players at the moment, and will need to work hard to match them.
Physical Challenges
The past few season have undoubtedly been challenging for Azarenka, with the physical effects of pregnancy and injury trouble undoubtedly affecting the two-time Australian Open champion.
Injuries have been a problem for the Belorussian. Problems first arrived at the Australian Open in 2014, where she suffered a foot injury during her quarterfinal loss to Agnieszka Radwanska. Azarenka missed seven of her first 16 events of the season, including the French Open, and had to finish her season in September. She struggled to deal with the aftermath of those troubles in 2015, and, though she got off to a great start in 2016, injuries disrupted her clay court season before she announced she was pregnant. It will be interesting to see how Azarenka is physically over the coming months, as she will need to have moved on from the trouble that has bothered her the past few seasons.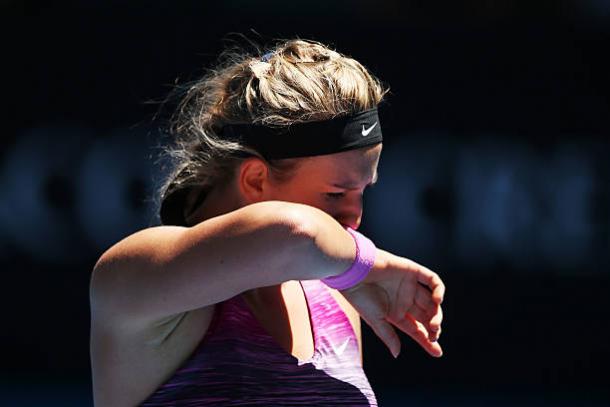 As shown by Evonne Goolagong, and more recently Kim Clijsters, it is certainly possible for someone to get back to the top of the game after having a child. This will undoubtedly encourage Azarenka, one of the most determined competitors in tennis, that she will be able to have more Grand Slam success. However, Azarenka's return after giving birth to Leo last December is a lot quicker than that of Clijsters, who returned when her daughter was 18 months old and won the US Open in just her third tournament back.
Azarenka's quick return is more similar to that of Goolagong's, who returned around six months after the birth of her son. Following her return, the Australian struggled with injuries for around 18 months; though these may be unrelated to her recently becoming a mother, it perhaps shows that body management will be more important than ever for Azarenka now, especially if she wants to return to the top as soon as possible. Encouragingly for the Belorussian, both Goolagong and Clijsters won multiple Grand Slams after become mothers, showing it is entirely possible for her to achieve the pinnacle of tennis once again.
Attitude and previous success
There can be no doubt that Azarenka is a strong and determined competitor, and that may be key if she wants to challenge for Grand Slam titles once again.
The former world number one is one of the most powerful and aggressive players on tour, and if she is fit and playing well it will undoubtedly be hard to stop her. Azarenka's success back in 2012 and 2013, and at the beginning of last year where she won Brisbane, Indian Wells, and Miami, shows that she is capable of being a dominant force, and she will undoubtedly be a contender for big titles if she gets back to her best.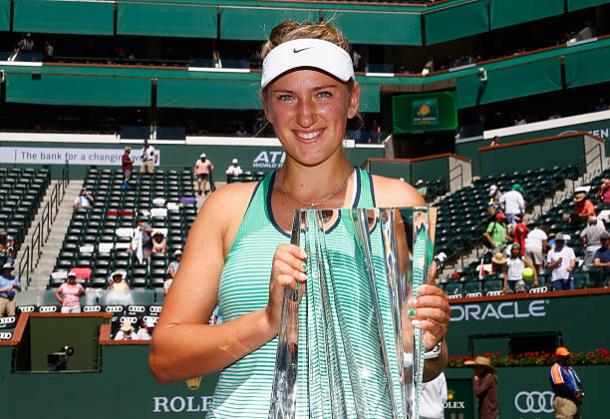 What also could help her is her success against other WTA players. Azarenka leads the head to head against most players and she has also had success against two other high-profile players; she has seven wins against Maria Sharapova, including in her first Australian Open final, and four against Serena Williams. The American still dominates the head to head between the two, but Azarenka provides a tougher test than a lot of other players can, and it will be interesting to see what happens if the two face off following Williams' return after having a child next season.
Conclusion
Things may be difficult, but it certainly seems that Azarenka will be able to challenge for Grand Slam titles once again. The success of people like Evonne Goolagong and Kim Clijsters shows that motherhood need not be a limiting factor on success, whilst the Belorussian has shown some signs of good form and certainly has the attitude and ability to add to her two Australian Open titles.
With the two now heading into the American hard court summer, a part of the season that has been good for her in the past, it will be interesting to see how Azarenka fairs, especially considering how open the WTA tour has been this year. The Belorussian could challenge for the US Open title in a few weeks time, though there is a chance that that could come a little too quickly for her. It will be interesting to see how the Belorussian fares in Melbourne next January.