 After a good 2016, that saw her ending her season as number 14, and runner-up at the WTA Elite Trophy in Zhuhai, Elina Svitolina needed to keep up with her good rhythm to confirm and improve the results she had already achieved. A more aggressive game, with an improvement with her serve, allowed her to collect very satisfying results in the first part of the year.
Win/Loss
Svitolina's record for the year so far is very positive, with 39 wins and only 9 losses, with only two of them happened in the opening matches of an event.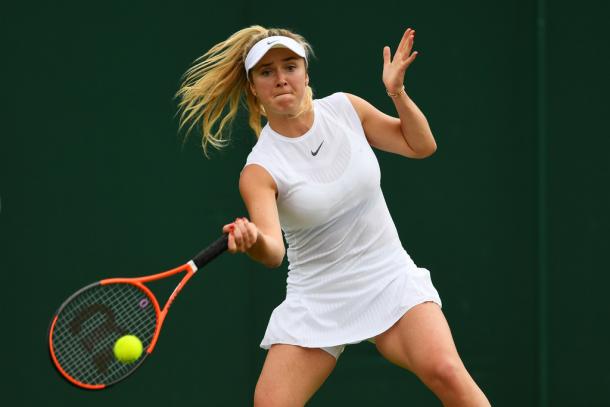 High Points
Svitolina won 4 of her 8 career titles in 2017, successfully clinching all the finals she'd played in. Her biggest successes happened during the hard-court season, with a remarkable winning streak of 13 matches - including two Fed Cup rubbers - right after the Australian Open, in which she claimed the title in Taipei City first, and then went ahead to claim her first career Premier 5 title in Dubai.
The win awarded her of 900 ranking points, that immediately let her enter the top 10 for the first time in career.
Svitolina found good rewards entering the clay season. She won her third title of the year in Istanbul, and despite an early loss in Madrid, she kept her good form in winning another Premier 5 title in Rome. This second big success awarded her of the leadership of the Porsche Race to Singapore.
The following French Open could be defined as a bittersweet experience for the Ukrainian; she confirmed her best result, reaching her second career major quarterfinal (the first one happened at the same tournament in 2015), but suffered a heartbreaking loss to Simona Halep, who performed an impressive comeback after Svitolina had been up 6-3, 5-1.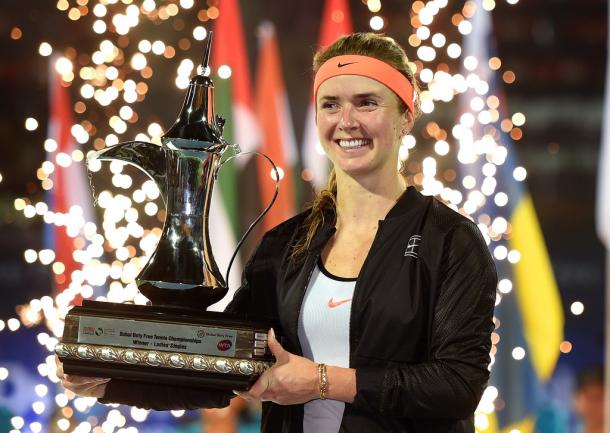 Low points
Despite reaching the fourth round at Wimbledon for the first time (she had never been past the second round in her previous five attempts), the grass season hadn't been something memorable. Due to a foot injury - that affected her second-round loss to Camila Giorgi in Birmingham - she didn't play any other warm-up match before Wimbledon, which she reached in a good form. Despite being drawn to a tricky opener - she faced Birmingham finalist Ashleigh Barty in the first round - she made her way to the last 16, where she lost to French Open champion Jelena Ostapenko in straight sets.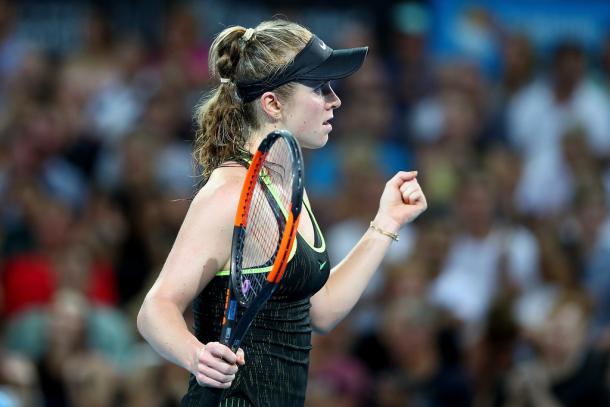 Best results
Svitolina defeated the world number one twice this year, once in the quarterfinals of Brisbane, and once in Fed Cup, both times against Angelique Kerber. With those results, she recorded 4 career wins against the reigning world number one, with to last year's successes against Serena Williams at the Olympics and Kerber in Beijing.
She recorded another important win against Kerber in Dubai, and then she defeated the 10th seed Caroline Wozniacki in straight sets to claim the title.
On her run to the title in Rome, she recorded two more top-10 wins, against Karolina Pliskova in the quarterfinals, and coming back from a set down to prevail on Simona Halep in the final.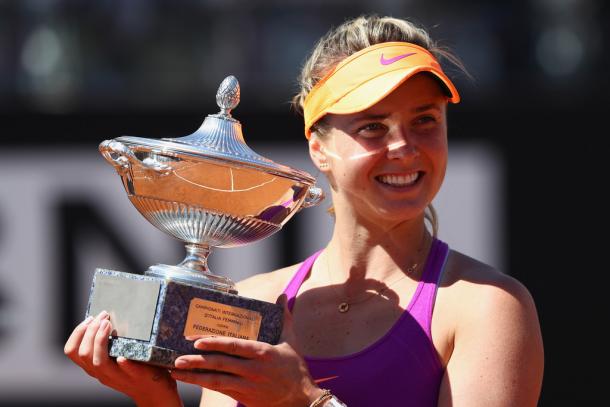 Worst results
Svitolina suffered an early defeat playing in Miami; competing as the ninth seed, she suffered an upset by Wild Card and world number 158 Bethanie Mattek-Sands in straight sets. In Madrid, she lost in the first round to qualifier Zheng SaiSai, after winning the first set with a 6-2 score.
In Birmingham she surrendered to world number 102 Camila Giorgi in three sets, in a performance affected by a foot injury, sealing her second defeat of the year from a player ranked outside the top 100.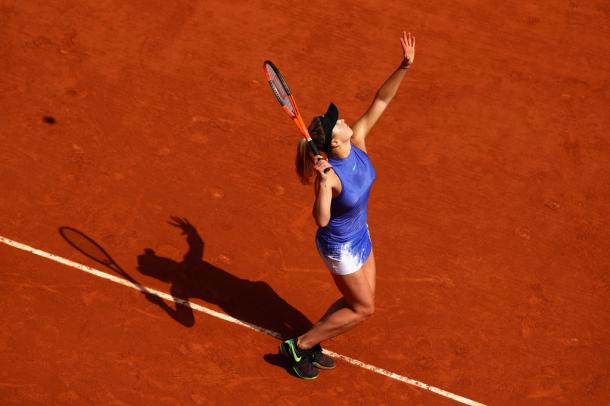 Looking ahead
Svitolina couldn't allow herself to suffer any slumps in the late part of the season if she wants to keep up with the good results that allowed her to end 2016 inside the top 15. She'll need to defend the points from a Premier level final in New Haven, along with two more Premier semifinals in Tokyo and Moscow and a Premier Mandatory semifinal in Beijing and the WTA Elite Trophy final in Zhuhai. A good chance to gain important points will come at the US Open, where she lost in the third round last year, and where she has all the chances to perform a good run.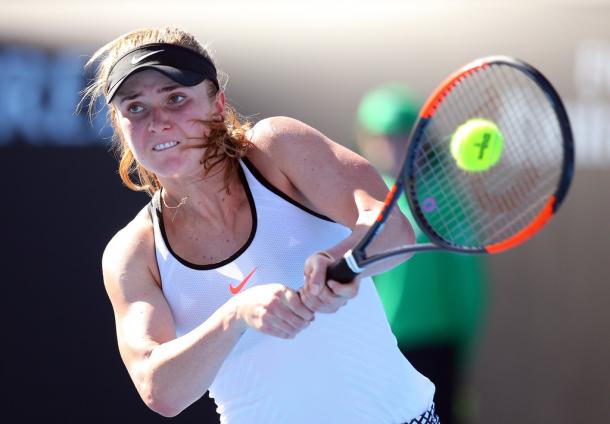 Midseason grade: A-
Svitolina had overall kept good consistency during all the season so far, and her choice to compete in many International tournaments - she won two of them without facing players inside the top 50 - has rewarded her with important points to climb the rankings. However, the titles in Rome and Dubai has shown her as equally dangerous in bigger events, eventually making her a serious contender for a first major crown.