 It was a cool Sunday afternoon at the 2013 Rogers Cup when a little-known, 18-year-old Chinese-Canadian by the name of Carol Zhao stepped on to court to face 75th-ranked Romanian Irina-Camelia Begu, with a spot in the main draw of the Rogers Cup on the line. With nearly 500 spots in the rankings separating the two, the odds were stacked quite literally against Zhao who, at five foot four, proved that quantifiable things simply don't measure one's heart and will to succeed.
After a tense hour-and-a-half-long battle, the Canadian teenager pulled off what seemed like an unlikely upset at the time, but one that was definitely a long time coming and the first of many for a talented little girl with a big dream.
Born in Beijing, Zhao's tennis journey began at the age of four or five, as she recalled it, with the encouragement of her grade school teacher, who introduced her to a sport that would transform her life. Two years later, her family immigrated to Canada, choosing to settle in Richmond Hill, Ontario, a short half-hour drive from Toronto. It was there that she really got the chance to play more sports and lead the healthy lifestyle she had enjoyed, playing sports like soccer, volleyball and basketball all recreationally before she began taking tennis more seriously, eventually relocating to the National Tennis Centre in Montreal for three years starting in August 2010.
It was around this time—the latter stages of her junior career—that Zhao realized she was interested in pursuing a career out of the sport she had grown to love over the last decade, doing so in a very wise and methodical way with the loving support of her parents. "I always approached my development organically and was careful not to steer myself into a situation where I felt like I had to do it because it was the obvious or only choice," she explained. "Luckily, I had a lot of autonomy on that front as my parents always encouraged me to take ownership of my own decisions and never projected their wishes onto me."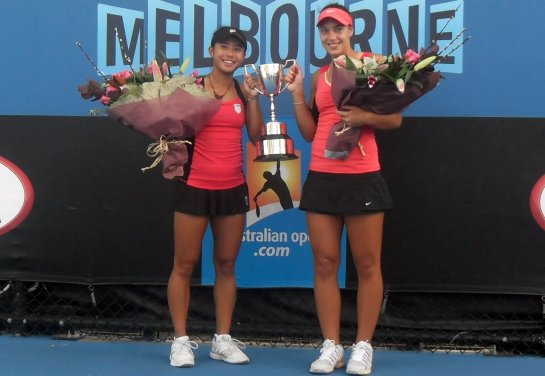 In her first real breakout year in international competition, Zhao won her first Junior Grand Slam title at the 2013 Australian Open with Croatia's Ana Konjuh, and the success only seemed to continue from there. With the Junior Grand Slams giving her "a taste for the atmosphere and lifestyle" of the pro tour, Zhao made a couple deep runs in both the singles and doubles competitions at Roland Garros and Wimbledon and a few select ITF Pro Circuit events before her big breakthrough in Toronto, which all came with a big learning curve for the 18-year-old who was named Tennis Canada's "Junior Player of the Year" later that year.
Now, at 22 years of age, Zhao revealed the biggest thing she learned, particularly about herself, during her transition from the juniors to the pros wasn't exactly the obvious: "Apart from the obvious improvements that need to be made in your game, I think the transition from juniors or college to pros requires you to gain a deeper understanding of yourself—when things happen you need to be able to filter those processes in a way that's productive to how you move forward. It's all about finding a way to express yourself fully and effectively on the court."

At the time of her breakthrough in Toronto, which ended at the hands of Anastasia Pavlyuchenkova in the first round of the main draw, not much was known about Zhao until it was revealed that she would be going to a prestigious school south of the border starting later that summer: none other than Stanford University to pursue a Bachelor of Science degree in Science, Technology, and Society.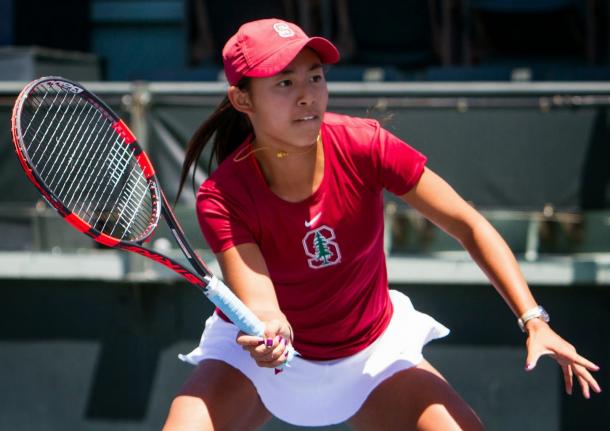 In her time at Stanford (which she has one year left to complete at the end of her career!), the Cardinal put together some remarkable results not only on the court but also in the classroom, ending her collegiate career with a 76-16 win-loss record and a mightily impressive 38-14 record against nationally ranked opponents.
When asked how she managed to balance her academics with her tennis from an early age, Zhao responded with what she took away from her countless hours of hard work both on and off the court: "One of the things I've learned over the years, especially in college, is that if you really want to do something, you will find time for it. I intrinsically enjoy learning and the process of self-discovery, so I'm willing to put in the effort and time that [it] requires."
"When I was a junior, I remember playing in different countries and doing schoolwork on buses in Mexico, hotel lobbies in Turkey and between matches in Thailand, for example," she recalled vividly. "At Stanford, the academics became more rigorous and there were other professional and recreational interests and a social life to attend to, but I had already developed an aptitude for time management."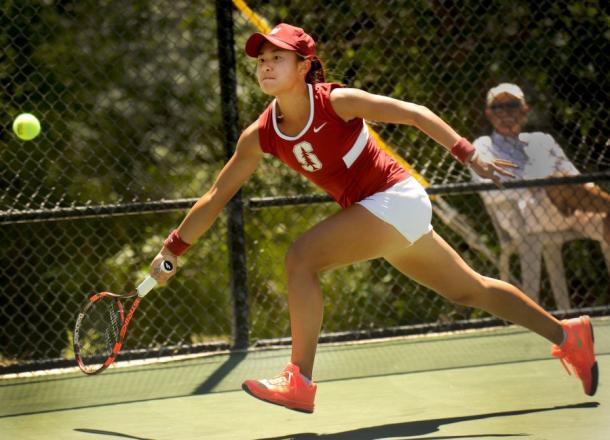 In her sophomore year, Zhao already had a long list of accolades: Not only did she play all her collegiate matches at the number one spot, she was also an ITA All-American in singles and doubles, captured the USTA/ITA Northwest Regional Championships title and won the Pac-12 championship with Taylor Davidson, which earned them the prestigious title of "Pac-12 Doubles Team of the Year" and allowed them to finish the year at number two in American collegiate tennis.
In her breakthrough 2015 season, she won 15 of her last 16 matches to reach the NCAA final—becoming the first Canadian since 1998 to achieve such a feat, made the quarterfinals of the Rogers Cup in doubles with compatriot Sharon Fichman, and was half of the Canadian doubles team (with Gabriela Dabrowski) that took home the gold at the Toronto 2015 Pan American Games.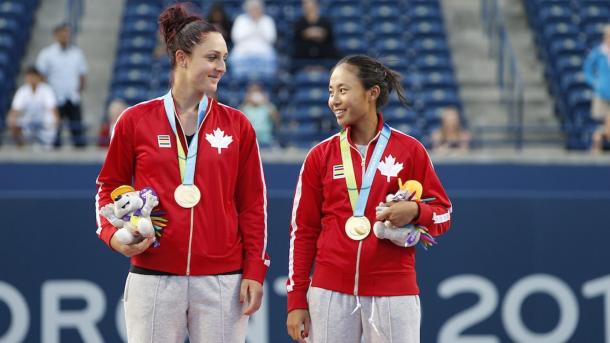 "I love playing for something greater than myself, and I think we crave that sometimes as athletes in an individual sport," Zhao said when asked what was the most special about representing Canada on such a big stage. "Winning the gold with Gaby [Dabrowski] and watching the Canadian flag rise has been a highlight in my career, for sure. Being able to do it in Toronto on our home courts made it even more special and brought out the best in me."
After her heroics at the PanAm Games, Zhao returned to the Stanford roster, which was admittedly struggling in her absence while she was busy playing on the professional tour. In the finals of the 2016 NCAA Championship, a year after just missing out on the title, the Cardinals overcame a 1-3 deficit to edge out Oklahoma State, 4-3, in what was regarded as one of the greatest turnarounds of the tournament, if not the season. This victory was particularly sweet for Zhao who later confirmed that this would be her final year as a Stanford athlete: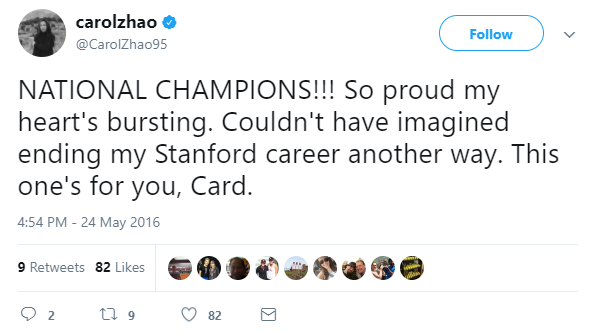 Looking back on her experiences in her three years at Stanford, Zhao says the overall experience itself was almost transformative. "I feel like personal growth is an often overlooked part of the college experience, and is equally important to performance and life in general as is skill and expertise," she explained. "I was fortunate to have had the chance to develop lasting relationships and networks, acquire new ideas and skills, and learn from people who are the best at what they do."

"Tennis-wise, I would say the professional tour has rigours and standards that are hard to mimic in another setting, but on the Stanford courts I was exposed to different forms of pressure, learned to be a leader in a team setting, and competed against everybody from local Pac-12 opponents to WTA top-10's. I would also rank the NCAA championship run as one of the fondest moments of my career. Overall, the experience itself was transformative."
As someone who has accomplished plenty at this level, Zhao has high hopes for the Cardinals going forward and hopes the Intercollegiate Tennis Association (ITA) continues to promote this level of tennis to help enhance the overall player experience. "I think Patrick McEnroe talked about getting college tennis televised more, and the ITA have done a good job in recent years promoting it and tweaking the rules in an attempt to make it more fan-friendly. Anything to increase its exposure and interest will be beneficial in the years ahead."

Now playing full-time on the tour since deciding to turn pro at the end of her career at Stanford, Zhao has done well, putting together a solid 29-16 record in singles and a 22-12 record in doubles in addition to reaching four doubles finals on the ITF Pro Circuit, winning three of them.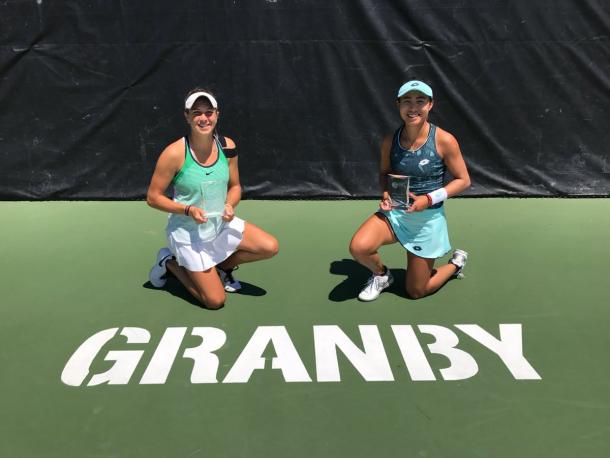 After having considerable success in doubles at Stanford and now on the professional tour, what is it about this format that brings the best out of Zhao? "I see myself as more of a singles player, but kind of inadvertently have had some of my better results in doubles. I've been lucky to play with some great partners, and I enjoy coming in and playing an all-court game which is maybe effective in doubles."
While most players' interests lie heavily in sports, some players—like Zhao—consider themselves musical aficionados and sometimes even play a little music of their own. In the case of the young Canadian, Zhao left quite the impression among her peers last year when, instead of a speech, she sang her own rendition of the song "Yellow" by Coldplay at the official Fed Cup dinner before Canada faced off against Belarus, which turned out to be an instant hit in the tennis world.
As someone who was classically trained on piano for about ten years before giving it up to focus on her tennis, the 22-year-old has since rekindled her passion for music through teaching herself how to play guitar, saying that "creating is a form of catharsis for me and I'm a big consumer of music as well so it's definitely always around me."
In many ways, creating music might be the perfect form of catharsis for Zhao who has openly admitted to the struggles of life on the professional tour more so through a new original song that she wrote on the road, entitled "Concrete":
"It's definitely not an easy lifestyle, especially when you are trying to climb your way up," she admitted. "You have to learn to dilute failure and persevere when the going gets tough. Naturally, it can be hard to stay motivated when difficulties persist but since this is what I chose to do, I'm dedicated to learn as much as I can through this process."

"[This year's] been very exploratory in terms of getting to know myself better as a player and what I respond well to, what my identity is, et cetera. I do have goals in mind [for both this and next season] but the most important thing for me at this stage is to try to develop the competencies I need to get the most out of my abilities."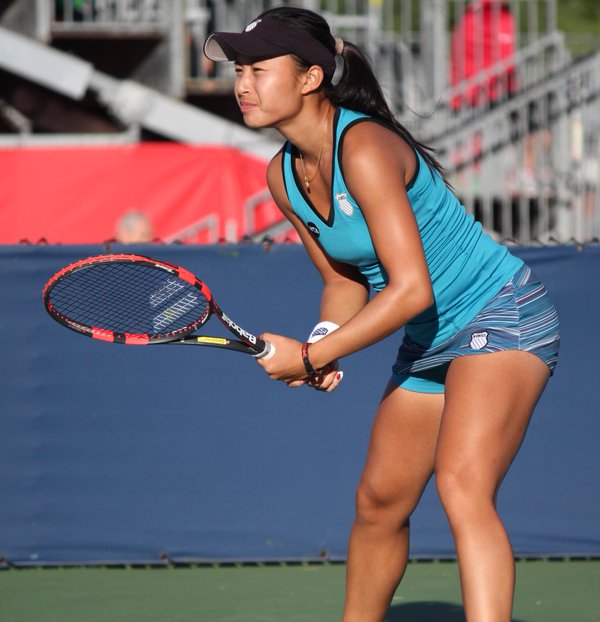 As the 22-year-old continues to develop in an attempt to maximize her potential, she will return to Toronto this weekend in an attempt to qualify for the Rogers Cup after being given a last-minute wildcard when Maria Sharapova withdrew from the main draw. "It's a cool feeling to play on the courts I grew up playing on and in a tournament I would watch from the stands when I was younger," she noted. "I've had some great moments at the Rogers Cup and love playing in front of family and friends! Hopefully, I'll get to play some good tennis this year too."
For Zhao, she will be looking to take it all in her stride as she looks to build on her success, bit by bit, to become not just one of the best in the world, but the best player she can possibly be.