Dominic Thiem is adamant the gap between himself and fellow youngsters banging on the door of the so-called 'Big Four' is "not that big".
The 23-year-old trails only Rafael Nadal and Roger Federer in the ATP Race to London having scored notable victories over the Spaniard, Novak Djokovic and Andy Murray this year. Instead, Thiem believes the challenge is beating them consistently enough to win Grand Slam titles, a feat he is yet to achieve.
Incredibly tough
"Maybe the gap is not that big playing-wise," the Austrian told reporters at the Rogers Cup in Montreal.
"I think we can beat them now. I think it's just very difficult for us to win the big titles, to win the Grand Slam tournaments.
"We can beat one of them for sure, like, almost every day, but to win a Grand Slam you have to beat two or even three of them.
"I mean, that's why it's so tough to win these big titles."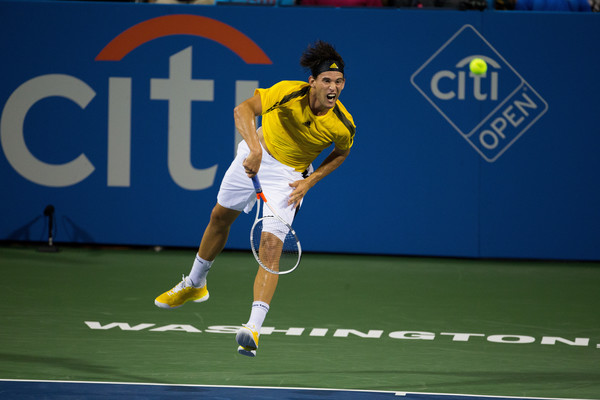 Feels improvement
Thiem snuck into the year-end World Tour Finals last year and has admitted previously that his hectic schedule culminated in a late-season burn out. But the 23-year-old, who has reached back-to-back French Open semifinals, believes he is now performing to a higher standard at Grand Slam level.
"I'm feeling much better than last season," he added.
"It was everything new for me to play that many matches, to play that many tournaments, and to go deep as well.
"This year is really different. I mean, last year I had a lot of points from the 250 tournaments, from the 500 tournaments.
"This year it's completely change. I have almost all my points from Grand Slams, 1000s, these events."
Thiem opens his campaign in Montreal against the diminutive Diego Schwartzman on Tuesday. He could face either Tomas Berdych or Grigor Dimitrov in the quarterfinals.