 Ekaterina Makarova would face a familiar foe in the second round of the Rogers Cup as her nemesis seventh seed Johanna Konta awaits for her there. The Russian came into Toronto with a title won last week while Konta has been inactive since Wimbledon, therefore this is an interesting clash between a former Top 10 player and a current Top 10 player.
Makarova's recent results
After a second round exit at the Wimbledon Championships, Makarova unexpectedly stormed to the title at the Citi Open as the seventh seed despite not being a favorite for the trophy before the week itself. Defeating Olympics Gold Medalist Monica Puig in the second round, the Russian followed it up with a win over top seed and world number two Simona Halep after the Romanian had to retire in the final set to gift Makarova her sixth Top 10 victory of the year. Her impressive run continued when she outgunned the hard-hitting Oceane Dodin in three tough sets before recovering from the brink to defeat Julia Goerges in the final for the third WTA title of her career. Before this perfect week, Makarova did not reach a quarterfinal all year-round.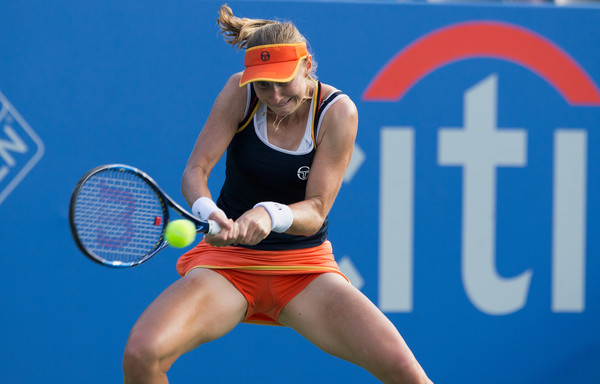 Moving onto the Rogers Cup where she had to deal with an even more tricky draw, she was drawn to face the dark horse Peng Shuai in the first round. Unexpectedly, many thought that she would run out of steam but she proved everyone wrong when she defied all odds to triumph in straight sets, losing just a mere four games in the process. Makarova is currently on a six-match winning streak.
Konta's recent results
Konta reached the semifinals at the All England Lawn Tennis and Croquet Club for the first time in her career in front of her home crowd, putting up a tough fight against Venus Williams before falling in straight sets. Nevertheless, it was a great performance put up by the Brit throughout the fortnight. She has opted for a lighter schedule as compared to last year, therefore she took an extended break which made Toronto her first tournament since then. She also opted not to defend her title at the Bank of the West Classic.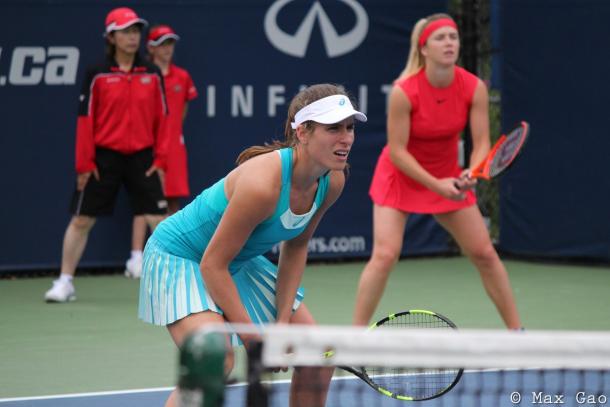 Head to Head
Konta could be considered as Makarova's biggest nemesis after the Brit won all four of their previous meetings. Their rivalry all started in 2015 when Konta was ranked outside the Top 100 and was still unknown to most of the tennis world, but managed to earn her first Top 10 win by defeating Makarova in Eastbourne, where she received a wildcard. The next time they met was at the Australian Open in 2016 when Konta reached a Grand Slam semifinal for the first time in her career, defeating Makarova with an 8-6 final set scoreline in the fourth round. They had another two meetings, coincidentally, they took place in Eastbourne and Melbourne once more and both results ended in the favor of Konta yet again.
Match Analysis
Konta would have to be dictating play throughout the match and be the more aggressive player amongst the two. Her powerful style of play is perfect against a player like Makarova and she looks to force the Russian to move all around the court. Konta's backhand is the highlight of her game and that shot is able to produce winners after winners. The Brit also possesses a decent forehand, but her serve is her best weapon possible. She is able to serve well under pressure, and her serves can consistently reach the 110 mph mark, earning some free points for her.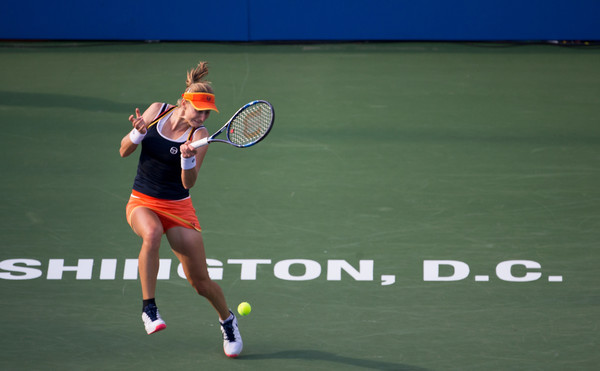 Konta has the tools to punish anyone's second serves and therefore Makarova must try to have a high first serve percentage, utilizing her lefty advantage to serve out wide and force Konta to return the service at an awkward position, giving herself the time to get on the offense. Makarova must also not commit too many unforced errors in her baseline game and should try to pounce on every opportunity she earns. Being a world-class doubles player, the Russian should often move up to the net, securing more points there.
Final Thoughts
Makarova looked impressive in her first round victory over Peng Shuai and is currently on a six-match winning streak. She definitely would pose some problems for Konta, who is playing her first singles match this week having received a bye. However, the Brit dominates their head-to-head and another win should not be a problem.
Match Prediction: [7] Johanna Konta d. Ekaterina Makarova in two sets