Rafael Nadal faced Borna Coric in his opening match at the Rogers Cup, beginning his quest to once again take over the title of world number one. A semifinals appearance or better would give Nadal that number one next to his name, a title he has not held since 2014. Nadal will face Canadian teen sensation Denis Shapovalov in the third round.
Dominant First Set For Nadal
Some thought it would not be an easy task for Nadal against Coric who has beaten him twice on hard courts and led the head-to-head 2-1. With the world number two serving first, he held easily then broke the Croat on his second break point in Coric's first service game.
Nadal looked in charge after the break, hitting some trademark cross-court forehands to the backhand of the righty, holding at 15 for a 3-0 lead. Coric looked uneasy and rushed, something that Nadal will do to you when he is taking control of the match. With a few rushed groundstrokes, it was another break for the world number two to take a commanding 4-0 lead.
The Spaniard was dominating on his serve having lost only three points in his first two service games. His third service game was no different, dropping a single point to take a commanding 5-0 lead. Coric finally got his first game on the board after a couple of errors from Nadal. He was greeted by a warm reception from the Montreal crowd who wanted to see more tennis.
Despite leading 40-0 while serving for the set, Nadal was made to work to take the first set. A couple of nice, deep groundstrokes coupled with some uncharacteristic unforced errors from the Spaniard made it 40-30. The world number two would take the opening set 6-1.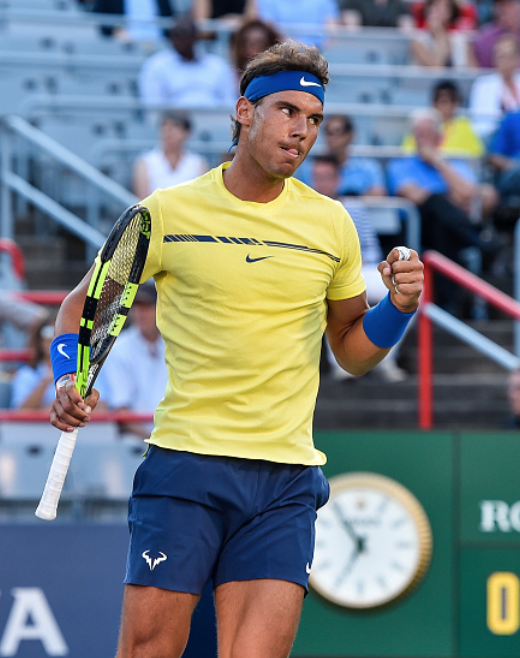 Second Set
After a less than half an hour for the first set, Nadal took a long break and left the court. The Croat began to look more comfortable in his opening service game of the set, using less noticeable patterns to get to a game point. At 40-30, Nadal began to take control of the point and finished it with a touch, drop volley to get it to deuce.
On another game point, the Croat looked to be in charge and ready for a smash, but a backhand lob followed by a forehand winner down the line brought it back to deuce once again. Two wild errors from Coric gave the break to Nadal to open the second. He followed that with a comfortable hold for a 2-0 lead. For Coric, he found himself on the board much quicker in the second, holding to love but still down a break.
After another comfortable hold from Nadal, Coric found himself in trouble once again. A poor drop shot saw Nadal hit an easy winner for double break point. A double fault from the Croat made it a commanding 4-1 lead to the Spaniard. For the first time in this match, Coric found himself with a break chance at 30-40. It only took one strong serve for Nadal to erase it though.
In a bizarre turn of events on Court Central, Coric hit a ball out and challenged it, but the Hawkeye did not show on the screen. It was working in the booth though, and the ball was good, giving a replay of the point with Nadal showing a little smirk over the call. It was still a tough service game for the Spaniard, but he eventually held for 5-1. Coric would go on to hold once more for 2-5, but it would be Nadal to easily close it out for a 6-1, 6-2 win.
Stats
Nadal was dominant on both his serve and on return. The Spaniard only lost 13 points on his serve and won 23 points on the Coric serve, which includes winning 4/5 break point opportunities. Th world number two was aggressive on serve, hitting seven aces and four double faults. Coric only won 58 percent of first serve points on 58 percent of first serves in and won only 33 percent of second serve points