 Ekaterina Makarova came back from the brink to seal her first career victory over Johanna Konta in the second round of the Rogers Cup as she booked a meeting with Lucie Safarova. The Russian recovered from a 5-7 2-5 deficit and saved two match points along the way to earning the tough three-set victory, extending her winning streak to seven wins and bringing her Top 10 victories this year to seven.
Konta recovers from early deficit to steal the first set
Makarova had a great start to the match, producing some good returns to earn two break points in the opening game but Konta managed to narrowly escape with the help of some strong serves. The Russian then recovered from a 15-30 deficit to hold serve and get herself onto the scoreboard, with her serves looking solid early on. Makarova then made the first breakthrough of the match, breaking serve in the third game after hitting an impressive backhand winner on break point. The former Top 10 player then easily consolidated the break, opening up a formidable 3-1 lead.
She then had the golden opportunity to extend her lead in the seventh game, but a forehand unforced error cleared the path for Konta to hold serve narrowly and keep herself in the set. The tight service hold proved to have boosted the Brit's confidence as she broke to love in the next game, returning level on the scoreboard all of a sudden. After several service holds, Makarova found herself serving to stay in the set at 5-6 but she was unable to handle Konta's high level of play as the Russian eventually got broken to love, allowing Konta to take the first set 7-5 after 50 minutes of play.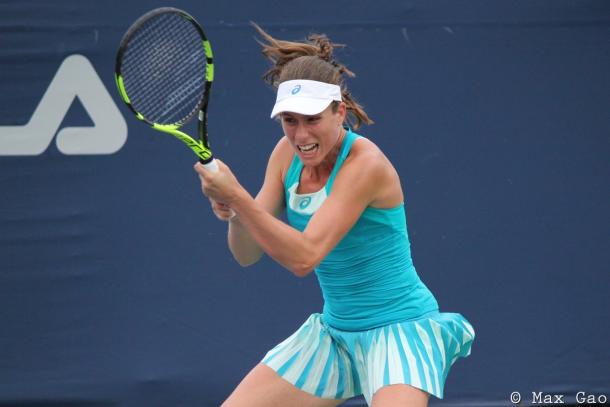 Makarova creates miraculous comeback and saves two match points
It was the determined Makarova who made the first breakthrough in the second set as she looked to send the match into a decider, breaking serve in the third game where Konta was unable to find her first serves and committed more unforced errors than usual. Nevertheless, the hard-hitting Brit broke straight back in the next game as Makarova was unable to hold onto her lead, similar to the first set.
Everything seemed to be going wrong for the Russian since then as she failed to convert a 0-30 lead in the fifth game before losing her serve yet again next. Soon, Konta found herself strolling through the second set as she powered herself to a formidable 5-2 lead, being just one game away from the victory.
Serving to stay in the match, Makarova comfortably held her serve to love, forcing Konta to serve it out. Unexpectedly, the Russian came out of nowhere to break straight back at 3-5 down, saving a match point along the way and started mounting her improbable comeback. The Washington champion saved yet another match point, this time on her serve as she came up with some impressive aggressive tennis to come back from the brink yet again.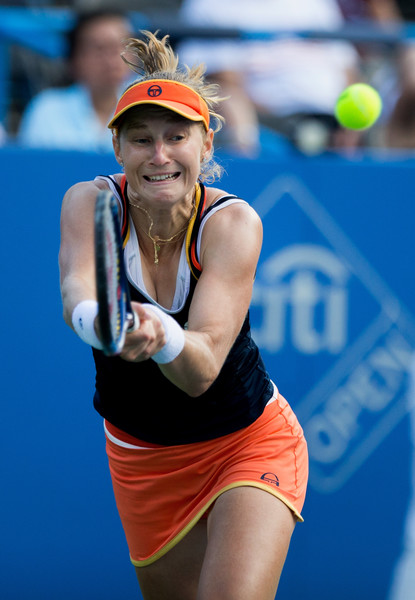 The set was eventually brought into a tiebreak to decide the winner, and the scores were kept really tight as both players wanted the win really badly. Nevertheless, a match must have a winner and Makarova made the first mini break at 2-2, never looking back from there as she clinched the second set 7-6 after coming from 2-5 down and saving two match points along the way.
Makarova makes pivotal breakthrough late in the set
The final set was much more straightforward with seven consecutive service holds to start the decider. Both players were very solid and consistent on their serves and neither looked like they were going to be the first to give in. Unexpectedly, it was Makarova who made the first breakthrough as she broke serve just at the last moment, capitalizing on Konta's unforced errors to earn the golden opportunity to serve out the match. Not disappointing her fans, the Russian comfortably held her serve and clinched the victory after a very tough 2 hours and 27 minutes, sealing the upset after Konta hit a return long.
Makarova pleased with her victory
"Oh well, I don't know I was just keep fighting you know, believing in myself that I can win this match even if I lost 4 matches [to Konta] before. She's a great player, it's always tough to play against her but with this crowd, it was very nice to play. Thank you very much for the support!" Makarova was asked about how she managed to produce that unbelievable comeback, and she herself does not know the secret to saving two match points against a player whom she has a 0-4 head-to-head record against.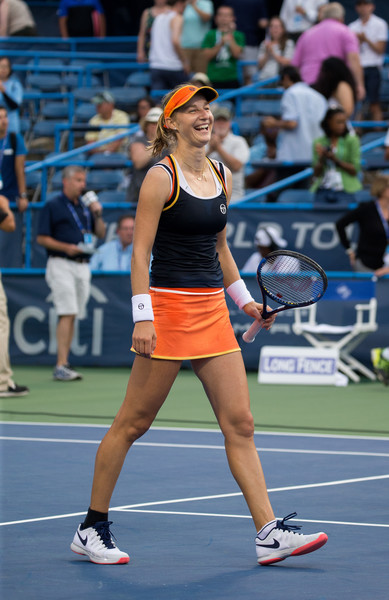 "Oh now I just want to recover and enjoy my win today because it was a really tough match and it was a great match. And I just want to enjoy and tomorrow I will come back and play again." Makarova commented when asked about her preparations for her third round match against Lucie Safarova, and she definitely enjoys a well-deserved rest after this amazing victory.