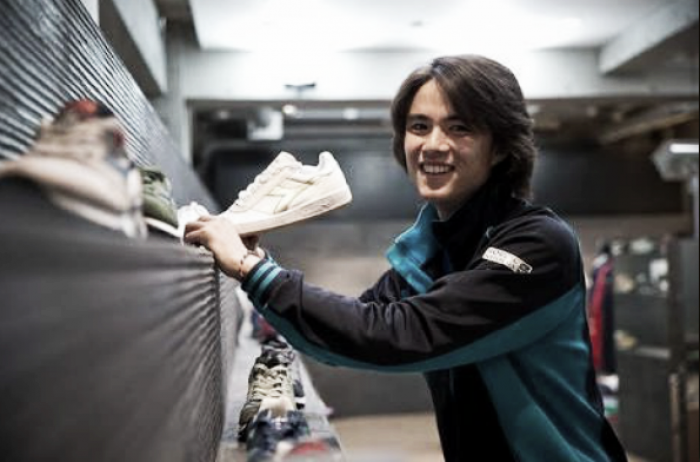 American-born Japanese Taro Daniel is a superstar in his home country. One of the most recognizable faces of Japanese tennis, along with Kei Nishikori, Naomi Osaka, and Kimiko Date-Krumm; Daniel is ushering in the next generation of Japanese dominance, and is simultaneously making his presence felt on the international stage.
A veteran on the Challenger tour, Daniel has won 4 ATP Challenger tour titles; along with reaching a personal best of world number 85 in 2016. A self-professed clay court specialist, Daniel practices in Valencia, Spain; under the watchful eye of coach José Fransico Altur. When he's playing well, he enjoys hard-courts, but it was the clay courts that Daniel started off his career with in Spain, and it remains the clay courts which have an inexplicable attraction to him.
The right-handed pro was born in New York and spent the first few most crucial years of his life in Japan. He started playing tennis at the age of 7 and clinched 3rd place at the Under 12 All Japan Junior tennis tournament. At the age of 14, his family shifted to Spain, which would coincidentally be the place where he discovered his true calling for tennis and decided to pursue it professionally.
Between 2011 and 2013, Daniel slowly worked his way up the Futures tour to the Challengers; and saw his ATP ranking have a seismic rise of 737 ranking spots to World number 241.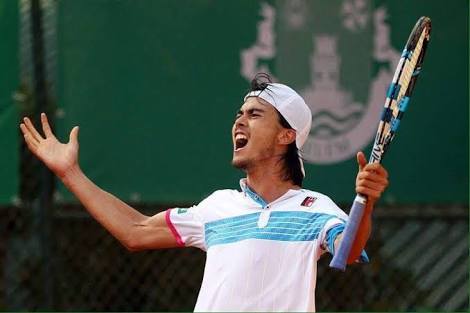 2014 was a breakthrough year for the young Japanese, as he qualified for his first ATP tournament and even reached the quarterfinals beating several well-established stars like Bellucci and Delbonis, before losing to 3rd seed Nicolas Almagro. He was also selected for the Japan Davis Cup team for the World Group stage quarterfinal against the Czech Republic. He ended up losing both his ties but was left with an unforgettable experience that would shape his game in the years to come. He ended off a spectacular year by making his Grand Slam main-draw debut at the US Open, but unluckily getting in-form fifth-seed Raonic in the first round, he lost early.
In 2015, Daniel made a breakthrough into the top 100 for the first time, and has never looked back since. He won two Challenger titles in the first half of the year, at Vercelli and Furth, beating several top seeds en route to the trophy. At the 2015 World Group playoffs against Colombia, Daniel played the match of his life to defeat Alejandro Falla in the last tie, his first Davis Cup match win, which encapsulated a impressive campaign from the Japanese team, and simultaneously clinched a nail-biting comeback victory for Japan to cement their place in the World Group. He won his 3rd Challenger title of the year at Yokohama, beating compatriot Go Soeda in the final, and ended off the year at a then personal best of World number 93.
2016 started off on a disappointing note for Daniel. Despite getting his first ever direct entry into the Australian Open, he lost to experienced campaigned Lukáš Rosol in a gruelling 5 setter in the first round. In the first round of the Davis Cup, Japan faced a stiff challenge from eventual champions Great Britain, and ended up losing the tie 1-3. He then reached the second round at several tournaments like Bucharest and Estoril, including a Masters 1000 main draw debut at the Monte-Carlo Masters.
He also competed at the French Open, where he lost in the 2nd round to Swiss 3rd seed Stan Wawrinka; and Wimbledon in the 1st round to veteran Juan Monaco. He had an unforgettable campaign at the Olympics though, beating 14th seed Jack Sock in the first round(the eventual gold medallist in mixed doubles, and bronze medallist in men's doubles) and youngster Kyle Edmund in the second, before losing to Argentine legend Juan Martin Del Potro in the 3rd round.
A sought-after player in his home-country, the trilingual Japanese has created his own brand of trademark tennis and characteristic honesty in off-court interviews, and remains a young face to watch out for in the years to come.
Here are some excerpts from his exclusive interview with VAVEL USA:
AYUSHI THAKUR: Firstly, congrats on a fantastic season. What's been your favourite tournament, and why?
TARO DANIEL: Thank you. I tend to not chose what my favorite tournament is. You can think one tournament is great then next year in the same place you lose in the first round and (then) think that this same place sucks. So I try to enjoy and accept both good and bad things about the places i go to. But obviously I love playing in Japan and in NY(New York)!
A.T: What is your goal for the next 5 years?
T.D: My goal for the next 5 years is to just keep improving. I don't really want to set any ranking goals or title goals. I want to keep enjoying the tennis circuit as a young man for as long as I can. But I obviously want to make the Olympics in Tokyo in 4 years and I want my physical to peak around that time. I am aiming for my best tennis to come around when I'm 26-30.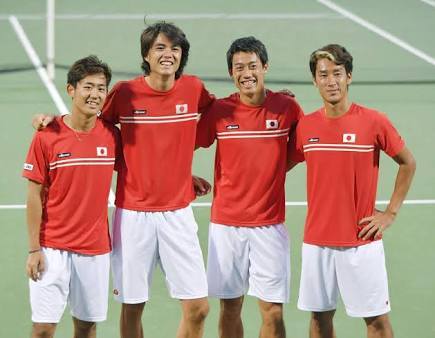 A.T: What was the Olympic experience like?
T.D: Olympics was amazing. They called me the weekend before the tournament started and I couldn't really believe I actually made it. And when I was there it was a lot of fun. You see all these different bodies: huge, small, neutral, heavy, light etc. it's also a lot of energy because it's mostly people 20-30 years old and 1100 of them in one small village. All of them fit and great at what they do. I loved exchanging pins with athletes from different countries. So different from anything I ever experienced.
A.T: Who has influenced you the most? Who inspired you to take up tennis?
T.D: My father was the biggest influence for starting tennis and I could say the person who has been the most helpful during the whole life span of my tennis career. I've always had a supportive family. My dad and mom never really pressured me but they did make me work hard and try to stay as humble as I could. I have players that I love like Federer, Coria, Gaudio etc. I like players who move well. Those players have been a big influence in my style of tennis. Obviously having lived in Valencia, Spain was a huge influence as well
A.T: What's the major difference between Challengers and the ATP tour. Elaborate upon about life in Challengers? Is there a big difference in the quality of life and the level of the game in the top 100, and outside of the top 100?
T.D: Yes, the level of tennis is different but not as different as one might expect. One player who is 30 in the world could lose in a challenger on a bad day without a doubt. But the quality of life is very different. In any ATP tournament everything is well prepared. You always have your water, towels, good hotels, safe food, etc. the prize money difference is very drastic. If you win a 50k Challenger, you earn about 5k dollars after the withholding taxes. In an ATP 250, you lose in the first round and you secure a 4K dollar pay check.
In Challengers, there are nicely organized tournaments but there are as many badly organized ones. Places that are extremely difficult to get to that don't have a lounge, and barely any internet connection. And obviously it gets worse when you go down to the futures. The big difference of if you make money or not comes when you are able to make the main draw of the GS. I could say it's a pretty capitalistic sport but it is what it is and people do it because they enjoy it.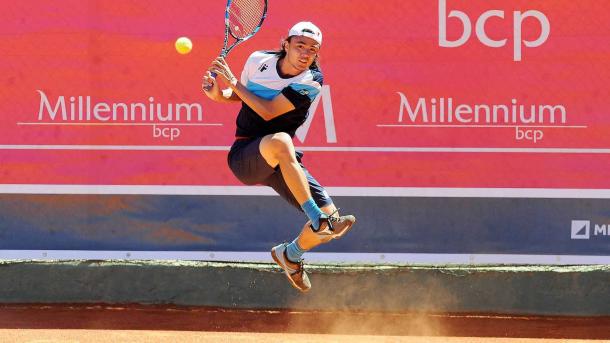 A.T: According to you, what's the major difference between players in ranked in the top 10 and ranked between 10-90?
T.D: Players ranked in top 10 have a special bit extra of talent. The way they time the ball and the way they see the court is superior to the guys who are ranked lower. They also have a very complete team traveling around with them always. Coach, trainer, physio and etc.
A.T: What do you enjoy doing in your free time, or while waiting in hotel rooms/airports/during Rain delays?
T.D: I love going to watch Movies alone in my free time. That's my favorite thing in life actually. No distractions and you can really enjoy the cinematography. But during free time during rain delays and etc, I like watching videos of Chiropractic or osteopathy. It's a very weird fetish but it relaxes me watching people getting their joints released.
A.T: Which player do you look up to, and why?
T.D: I love Roger Federer. You don't need to explain why you love Roger
A.T: Who's the funniest/most charismatic player on tour? Have you ever played any locker room pranks?
T.D: I guess Kyrgios or Monfils are very charismatic but I don't know them very well personally. I personally get along great with JP Smith, Millman, McGee and many other guys!
A.T: What's your diet like?
T.D: I am not a picky eater. I was raised healthy and I try to get a bit of everything. I love experimenting with different cuisines too. That's why I love New York because even though their ethnic foods are not 100 percent authentic, it's close enough and you have countless different kinds of things to eat around.
A.T: What, according to you, is the major reason for Japanese players doing well recently? What influence has Nishikori had on you personally, and on Japanese tennis as a whole?
T.D: I think Japanese players are financially well supported compared to players from other countries. If you're an ATP player you have a good chance of getting some sort of endorsement deal and tennis is very popular with young kids. Nishikori has obviously raised a huge interest in tennis in the country and we will be able to see all the promising players coming up in 15 years or so. Japan has always had good level in junior tennis so the problem before was that not many of them were really being converted into great professionals.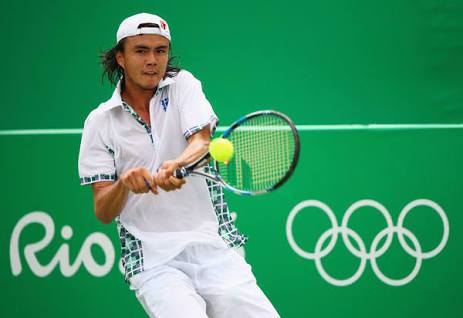 A.T: As an Asian player, have you ever felt discriminated against on the tour?
T.D: No, not really. I always felt respected. I get along great with players from every continent thanks to my language speaking abilities. That is one thing I'm proud of and I enjoy a lot in the tournaments especially in the Grand Slams. But I think tennis players are very well educated compared to athletes from other sports and usually racism is not an issue. Growing up as a young Asian in Spain, there have been ignorant comments thrown at me and my sister. Usually they were just jokes and not actual harm even though sometimes it was tough, but it never caused real problems in our lives.
A.T: Novak Djokovic once said that he was approached by a bookie to for match fixing. Have you ever been approached in the same way? What's your opinion on the prevalence of betting in sport currently?
T.D: I have never been approached in person but I've had a couple of betters contact me on Facebook and Twitter. And we always get harsh insults from people who lose money on you when they bet on your matches. For me what is upsetting is, many tournaments have betting companies like bet365 as main sponsors while they have absolute intolerance on players being associated with the matter.
Fine, you can have betting companies sponsor the tournament, but maybe they could use a lot of that money to give better pay checks to players with lower rankings. There's an enormous amount of betting in Futures and Challengers. I'm sure there's a way to go around in a more intelligent manner and give better life to the 2nd and 3rd division tennis athletes. I know cases where players in futures have fallen into the trap of making money with match fixing, and that is a very sad fact of our sport today.
A.T: What's your advice to young players wanting to take up the game?
T.D: My advice is to always enjoy. Never make results a priority. Try to surround yourself with people that will be enhancing to your life. People who live in the present and are not greedy for what's to come in the future.
A.T: What's the locker room atmosphere like during slams/ATP tournaments? Do players become friends more easily there, or in the lower levels of the game(challengers etc)?
T.D: The slam locker rooms are extremely busy haha. Especially during the first few days of the main draw. But I like it. You see guys from qualifiers, main draws, and doubles players. You are really friendly with some and maybe with others a little more neutral. There's a great energy. In the smaller tournaments, it's a lot more empty and not as glamorous. It is simply a place to change and clothes and clean yourself.