18-year-old Denis Shapovalov sent shockwaves through the tennis world late on Thursday night, scoring one of the biggest upsets of the year and biggest wins in Canadian tennis history when he edged top seed Rafael Nadal in a third set tiebreak to reach the Rogers Cup quarterfinals in Montreal. A year after making a memorable debut in Toronto, the Canadian teen has raised the bar even higher.
Showing poise beyond his year's the Richmond Hill-native did something very few young tennis players have done, outdueled the greatest warrior in the history of the sport. After the victory, Shapovalov spoke about his epic victory.
Don't Panic
Late in the third set, Shapovalov looked like a veteran, refusing to miss despite the extreme pressure of the occasion. How did he pull it off? Shapovalov said "I think I stayed pretty calm. I played really well in the big moments. I didn't get as tight as yesterday. I'm not sure why. I just played really free in the tiebreaker. But yeah, I mean, it's difficult to say how I was feeling during the match. It was extremely hard physically and mentally. Rafa is such a warrior. Such a tough match. I'm just so happy to come out with the win."
Shapovalov had to battle through a 26-minute, 10 deuce service game early in the third set before recovering from 3-0 down in the tiebreak to claim a victory. Most players would fold against Nadal in this situation, but the 18-year-old did not. When asked how he did what so many others have failed to do against the Spaniard, Shapovalov posited that: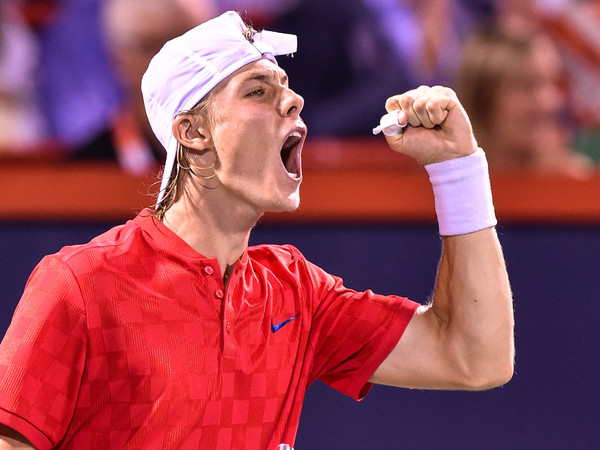 "I think it's really tough. I don't know if a lot of players fold or if he just outplays them at the end. I think today, yeah, I was down 3-0 in the tiebreaker. I did a good job to regroup. I knew I had to win both the points off my serve. Yeah, then he gave me a double to tie it up. But, yeah, it was a tough match. A tough match the whole way. Yeah, I just tried to stay calm, tried to play every point, go for my shots. At the end of the day I really tried to keep playing my game and stick to my tactics. Yeah, I think I did that really well."
Even after downing one of the greatest players of all time, the Canadian continued to praise his opponent, saying of Nadal, "it's so tough. A lot of the times he just hits a shot that's way too good. I was managing to get a lot back when I could. But, you know, he's honestly the best player I've ever played in my life. Yeah, you could tell why he's won so many Grand Slams. His ball was just so heavy. He's such a warrior out there. So it's honestly, like, a dream come true for me to beat a player like that."
Win for the ages
With the exception of Milos Raonic, Canada is a country that has generally been devoid of tennis greats. Shapovalov's win of Nadal has instantly become one of the great moment's in Canadian tennis history. According to Shapovalov, when he hit that final forehand down the line, "it just felt really surreal, you know. I mean, I couldn't believe it actually happened. Yeah, it's tough to explain the emotions that were going through my head at that moment. But it was just pure happiness."
The win has been compared to when Daniel Nestor, an unknown 19-year-old at the time, still years away from becoming one of the greatest doubles players of all time, shocked world number one Stefan Edberg in Davis Cup action in 1992. When asked about that comparison, Shapovalov said, "it's incredible. I'm actually very honored to be compared to Nestor, that match against Edberg. It's what I dreamed of all my life growing up, playing guys like Rafa, Roger, Andy. You know, my dream came true today."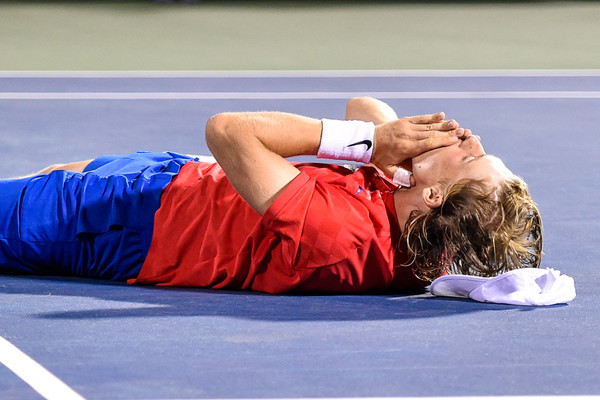 Less than a month ago, Shapovalov was playing a challenger event in Granby, Quebec (where he lost to countryman Peter Polansky in the semifinals). Three weeks later, he was an hour and a half down the highway defeating the world number two (and denying him of a chance to reclaim the number one ranking). When asked whether things are happening too fast for the 18-year-old, he said:
"It's a very fast pace right now. It's a lot to take in, obviously. But, you know, honestly, to be honest, I'm very thankful that I'm in this position. If I didn't save those four match points in the first round, there wouldn't even be a chance to play Juan Martinez [sic] or Rafa. I'm very thankful for that. I'm very thankful to have Wayne [Gretzky, the greatest hockey player of all time] and Penny [Oleksiak, Olympic gold medal winning swimmer and fellow Canadian teen sensation] by my side. Very inspiring. All that put together, I'm very thankful."
Shapovalov will have a rally and recover quickly, as he plays Adrian Mannarino on Friday night for a spot in the semifinals, a match in which Shapovalov will surely be the favourite.