Ekaterina Makarova and Elena Vesnina prevailed in a rematch of the Wimbledon semifinals as they easily defeated the experienced veteran pairing of Anna-Lena Gronefeld and Kveta Peschke in the final, storming to their second consecutive Rogers Cup title having triumphed in two different cities, Montreal and now Toronto.
Makarova/Vesnina whitewashes their opponents
The Russian pairing made the perfect start to the match as they managed to expose the loopholes in the baseline game of the German-Czech pairing, and was bossing the net as they broke serve in the opening game with some aggressive play. With some powerful serves by Vesnina, the Wimbledon champions easily consolidated their break for a 2-0 lead.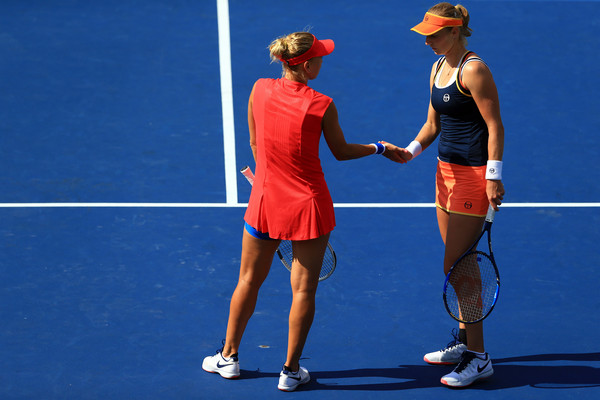 Gronefeld looked shaky on her serve as the veteran pairing started to commit numerous unforced errors, allowing their higher-ranked opponents to lead by a double break. Once again, they held their serves without a hitch as Makarova was very solid in her serving, with Vesnina able to put away the follow-up shots.
Gronefeld and Peschke were twice a point away from getting on the scoreboard in the fifth game but unforced errors once again proved to be costly as Makarova and Vesnina continued to stroll through the first set, opening up a huge 5-0 lead to be just a game away from winning the set. Serving for the bagel, Vesnina showed no signs of nerves despite being the one serving as Makarova produced a clinical net game to hold serve to love, sealing the incredible bagel in just a mere 21 minutes.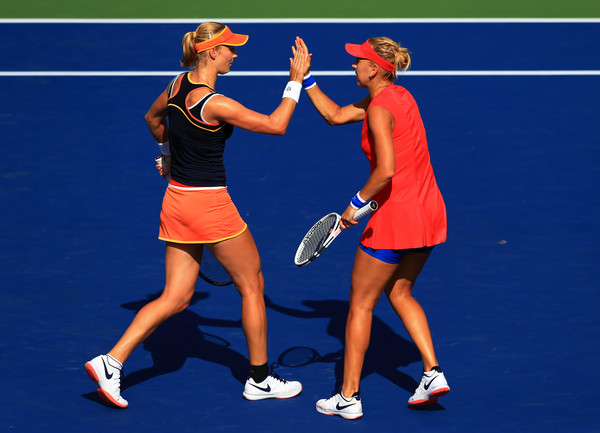 Makarova/Vesnina clinches the win
The nightmare start for Gronefeld and Peschke continued in the second set as an on-court coaching session did not help, with Makarova and Vesnina still being composed and sharp in their play. The Russian pairing broke serve in the opening game, before winning a ninth consecutive point in their service games to consolidate the break.
Regaining some confidence, Gronefeld and Peschke finally got themselves onto the scoreboard with a narrow hold of service as they lessened the deficit to just one game, in hope of a miraculous comeback as they gained some momentum. From there, the Olympics champion did not play as well as they did in the first set, and almost gave their opponents the golden opportunity to break straight back in the sixth game as they were forced to seal the game on a deciding point.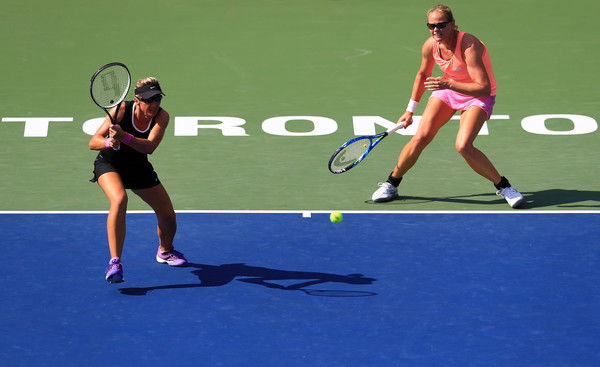 However, it was the WTA Finals champion themselves who earned three break points in the next game but failed to convert any of them as they allowed the German-Czech pairing to come back from the brink and keep themselves in the hunt for the trophy. Unexpectedly, Gronefeld and Peschke stepped up the level of their play as they won a seventh straight point to break back out of nowhere, leveling the scores all of a sudden.
Nevertheless, with some inspired net play from Makarova, the Russians regained their lead and earned the golden opportunity to serve out the win. Overcoming some wobbles, Makarova and Vesnina clinched their 10th consecutive win as they successfully served out the win, claiming the dominant win in just 62 minutes.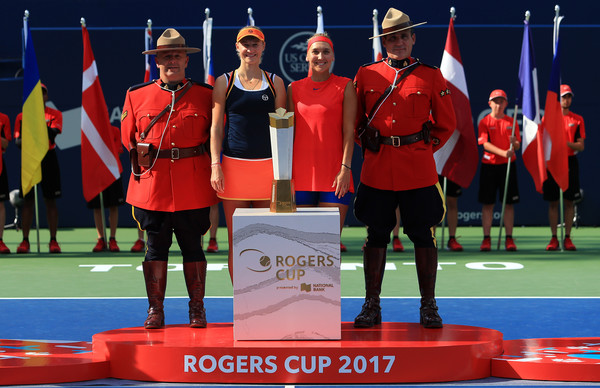 Makarova and Vesnina very pleased with their win
"We played very good today, and they're tough opponents, so we came in with all of our focus and energy. We wanted to play aggressively and it worked out, but they started to play better in the second set, pushing us to a lot of deciding points. We're so happy to win here for a second time." Makarova mentioned in an interview with WTA Insider, and she sounded very delighted with the triumph in Toronto. Winning 10 straight matches and losing just a mere four games in their two previous finals, it has truly been an incredible feat for the Russians.
Vesnina added, "We were really focusing on our game, but we didn't expect it to be 6-0, 2-0 again, because they're a really solid team. Kveta was No.1 in doubles, winning a Grand Slam, and Anna-Lena is really solid in doubles, as well. It was very important to keep our level up on all those deciding points. We're really happy and proud with the way we handled the pressure and the way we played this week in Toronto." The pairing was visibly pleased with their performance, having not lost a set in their path to the title.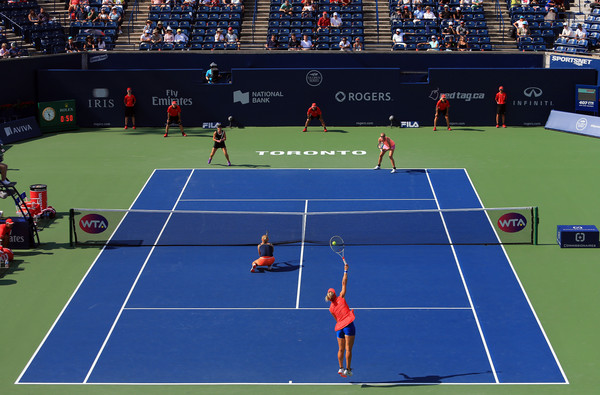 Speaking about their triumphs in both Montreal and Toronto, Makarova proclaimed that winning in two different cities were very tough, especially with the different conditions and the different stadiums. The Russian repeatedly mentioned that she enjoys coming back to the Rogers Cup, and she would definitely love this tournament especially after winning the doubles title twice.
Both pairings would now proceed to the Western and Southern Open in hope for yet another great run.