 To say that Elina Svitolina is having a good 2017 season would be an understatement. The 22-year-old from Ukraine is on fire, having just last week taken out four top-ten opponents, including two former world number ones and two major champions, on her way to a fifth title of 2017 at the Rogers Cup.
The youngster can no longer be considered an up-and-comer on the WTA Tour. Svitolina has arrived. All that is left of the young Ukrainian is a major title to cement her status as a superstar. But after her blowout victory in the Rogers Cup final on Sunday over Caroline Wozniacki, the 22-year-old is keeping things in perspective.
Feelings on a brilliant week
Svitolina only dropped one set in her five matches in Toronto, only losing six games in her last two. After her 6-4, 6-0 finals victory, the young Ukrainian didn't quite know how to react, saying, "I need some time still to really realize, because I had so many matches for the last two days. And it's been really, really tough physically. Today was very hot. So I've been really struggling. So I'm just very happy that it's finished. And with a title, it's even more special."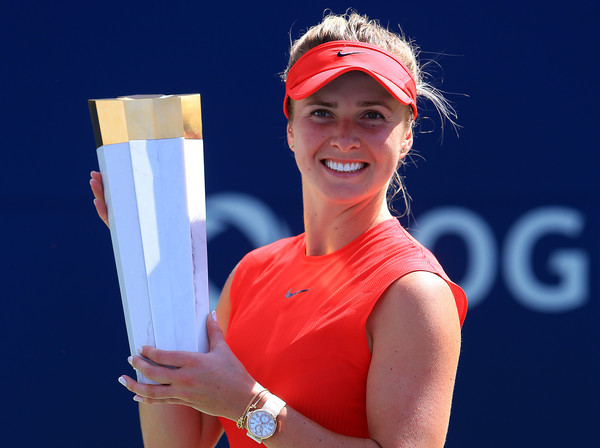 Despite having won four titles already in 2017, including a Premier-level title in Dubai, Svitolina was a bit surprised at how well things went. She explained that "I tried to don't think so much. Actually when I was coming here, I had no expectations at all, because I was little bit injured. I didn't know how my body would react. It was very tough when I came here. I didn't feel so good on court and that's why I came earlier. It was on Wednesday. And, yeah, I had some time here to adapt and prepare and be ready. And I think this was great tournament for me. I beat four really good players. And, you know, it was very, very special week for me."
Things were not easy for the Ukrainian, as she essentially had to contest three matches in 30 hours to win the title, including the last two sets of her quarterfinal and full semifinal on Saturday. How did she manage to pull herself together? Svitolina admitted that:
"Actually, I was very, very tired after the first game of first set. And I knew that I need to give everything because Caroline doesn't miss much. You have to work really hard to get unforced error from her. And, you know, I just decided, you know, I'm going to just play every ball and, yeah, just leave everything on court. And that's why, you know, emotionally I was relieved when I won the first set, and then was playing better and better in the second. And, yeah, just happened. I really couldn't believe that it all finished and I'm holding the trophy."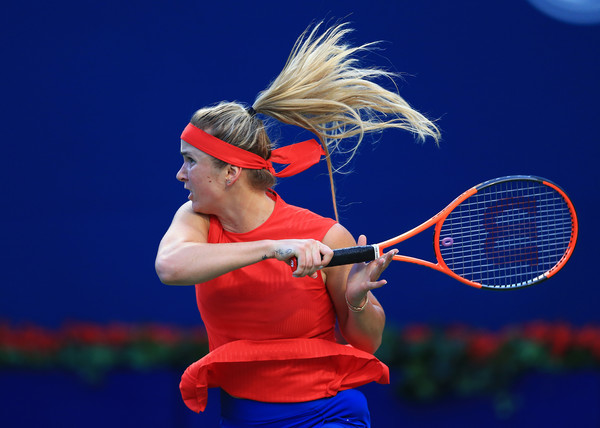 The win was Svitolina's second over Wozniacki in a Premier final in 2017, after having also beaten the Dane in the Dubai final. After her semifinal win over Simona Halep, Svitolina said she felt she was playing better tennis back in Dubai. However, she won the Toronto final in two fewer games. When asked to compare the two performances, Svitolina said:
"Each match been different. The one we played in Dubai I was under big pressure. It was the first time that I was entering top 10. And that win, you know, was just amazing. Of course I did maybe couple of more unforced errors than I did today. But I got the experience from that match because she's very tough player. So you need to have a clear mind and clear plan what you do on court. So I learned little bit more from that match and it really definitely helped me today to manage my nerves and be calm on the important moments."
The young Ukrainian made history by winning in Toronto, becoming the first woman to win three Premier 5 titles in a single season. While she was certainly happy about it, Svitolina did not seem particularly interested in the trivia, saying, "it's amazing that I achieved this. But, you know, I try to take one tournament at a time. Try to don't think so much about all the past titles. Of course it brings me confidence, I have the experience from that finals, but I try to take it as a new challenge and always look forward to it."
Mental strength
Throughout the week, Svitolina dodged questions asking her to evaluate her own game. After her impressive dismantling of yet another accomplished veteran in the final, it was suggested to her that her mental strength was her biggest advantage. Her analysis was that
"I tried to fight as you said. I only can speak for myself. Of course there's lots of girls on tour who are really fighting until the end like Caroline, like Halep, and [Garbine] Muguruza. They all, you know, fighters. And I always try to play until the last point and never really put myself down in a mood or always try to be more positive and play, you know, until the last point is played. So maybe this is the strength. But, yeah, I just try to give 100%. And, you know, that's why I'm pretty tired now because, you know, I left everything today. Because it was very hot. I was very tired. Slept only, like, three, four hours because probably drink too much coffee yesterday because also was very late night. And then I needed to play first match on, sat down. So yeah, coffee probably kicked in."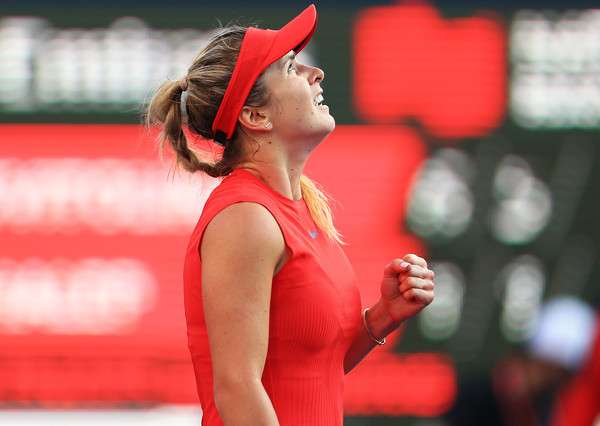 Svitolina is now 5-0 in finals in 2017. When asked about her mindset going into these matches, she explained, "I try to take one match at a time. Like today, I was going to into the match and I was thinking, Okay, this is not the final. Just try to think that this is a quarterfinal, because we could play with Caroline quarterfinal, semifinal. Final is always a big pressure because you think that you are very close to win, but you are very far in the same time. So that's why it's very important to have the right mindset for the finals and to don't -- of course there will be pressure, but try just to do everything what it takes to just don't think about it."
At such a young age, Svitolina has not shown any nerves in these big matches against big-time opponents. When it was suggested to her that she always stays pretty calm, she laughed it off by saying, "of course I get nervous. Everyone gets nervous. If you're not nervous then something is wrong. Because all athletes, you know, of course they want to win so badly that sometimes it happens that it's too much. So you need to really find your way of managing the nerves and do it all the time and try to find the zone where you feel comfortable and you are playing at your best."
Next steps
Svitolina is now up to number four in the world with the victory. She reflected on her road her and all the work that she still needs to do to reach the very top: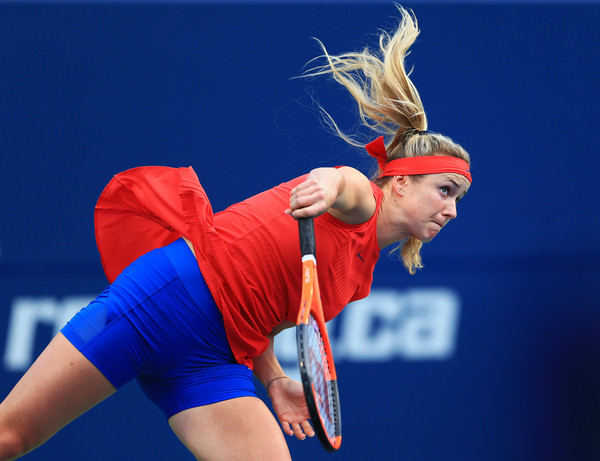 "Of course. It's been a long journey and I still long journey ahead of me. I try to look only forward. There going to be lots of tough matches, tough tournaments. You know, I'm 22 years old, so I still have career in front of me and hopefully for many more years to go. And, yeah, just always look what's in front of me. Of course I'm very, very happy that I could win fifth title, but in the same time, you know, I need to move. I have next tournament already and, of course, US Open coming up. So, you know, there's always something in front and that's very important for me to have this mindset."
Despite her high ranking, Svitolina came into the tournament a bit under the radar in a draw that featured the entire top ten on the WTA tour. That will not be the case this week in Cincinnati and later on at the US Open. But Svitolina is not getting ahead of herself, saying, "of course it's a good sign for me that I'm playing well. I'm competing good. My mental part is strong. I'm playing good tennis. It's a good sign for preparation for US Open. And, yeah, I just try to keep it up and do my best to prepare and be ready for US Open."
She did not dignify the question about her being a favourite with a response. As she explained, she does not care about the expectations of others. "I have my own pressure. I have my own expectations. I have my own goals. So I try to don't think so much about it and I think it's all fine with me."