Grigor Dimitrov continued his march at the Western and Southern Open on Thursday by reaching the quarterfinals with a straight-sets win over Juan Martin del Potro. Despite the challenging opponent and tougher conditions, the talented Bulgarian was able to get the job done, booking his place in his first Masters 1000 quarterfinal of 2017. After the match, the seventh seed discussed his performances and the challenges he's facing this week in Cincinnati.
Big win
Dimitrov had never beaten del Potro in five previous meetings, but had learned a lot from those losses and came into this match with a plan "to keep my slice low on his backhand side and waiting basically for that short ball to come around. So, for me, then it was easier to run around and hit a forehand and maybe just move him a little better. Against him, you can't pull the trigger on the forehand too early, because he has one of the best forehands in the game. And if you get him on the run, that forehand crosscourt is going to come chase you down. Yeah, I just have to be very cautious with this. Yeah, my first serve was a big asset today, as well."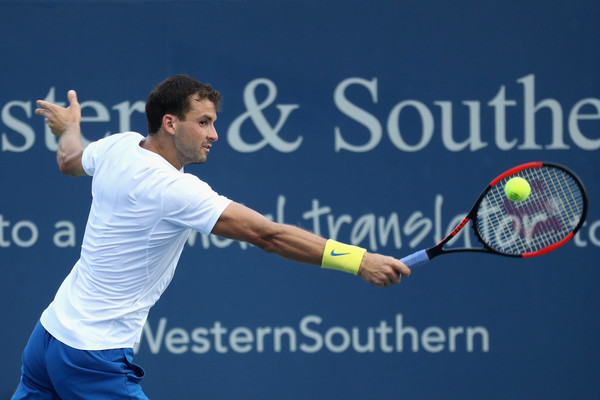 The plan worked well, as he managed to negate del Potro's attack for most of the match. Dimitrov's post-match assessment was that "I think I did very, very well this thing today. The short slice really made him very uncomfortable, and he was giving me a lot of short balls so I can start moving him with my forehand. So it was also a bit of a mind game, because we know our game pretty well. We practice a lot. And, yeah, basically who's going to crack first. Yeah, I was just pleased that at least I did -- the things I wanted to do today on the court, I did them very well."
Near the end of the match, del Potro seemed to be fading in the heat and humidity, as many players have so far this week. Dimitrov, however, has thrived. When this writer asked him about the conditions, he explained that "I love them. To me, the warmer it is, the better it is. I think I'm very used to it. I have gone through quite a few matches in the past. I know how it feels. Sometimes you suffer. You just suffer. That's how it is. But in the end, it comes down to a little bit of a will and how would you want to be. Like, I know it's hard. I'm not saying it's piece of cake to be out there and just sit and enjoy the sun. But it's the same for him and it's the same for you. So it's how you deal with it. I seemed to, you know, cooperate well with the weather so far."
Great Expectations
Ever since he was a junior, a lot has been expected of Dimitrov. The Bulgarian admitted that it's not just the fans and the media who have high expectations for the former Wimbledon and US Open junior champion, "I always expect a lot from myself, whether it's, you know, this tournament or any other. I think the past weeks has been a little rough for me, and I just want to get back on a good path. That's all I'm asking for myself. Again, I try to lower my expectations at least a little bit so I can accept more and not get, you know, aggravated on the court, or whether I'm practicing hard and if the shots are not there, like, I have to just keep on, you know, going through those motions. Yeah, right now I think things are slowly, like, progressing for me and I'm looking at one match at a time."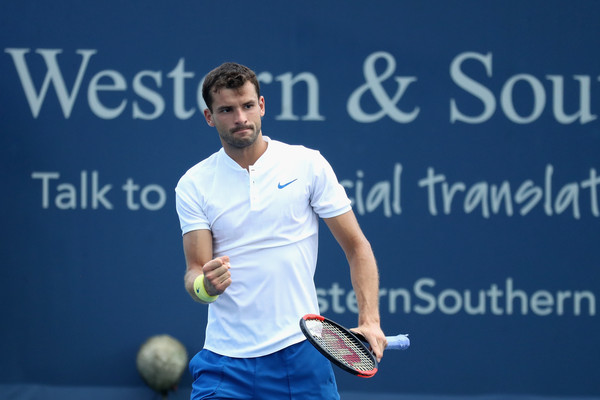 The draw in Cincinnati has collapsed, with only two of the world's top ten still in the draw, leaving Dimitrov as the third highest ranked player in the tournament. Is the Bulgarian thinking about it?
"I mean, for sure. I want to answer more modest than that, but no, I'm going to say it: You're right. You're absolutely right. But in those kind of circumstances, I think the best thing you can do is really just focus on yourself and what you need to do, because to me, it's not about this week. It's not about next week. It's about the next year. So I don't look at it that way. I like to look at things from the big picture, and yeah, if opportunity presents itself, yeah. You've got to grab it, absolutely. Whether you get scared or you're afraid or any of those thoughts that are coming or putting the pressure on yourself, it's pretty normal. I think you need to go through those moments in order to prepare for yourself for what's more to come and even bigger."
Speaking of high expectations and opportunities, if Dimitrov could be one player who he's never beaten before, who would it be? "Roger [Federer], I haven't beaten. I don't think [Jo-Wilfried] Tsonga. Yeah. That's about it, I think, from the top guys."
Dimitrov will play Yuichi Sugita in the quarterfinals.