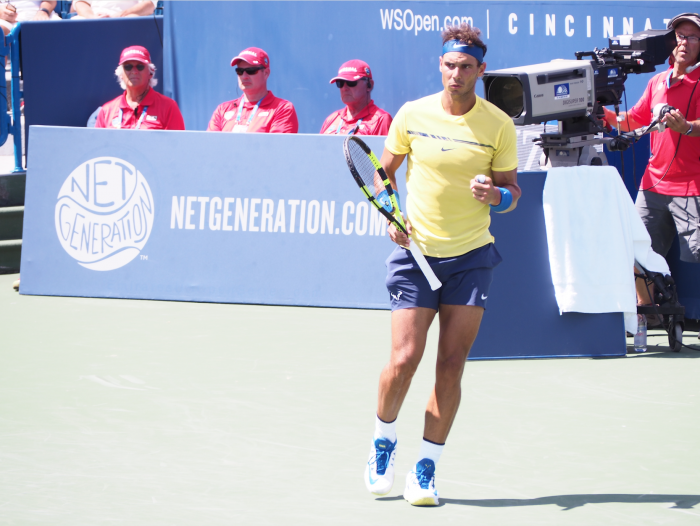 With the possibility of having to play two matches on Friday looming, Rafael Nadal got his busy day at the Western and Southern Open off to a strong start with a straight-sets win over fellow Spanish lefty Albert Ramos-Vinolas. After rain postponed their third-round match overnight, the pair were both a bit slow off the mark, but Nadal began to find his rhythm late in the first set and eventually stormed to victory, advancing with a 7-6(1), 6-2 win.
Rafa rules tiebreak
There was very little between the two Spanish lefties in the opening set, and neither seemed to be hitting the ball as well as they would like. Nadal, normally formidable on the baseline, was passive and committing uncharacteristic errors. Ramos-Vinolas, on the other hand, struggled to put returns in play. At 3-3, Nadal held to 15, winning all four points with unreturned serves. In the following game, the soon-to-be world number one set up the first, and only, break point of the set with a huge forehand, but Ramos-Vinolas saved with a forehand winner. A Nadal groundstroke barrage very nearly set up a second, but he missed his attempt at a winner just wide.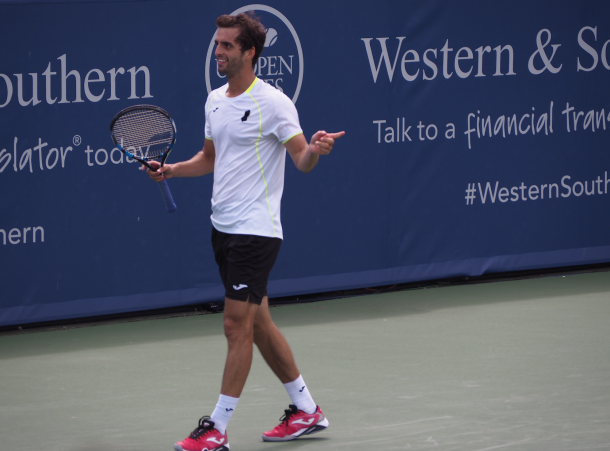 The set required a tiebreak, where Nadal showed his pedigree as a champion. At 1-1, the top seed correctly challenged a Ramos-Vinolas ace which Hawkeye showed to be out. Rattled, the lower-ranked Spaniard double-faulted to hand his opponent the early minibreak. Nadal never looked back, winning the next five points in a row to wrap up the opening set after 58 minutes.
Nadal turns momentum around
With his quarterfinal opponent already waiting, it was imperative that Nadal close out the match as quickly as possible. Ramos-Vinolas had other ideas. A reinvigorated underdog came out to start the second set, reaching break point for the first time in the match in Nadal's opening service game. He would miss that one, but had an even better chance in his next return game, as three errors from the top seed gave Ramos-Vinolas triple break point. Nadal has never been known for his serve, but he invoked images of Pete Sampras as he cracked back-to-back aces and an unreturned serve to remove the threat and hold for 2-2.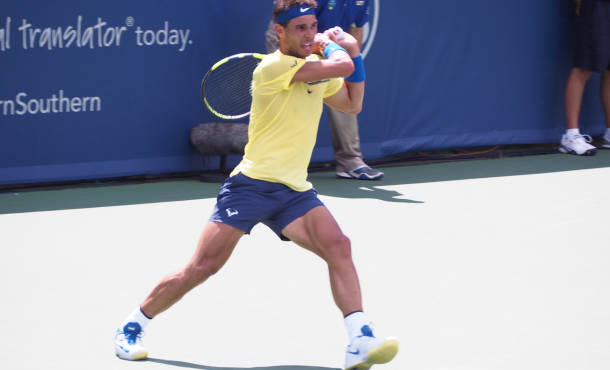 That fourth game proved to be the turning point in the set, as Nadal had his first chance to break in the very next game after Ramos-Vinolas double faulted at 30-30. After hanging with Nadal up to that point, the lower ranked Spaniard finally cracked, sending a forehand into the net to surrender the break. The break seemed to give more life to Nadal, while draining it from Ramos-Vinolas. The underdog was coming apart at the seams, as errors gave Nadal a double break point for a double break lead at 4-2. He would send a backhand wide to put the top seed within a game of victory. Nadal made no mistake, holding to love to book his place in the quarterfinal after only an hour and 38 minutes.
By the numbers
Nadal was very nearly out-returned in this match, as he was forced to play more points on his own serve and faced more break points. However, he saved all four that he faced, while Ramos-Vinolas only saved one. Overall, the top seed managed to win 78 percent of his first serve and, as he often does, won more than 50 percent of his second serve return points.
Nadal will be back on court tonight to do battle with Nick Kyrgios in the quarterfinals. Depending on how the rest of the schedule in Cincinnati progresses, he will have around five hours to recover, about one less than Kyrgios.