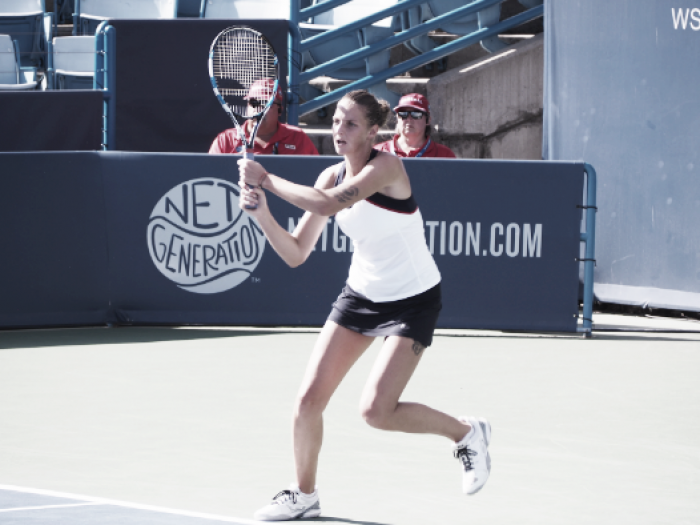 Earlier today, Karolina Pliskova needed three sets to take out fellow hard-hitter, Camila Giorgi. This time in her quarterfinal match against Caroline Wozniacki, she only needed over an hour to take out the former world number one. With the win, the Czech moves one win away from making a second consecutive final and will face the winner of the Sloane Stephens and Julia Goerges quarterfinal.
Pliskova Quick Off The Mark In Opener
Wozniacki had to like her chances heading into this match. She won their most recent matchup in Toronto, but she also had a whole day of rest under her belt. Pliskova restarted her match at 1:00 local time and finished late enough to get her match pushed to a 4:30 start time.
The Dane started the match with a break chance after going up 1-0, but Pliskova was able to fend it off then hold. In the following service game, it was Wozniacki who was in trouble after setting up break point for the Czech with an unforced error. The world number one took her chance with a forehand winner.
After a few holds of serve, it was Wozniacki once again who found herself in trouble. The world number one only needed her first break opportunity to earn her double break lead after hitting a forehand winner. It was a quick opening set, just what Pliskova wanted, taking it 6-2.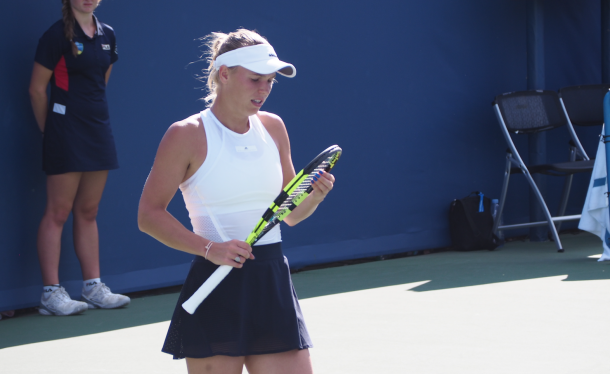 One Break Enough For Pliskova
After the quick opener, the Dane needed to rebound. A quick hold to love, capping off the game with a forehand winner was just what she needed to kick off the second set. Her second service game was unlike her first though. A backhand winner from the world number one set up break point, and the Dane would fall behind once again after double faulting.
The two would continue to hold serve without a problem before Wozniacki ran into trouble once again. She saved her first break point with an overhead put away. The Czech would net her second break opportunity before the former world number one held for 3-4.
Each woman would hold serve the rest of the way as Wozniacki did not make a dent in the Pliskova service game to close out the match. It was two final holds for the Czech.
By The Numbers
The serving numbers and winner to unforced errors told the story for the match. Pliskova won 96 percent of her first serve points, and 67 percent of her second serve points. MEanwhile, Wozniacki won 63 percent of her first serve points, and 44 percent of second serve points.
It was clear-cut dominance from the world number one in the winners category, hitting 27 winners to just 13 unforced errors. Wozniacki only 8 winners compared to 19 unforced.