 Nick Kyrgios was a victor twice on Friday, defeating both Ivo Karlovic and Rafael Nadal. The Aussie needed three sets to close out his match against the Croat, a match that was pushed back from Thursday night. While his match against the top-seeded Spaniard saw a serving masterclass.
In his post-match press conference, the Aussie talked about how he plays against the big-name players, tweeners, music, and more.
Luxury To Have Played Ivo
Twice in his presser, the Aussie noted that he was lucky to have played Karlovic. The first was when he was asked if he was feeling the effects of his first match. He said he wasn't, and that playing Karlovic definitely helped. He added that after he finished, he relaxed, ate, and went to the barbershop.
The second time he mentioned it was a luxury was when it was asked if he was keeping himself in good space. He added to that, that he didn't want to think about playing twice in one day but knew physicality was not going to be an issue in his match.
For Fun and Games
Kyrgios was asked about hitting a tweener in the opening set and said that he just did it for the gags because he was up 40-0 and felt like doing it. He said his friends back home were laughing. The Aussie also mentioned that he hits tweeners because he hits them in practice all the time, and that it's a bad habit.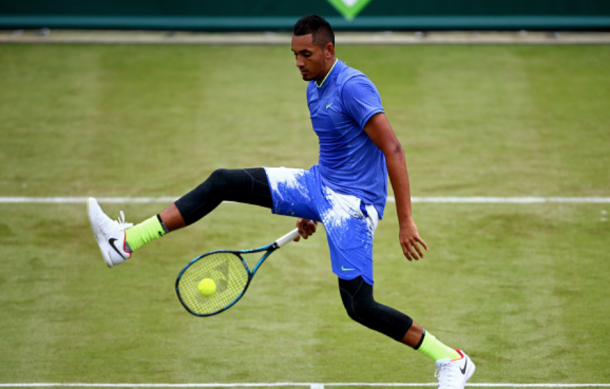 Not That Serious
Kyrgios was asked if he thought of himself as part of an "evolution" of tennis with guys like Dominic Thiem and Alexander Zverev hitting the ball harder. He was also asked if there's anything personally that makes focusing a challenge. He mentioned both times that the seriousness isn't a big deal.
During the evolution question, he said that he doesn't take himself that seriously while during the mental question, he said that it's hard for him to take tennis seriously at times.
Tough To Bring It Everyday
It's been noted that the Aussie tends to bring his best stuff against the best players, and that was true against Nadal. The Aussie didn't agree that he seemed to be the best at playing the best players, noting that Alexander Zverev has been "killing it" and that it was easy for the press to say that because they see him "tank ridiculous amounts of matches against, like, on back courts
He said that it's these matches, the night session match on Center Court vs Nadal are easy to come out to. The matches that are hard on him are the ones on back courts". He said it is matches against Nicolas Kicker in Center Court in Lyon with 15 people that make it difficult for him to bring it every day.
Ready For A Tough Battle
Kyrgios knows that David Ferrer is going to be a tough opponent for him. He noted that he's a great competitor, and that the Spaniard has played better this year than last year. He knows that Ferrer is confident after some big wins over Jack Sock and Thiem in the past couple of weeks.
Grosjean On Board
Sebastien Grosjean has worked with Kyrgios since mid-May of this year. Kyrgios said the Frenchman will be with him in New York for the US Open despite not seeing him for a month. He also said that his good friend, Matt Reid, will also be there.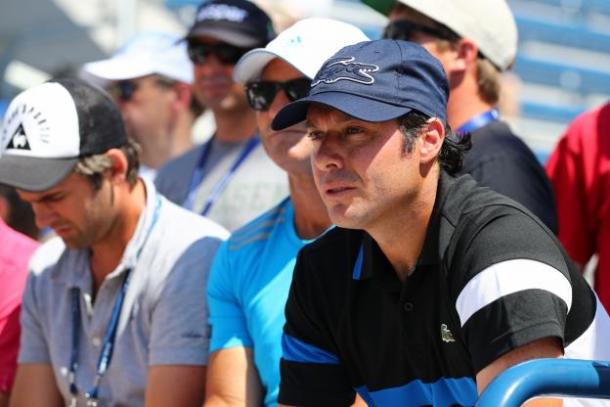 Coldplay The Tunes For Nick
Kyrgios has been posting a lot of music on his Instagram account. The Aussie mentioned to the press that he's been listening to a lot of Coldplay after going to their concert in Montreal. The semifinalist mentioned that he usually plays songs over and over again until he thinks they suck.